Disney Party Themes for Summer
Summer is upon us and that means that it's time for some outdoor fun. This means most of the birthday parties that we hold for our kids will be out in the sun. So why not combine their favorite Disney theme with an outdoor type of party? This is actually easy to execute and makes for a really fun get together. Though not every Disney theme may work, there are some that make for the perfect backyard summer fiesta, luau, or outdoor party.
The Little Mermaid
Under the sea is the theme song for this movie, so it happens to make a perfect outdoor type of party. You can set up the backyard as an ocean by hanging blue tarp all along your fence, then decorate in blues and greens so that it feels as if the entire backyard is under water. You can then put up decorations such as fish, plants, and of course mermaids to give off the feeling of being underwater – either using cut out pictures, sticking on plastic fish and mermaid toys, or both.
Consider having somebody dressed in the Little Mermaid costume come for a visit at this party. With the entire backyard transforming into an under the sea experience, you can't go wrong.
Pirates of the Caribbean
Have you ever been on a pirate ship? You probably haven't but you probably always wanted to, and your kids feel the same way. So set up your backyard into the perfect swash bucklin' pirate ship and watch the kids in amazement. Here's a couple ways to set one up:
If you are handy at building things, lay down a series of plywood on the lawn, anchored into the ground. At one end, fashion a simple structure, about 8 feet long, wide and high. Drape black tarp over it, and decorate inside. Erect a long pole with a skull and cross bones. Viola, you have the poop deck and cabin of a pirate ship!
If you have a tree house, incorporate that into your ship, or just use your tree house as the lookout.
Have them all come in costume dressed as pirates and then ensure that they all walk the plank (at the minimum, have a piece of plywood to act as a plank.) Sure, this does take some imagination and a lot of set up, but it's well worth it when you see the kids faces as they "step onto" the pirate ship and celebrate a birthday in this manner!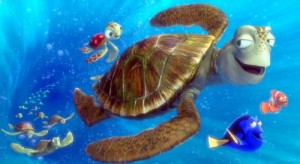 Finding Nemo
Another favorite of sea dwellers, Finding Nemo can be a really fun way to celebrate a birthday. Rather than transforming your backyard into an ocean (unless you want to!), you can set up little scenes from the movie. Set up a bunch of baby pools and put toy fish in them, including depictions of the characters, such as Bruce the Shark, Nemo and his father Marlin (Clown Fish) and Dory the Blue Tang. Have the party goers "go fish" using hooks or a soft set of claws You can even set these up on land with stuffed animals of the favorite characters. This is easy for you to set up and yet you can enjoy a fun little backyard party.
Mickey Mouse Clubhouse – Luau Style!
The gang at Mickey Mouse Clubhouse is always up to something fun. Use these favorite and well known characters to create the perfect backyard luau. You can have each guest dress up as their favorite character and provide the leis, the Hawaiian music, and all the treats. Just because they don't dwell in an outdoor setting doesn't mean that you can't transform this fun and favorite theme into one!