Mickey Mouse Clubhouse Birthday Party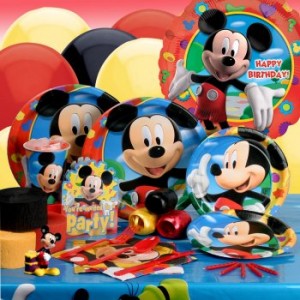 Oh Toodles! It's a Mickey Mouse Clubhouse birthday party – come along, it's fun inside! Disney's already-classic show gets preschool and early school grade children involved and entertained. That's why this party theme is great for all kids. Partygoers will recognize Mickey, Pluto, Goofy, Donald, Daisy and the often-naughty Pete. They'll also delight in singing songs related to the show and playing games that follow the Mickey Mouse Clubhouse theme.
All Dressed Up and Ready to Play
One way to get your child's friends excited for the party is to invite them to wear a special piece of clothing or costume! Here are some clothing ideas (be sure to list on the invitation what you'd like the children to wear, or make things easier by enclosing the trinket with the invitation):
Any Disney T-shirt or Disney hat
A Mickey Mouse Clubhouse shirt or hat
Sending Invitations
Writing out or hand-creating your own invitations is fine, but this theme is popular enough that premade invitations are easy to find. They're also generally pretty inexpensive.
Add your own comments on the bottom if you'd like…"Come inside!", "Come to the Clubhouse," "Get Goofy with us" or "Hot diggety dog! It's a party for…".
Decorations
Children in this age group (under 7) love balloons. Mylar is a good bet as these can hold helium for up to several days (purchase a disposable helium tank, or take your balloons to a local store that will fill them for you). Disney images – Donald, Goofy, Micky and Minnie – make fun and enchanting room decorations.
Cardboard standups are great, too, and can be more economical than you might think. "Life-" size (child's height) standups are a very easy way to bring your child's Micky Mouse Clubhouse party to life.
A Mickey tablecloth cover, plates, cups and napkins complete the look.
The Birthday Cake
If you have a special hand with baking and decorating, go ahead and make your child's birthday cake (we guarantee she'll love it).
You can either use icing or frosting to make basic Disney shapes (such as "Mickey Mouse" ears), or purchase plastic novelty Disney characters; these are easy to find and are inexpensive. This idea will also work for cupcakes, with one character on each cake.
Another option is to have a Disney or Mickey candle atop the cake.
Party Games
It's easy to set up some Mickey Mouse Clubhouse party games for your little guests. Try these ideas:
Pinatas delight children. For younger kids, try a Mickey (or other Disney) pull-string ("safety") pinata. Rather than hitting the pinata with a bat or stick, children pull strings that hang from it one at a time, until the "right" string is pulled to release the candy and favors.
Kids who love Mickey Mouse Clubhouse will recognize how Mouskatool is played. Draw four objects in a circle on a page, then give clues to which Mouskatool should be used for a given situation. Hand out a small trinket to anyone who guesses the right answer.
Have a Clubhouse sing-along. Sing "Hot Dog!", "Mickey Mouse Clubhouse Theme," and "Party at Mickey's House".
Let kids build their own Clubhouse. Prior to the party, paint boxes and tape them together. Then during the party, the guests can use markers, glue, glitter and any decorations you can find to create a Clubhouse of their very own. (Make sure you have plenty of protected space for this, or hold the party during the summer when you can have this activity outdoors.)
As the party winds down, have everyone sing the goodbye version of "Hot Dog!" (with "So long for now from Mickey Mouse/And the Mickey Mouse Clubhouse" sung at the end). It will make the perfect ending to a party your child is sure to adore.