Graduation Party Themes on a Budget
Hosting a graduation party on a budget is a reality for thousands of high school and college graduates facing college tuition or student loans – not to mention the parents paying for them!  Graduation is certainly a time for celebrating, of course!  You can throw a fun graduation party on a budget.  Here are some graduation party theme ideas for party planners on a budget.
Backyard Barbeque
Everyone loves barbeque food, and decorating for this party is a cinch.
Menu
Lemonade, iced tea, water, sodas
Hot dogs and hamburgers
Macaroni salad
Chips
Veggie tray and dip
Brownies and chocolate chip cookies
Decorations
Go easy on the budget with few decorations for this theme.  A "Congratulations Graduate" sign at the front door, and a few balloon bouquets around the house (some latex, some Mylar), will definitely look great.
Party Tunes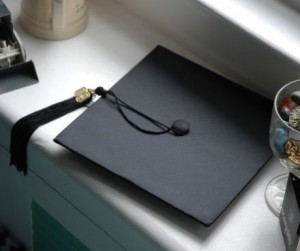 Add to this theme by making a playlist with the top five songs from the graduate's years in school.  (How far back you go is up to you!)  Put the list on "shuffle" and you'll have an audio time capsule.
Carnival Party
This theme is a way to incorporate some kitschy fun into your graduate's big day.  If you want to splurge on something, rent a popcorn cart, or a cotton candy machine.  That will pull the theme together.
Here are the other details:
Menu
Carnival food including:
Corn dogs
Fried chicken
Popcorn
Sausages and peppers
Frozen, chocolate dipped bananas
Decorations
Create a carnival-like setting inexpensively with Christmas lights, crepe paper, balloons, and pennant garlands.
Games
Create a carnival atmosphere with games celebrating the graduate.
Beanbag toss: Label a corn hole game with Congratulatory terms "Good job, You're Great!, Congratulations!"
Trivia: play a trivia game with questions from pop culture during the years the graduate was in school.
Guess the GPA: Only if the graduate's GPA wasn't embarrassing!
Coin toss: Set up plates and let people try to hit them with quarters.  The graduate gets to keep the money! If someone hits the furthest plate, they win a little prize.
The main way to make a graduation party fun, even on a budget, is to celebrate the graduate.  Make the graduate the center of attention, and everyone will have a good time!