Ladybug Cakes For Your Little Love Bug
Girls may be made of sugar and spice and everything nice, but some of them love certain aspects of nature that may not be so "girlie". If you have an adorable little insect lover who adores ladybugs then this can make for the perfect birthday party theme. Admittedly the ladybug may be the more feminine version of a bug, but it's a great way to pay homage to nature.
The good news is that you can find just about everything you need in this theme to pull off an adorable little party. The centerpiece of any good ladybug party is of course the cake, and there are some perfect ones that you can make which pull the entire look altogether. These cakes are sure to bring a smile to your little lady's face and you'll be so proud of your culinary accomplishment!
Polka Dot Cake
The cake need not be crawling with ladybugs but can adapt to the theme in a unique way. Here you can see that simply placing the easily identifiable black and red dots all over the cake with a ladybug accent piece works beautifully – this delicious looking cake from Anne Heap of Pink Cake Box used rolled fondant to created the smooth-looking cake sides and polka-dots.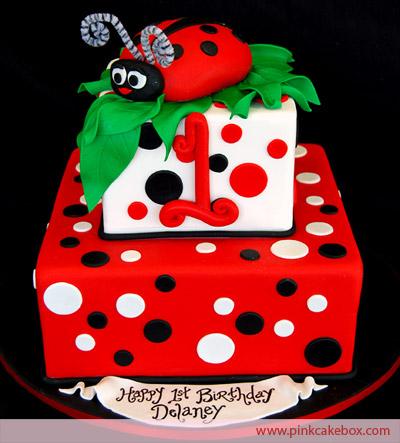 You can pull this off by simply using the right color elements through frosting, or placing some perfect dots all over the cake. A simple ladybug cake topper pulls it all together and creates an excellent centerpiece for this adorable themed party.
Cute as a Bug
When all else fails, perfectly executed simplicity always works really well! Colleen B. submitted this adorable cake to Coolest-birthday-cakes.com, With this cake you simply create a round or dome type of cake and frost it with some red icing. Pipe some black icing to create the features, chocolate dots for the spots, and licorice pieces for the antennae. See, it's really easy to get started, and this forms an excellent basis for this themed cake.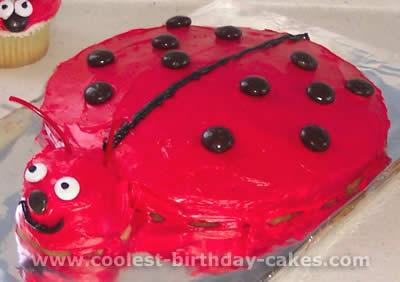 You can opt to put a cute little ladybug face on or just keep it simple. This is a homemade cake that is so easy to put together and yet puts the theme out there front and center.
Oreo Ladybug Cupcakes
Why settle for just icing and fondant when you can use cookies, chocolate chips and M&M's? This batch of cute ladybug cupcakes from Megan's Munchies combines all the yummy goodies into one adorable package!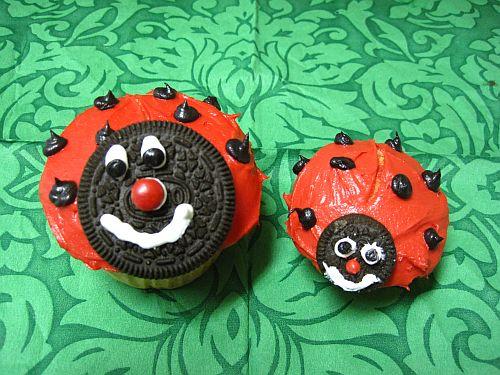 Simply bake some cupcakes (I'd go with cherry or mmmmm, red velvet, to keep with the red theme). Top with red icing, add black piping or chocolate chips for the spots, then a cookie (regular and mini Oreos shown here), and white icing and M&M's to create a face. Too cute to eat! … Well, okay, nom nom!
Ladybug With a Winter Coat
If you love piping, this furry cake is for you! This sweet thing, made by "Hadley's Mom" (Wendy Fitch), is "piping hot" all over! Using the Wilton Lady Bug Pan
, you can create a cute ladybug in no time, then decorate it any way you want. For instructions on creating a perfect cake with a Wilton's pan, check out my tutorial for the Elmo cake I made for my daughter's 2nd birthday.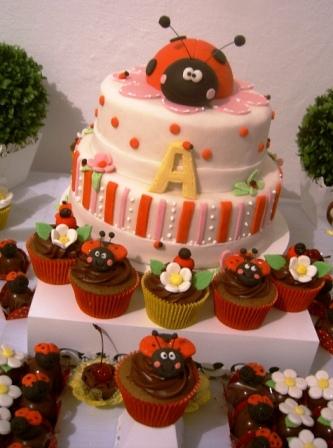 Wendy meticulously used a star-shaped tip to create the fuzzy look. The best way to do this is squeeze out some icing, press down, then twist as you lift up. I don't think I have the patience to do something this tightly, so Hadley certainly is likely to have a mom like that!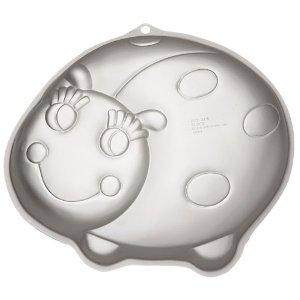 All of these cakes are easy to make, sure to please, and work well as a centerpiece to tie your adorable insect theme together and make it a party to remember.