Ladybug Birthday Party Theme
A ladybug birthday party theme is fun for little girls of all ages! Ladybugs are symbols of good luck, so plan a ladybug birthday party for your child's 1st, 2nd and beyond birthdays, and welcome good luck for their next year.
Ladybugs are just about the cutest little garden creature, and their vivid colors lend themselves well to fun decoration options, games, cakes and food! There are hundreds of options for each element of a ladybug party. Here are some of our favorite ideas for ladybug birthday parties, including food, decorations, costumes, invitations, party favors, and games or activities.
Get the Ladybug Party Started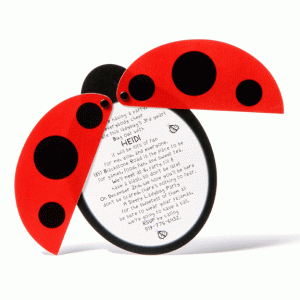 Set the festive party mood with a cute ladybug invitation. The most popular version is fairly simple to make, though it does have several different components to assemble. You'll need the following to make your invitation:
Black oval shape
2 red circle halves
Various sizes of black dots
Black brads or fasteners
White circle of paper
Glue
Googly eyes
Assemble the invitation by placing the black oval on the bottom, followed by a white circle, covered by the two red half circles, fastened by connectors that allow the red half circles (ladybug wings) to move. Decorate the outside of the wings with the black dots. Glue eyes on the top part or the black oval. Antennae are optional!
Another fun way to get the party started is with costumes! For the birthday girl, find a ladybug costume. There are many options available online. Get black headbands, black pipe cleaners and red puff-balls and assemble lady bug antennae headbands to give to each guest as she arrives for the party! Then the whole party of guests will feel at home with the rest of the ladybugs. The guests will also be part of the "decorations!"
Ladybug Birthday Party Decorations
Party decorations start with the paper goods. Find ladybug plates, ladybug cups, ladybug napkins, and coordinating plastic silverware. You can even purchase personalized ladybug party paper goods with your child's picture on them! Make your own ladybug-inspired tablecloth by using a plain red tablecloth and gluing black spots of different sizes all over it. Carry the decor theme through with ladybug balloons. Of course, a few Mylar balloons in the shape of ladybugs are extra-special. Mix them with plain red and black balloons, or red balloons with black spots.
Another fun way to set the table is with "garden" placemats. Cut placemats from (new) astroturf or artificial grass. Then, hot-glue flowers up in the corners to make a little garden. For an extra touch, hot glue a plastic ladybug on one or more of the flower petals. Then, set the table with the special placemats. These placemats can also serve as party favors.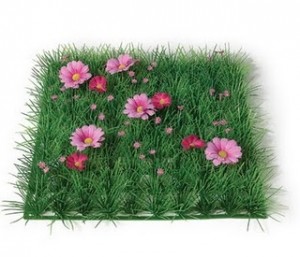 Greet guests with a personalized ladybug birthday sign, with the name of the birthday girl on it. This will be a fun keepsake to save.
Ladybug Birthday Party Food
The red and black colors of ladybugs present tons of cute snack and party food options. In addition to typical party foods, here are some fun food ideas that will further carry the party theme.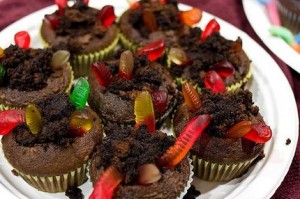 Red and black licorice: Mix stiff sticks of licorice in a clear glass cup for a pretty effect.
Cupcakes (with red icing and black spots): You can make cupcakes with ladybugs on them, but we think a more elegant version is to make a chocolate cupcake, topped with red icing, and black jelly beans or fondant spots.
Red and black jellybeans: Mix red and black jelly beans in a tall glass jar, and make it a centerpiece of the table.
Ladybug crackers: A Ritz cracker topped with a bit of cream cheese, a black olive on one end, and a half of a cherry tomato cut into quarters, spread like lady bug wings, makes a good adult appetizer.
Ladybug bento boxes: Make little ladybug lunch boxes. Take black boxes (round or square), and top them with red construction paper "wings" with black dots on them. Add short, black pipe-cleaner antennae on the end where the wings are fastened.
Red fruit punch
Watermelon: Red insides with black seeds makes this a natural ladybug party food!
Candy bugs (gummy worms, etc.)
Dirt 'n worms: To carry the garden theme, make chocolate cupcakes filled with pudding, and top with oreo crumbles and gummi worms.

Ladybug Birthday Games

The youngest partygoers won't be interested in games, but if you're having a party for kids ages four-eight years old, they will have fun with these easy, ladybug-themed party games.

Find the Ladybugs

Get a bunch of lady bug stickers (the size depends upon the age: the smaller the kids, the larger the stickers), and stick them around your yard. Turn the kids loose with a piece of paper with a garden on it (could be a coloring sheet), and have them find stickers and stick them in the garden.

Stick the spot on the ladybug

Make a big ladybug that's MISSING its spots! Then, give each child three spots to stick on the ladybug. (You can blindfold the other kids and treat it like pin the tail on the donkey, if you want to.)

Learning about Ladybugs

There are lots of fun ladybug kid's books, including "The Grouchy Ladybug" by Eric Carle. Read some ladybug books to the kids so they can learn about these great garden insects.

Guess the spots

Mix a jar of red and black jellybeans, and ask the kids to guess how many are in the jar. The closest guess wins the jar! (Bottom side of this, you have to count the jelly beans as you put them in the jar!)

Live Ladybug Release

Ladybugs are great in the garden. They eat pests like aphids. You can order a box of live ladybugs for release in the garden. Get your box a day or two before the party and divide the ladybugs into little dixie cups with a paper towel taped over the top to prevent escape. During the party, go outside into the yard and give each child a cup of ladybugs to release!

Party Favors

Ladybugs are so cute that it is nearly impossible to forgo party favors. Here are some cute ideas for takeaway gifts.

Ladybug lollipops: Make cookie pops, or chocolate pops. You might even be able to buy ladybug lollipops!
Bug box: Keeping a pet ladybug can be fun for observation! Give each child a bugbox so they can capture and observe insects like a little scientist.
Ladybug finger puppet: There are many sources of these online. They make fun favors when paired with a ladybug book.
Ladybug story book: Either Five Little Ladybugs or The Grouchy Ladybug

With all of these ladybug birthday party decoration ideas, menus, activities, favors and games, you should be all set to plan a fantastic ladybug themed birthday party for your little girl!