The Barbie Dream House of Birthday Parties
If you have a little girl that loves and adores Barbie
, then you know that this fun prop sure to please your little princess. It seems that every little girl goes through this famous doll phase and for her it's a way of life.
This little doll has a rich history that has lent itself to generations of little girls adoring her beautiful looks and fun accessories. So take this fun little toy and turn it into their own little world. Many little girls love dolls and so it's no wonder that they adore their Barbies. This is the doll that is small enough that little hands can carry her anywhere, and has so many fun clothes and accessories that the sky is the limit in their little minds.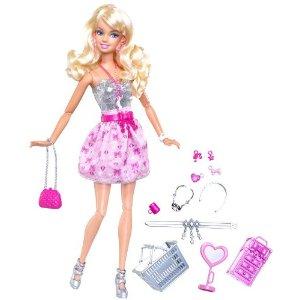 Barbie has been around since 1959 (her birthday is March 9th), when the relatively newly formed Mattel introduced her at the New York Toy Show. The rest is history as this cute little doll made her way into little girl's hearts and an instrumental part of their playrooms forever!
Create Your Own Barbie Dream House
As part of your  Barbie party, you want to recreate a dream house as the setting. With some creativity and a bit of imagination this can be a lot of fun. There's two ways to do this – dress up the party area to resemble a glam doll house, or build a house for kids to play in (if it's a small party).
Party Area Decor – Incorporate Barbie accents throughout the play area, such as a station with a tickle truck so the girls can change into princess clothes and even put on some make up. Cover the walls with purple, white and pink gossamer or tulle (you can find these in 50 or even 100 yard rolls at Shindigz.) Use the gossamer to cover chairs so they look plastic and doll-like. Finally, if you have a toy kitchen or other "just like home" toys, add those as stations for kids to play with.
Party Doll House – If you have a play tent or indoor cottage structure, your party guests will have lots of fun playing house in that. If not, save some old boxes that are large enough for the girls to play inside of – one idea is to go to your local appliance store and grab some large refrigerator boxes. Then use gossamer or tulle to cover the box walls with pink, white and purple. Use your imagination in decorating them to recreate a cute little Barbie scene.
Whatever you decide, the idea is for the girls to have the illusion that they are actually living and playing in their own little Barbie dream world – not that you have to work that hard at it, as kids are full of imagination and will play in whatever the area looks like anyway!
Glamorous and Delicious Barbie Food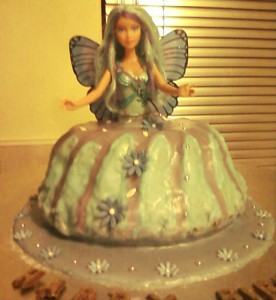 This is like a completely glamorized tea party all on its own. So you must embrace it with the most beautiful and delicious Barbie snacks. For example the centerpiece of a good party in this theme must revolve around a gorgeous cake.
You can go for a Barbie fairy cake which is a beautiful and fun tribute. You can even try to recreate a doll cake whereby Barbie sits on the top and the bulk of the cake is her big poofy dress. No matter which direction you go, both will be delicious and of course impressive.
To accompany the beautiful cake, be sure to offer up some perfect little snacks. This is all about elegance and sophistication, but in a little girl style. Offer them pink lemonade in adorned tea cups and even consider pouring from an actual delicate tea pot.
Mix in some pink cookies with pink icing in keeping with the ultra girlie theme. Then throw in some cute little sandwiches that you could even cut out with a heart cookie cutter. It makes for a cute way of serving them and of course the little girls will gobble them up in every sense of the word!
She's a Barbie Girl in a Barbie World
What do girls love more than anything about Barbie? The outfits and the accessories of course so you want to recreate that whole little fantasy for them and allow them to feel like a doll themselves. This is where you put out as many costumes and fun little accessories as possible.
As the girls arrive you can point them in the direction of the costumes and let them start off by having the ultimate dress up party. Then each girl can get a turn at having you do her hair and some simple make up. Ask for some help with this from other parents so that you set up their own little beauty parlor and you can have fun working together to help them feel beautiful.
Put out some toy jewelry and of course let them pick their very own Barbie to play with. This can serve as their favor from the party and when they are dressed like their favorite doll, this is sure to create memories for some time to come. A true Barbie world that is sure to please every little princess!