The Avengers Movie Party Ideas
It's time to bring S.H.I.E.L.D. to defend your home and have a party. Probably the most fantastic Marvel comic series, The Avengers brings together Earth's mightiest superheroes into one powerful team. Consisting of Iron Man, Thor, Wolverine, Captain America, Black Widow, Hawkeye and The Incredible Hulk, they all unite to fight the foes no single superhero can withstand.
This May, Josh Whedon's The Avengers will be hitting the big screen, assembling a cast from other Hollywood blockbuster movies to untie against Loki and his minions to save the world. This means a lot of calls from kids (and adults like me!) for Avengers superhero parties. So, what are you waiting for? Put on your Supermom or Supderdad cape and let's get started.Avengers assemble!
A Little History: the Birth of The Avengers
The Avengers have had so many incarnations — gaining and dropping members, appearing in comics, cartoons and movies.
The Avengers were created by Marvel Comics in 1963 with the super-awesome tagline  "Earth's mightiest heroes." I wasn't around at that time, to be honest — but as a child I was fascinated with the Marvel originals. Your kids will love them too, so incorporate them into your party for vintage flair.
FYPI (for your partying info), the original team consisted of Iron Man, Thor, The Hulk, Ant-Man, Wasp and Captain America, who was literally unearthed (or de-iced) in the series' fourth issue.
The Heroes Through the Years
The Avengers took off after their original release and morphed quite a few times over the years, even being "killed off" and then revived three times (check out their history on the Marvel Wiki, fascinating). But the cry of "Avengers assemble!" and the spirit of this cool team kept a continuous roll of comic books, cartoons (including on the big screen) and promo items going.
Besides the crew listed above, a few Avengers and antiheroes through the series' history have included: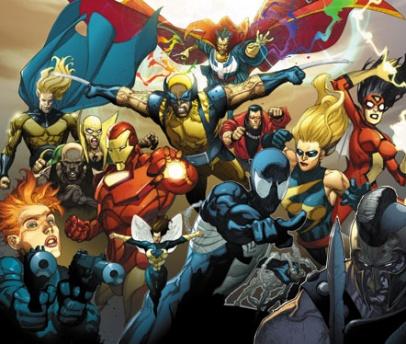 Giant Man (originally Ant-Man)
the Scarlet Witch
Hawkeye
Black Widow
Quicksilver
Doctor Doom
Monica Rambeau
the Beast
Tigra
She-Hulk
Hercules
Ms. Marvel
Mantis
Wolverine
Mocking Bird
Spider-Man
Spider-Woman
Human Torch
Egghead
Baron Zemo
One of the cool things about The Avengers is the series includes not only mutants with incredible powers and villains of equal status, but gods and godlike beings (Loki, for example, a trickster who ties in with Thor in Scandinavian mythology). This means that in The Avengers series, anything can happen…and usually does.

The Avengers: The 2012 Movie
The hit movie stars some of the biggest names in Hollywood – Robert Downey Jr. (Iron Man), Scarlett Johansson (Black Widow), Chris Evans (Captain America), Chris Hemsworth (Thor), Gwyneth Paltrow (Pepper Potts), the coolest cat on the planet, Samuel L. Jackson (Nick Fury), and even Lou Ferrigno playing the voice of the Incredible Hulk! With Joss Whedon (Buffy the Vampire Slayer, Dollhouse), this is a powerhouse of a movie!
Without going into spoilers, let's just say there's plenty of material in this year's take alone to stuff any Avengers party full of ideas. But get as creative as you'd like for this party — there's close to 50 years worth of fighting, foibles, earth-saving and comic book-esque humor to dig into.
Assembling Your Party: Invitations and Decor
For invitations, we usually recommend putting your own together. You can do this for sure with The Avengers, but unless you're a serious artist, I wouldn't recommend freehanding this. Get movie images off the net — they abound, so this should be no problem.
Add a l'il super hero lingo to your invites; the campier the better, so don't worry about sounding silly. "Avengers assemble!" is, of course, the perfect way to invite your guests, whether young or adult. For kids, try "Our superhero is turning (X) today — come celebrate with us" or "Morph on over for the super party of the year." Add "the party takes off at (time, date)" and other fun lingo.
As for decor: oh, are you going to have fun. This may sound cliche but here, the possibilities really are pretty much out of this world. Here are some basics:
For colors, The Avengers movie leans toward the darker, rather than the early-60s-esque "Americana," red white and blue Captain America brought to the group. So choose primarily bold reds and deep blues, adding touches of white if you'd like.
 That said, patriotism is still a huge Avengers icon. Look for red, white and blue confetti. For more drama, try red, white and silver. Also buy disposable cutlery, plates and cups in red and blue. One fun idea is to buy two different-size plates in two different colors, and stack them so you have the two colors at each setting.
As we noted above, Avenger party ware is out as well, so if you'd like to get your hands on some authentic Avengers decor, grab it! This will make everything easier.
Put up an awesome Avengers/Thor personalized banner with the birthday girl or boy's photo. Buy the real deal (it's very reasonably priced) or print out your own. We've also seen some great home made standups for guests — print a pixelated background, for example (see the pic above).
Pose a character standup or two in the party area (check out Captain America, Thor and any other Avengers favorites you can find). Pose guests next to the standups and print out the pics during the party to place in goody bags.
Check around online for Avengers printouts. Here are some great freebie cutouts.
Buy cheap material from your fabrics store in Avengers colors, or use fabric you already have around the house. Drape the various colors over the backs of chairs at the party and knot around the front (superhero "capes")
Activities and General Fun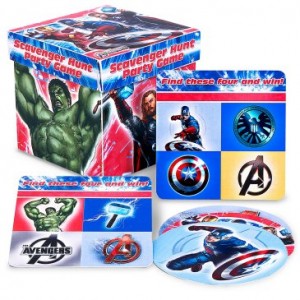 Here's a fun idea: dress as Edwin Jarvis, the Avengers' butler, to greet guests. Act out the part of butler as you invite them through the door. Hilarious!
Play the Avenger Scavenger Hunt party game. Scavenger hunts are the big thing right now. They can apply to almost any theme and will be super fun for this one.
Hand out Avengers masks and let guests run around the party showing off their super powers.
Sit guests down to make red, white and blue poppers. Or you can make these in advance and use them for goody bags. Stuff with fun things. Make super-big poppers out of paper towel rolls and place a Marvel comic book in each along with a handful of candy – it's the perfect superhero treat "bag."
Invite guests to dress up in an Avengers costume, from any decade — good guy or villain, star of the show or rarely seen extra. You can tie this in for Halloween in October if you like; it also does a great double for a birthday party activity.
Have a costume contest and give everyone a small award (of course): candy, an activities book, crayons, etc.
Hook up the Wii Fit and have guests test their feats of strength, stamina and coordination. Yes, believe it or not, this really is fun for both kids and adults. Adding a little friendly competition to the mix kicks things up a notch. And you're working off all that sugar. Which reminds me…
Superhero Foods
Superheroes need their protein and veggies, so if you thought you'd never be able to talk kids into eating healthy foods at a party, think again. Set out trays of veggies cut into fun shapes with yummy ranch dip in the center of the plate.
Cube or scoop watermelon and sprinkle blueberries on top for a red and blue healthy motif. Raspberries can make this a real treat too.
For protein, put out string cheese, little cheese cubes and protein-packed sandwiches (choose fresh deli meat; you can even go for a super long sub).
If it's warm out, fire up the grill and make veggies and dogs. Chicken nuggets are a perennial favorite, too. Watch out for nuts and legumes such as peanuts, which are a great source of protein but may trigger allergies.
Of course, you'll need a super cool Avengers cake or Avengers cupcakes. You don't need to be anything close to a super talent to create this. Simply bake any style and flavor cake, ice, and use an edible cake topper. Here's some "incredible" and "stupendous" cake ideas from other people: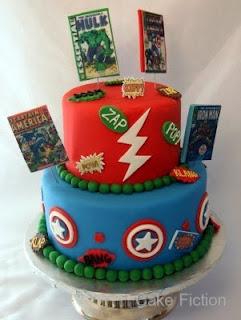 Comic book cake, by Cake Fiction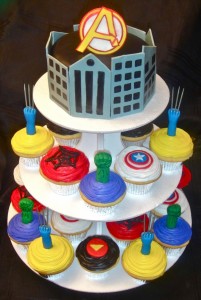 Superhero cupcakes, by Cake Central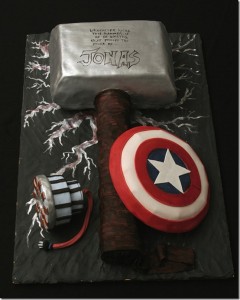 It's hammer time! Cake by Kavingate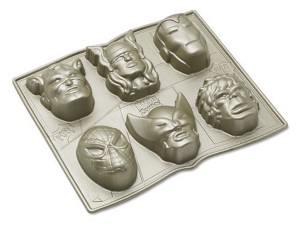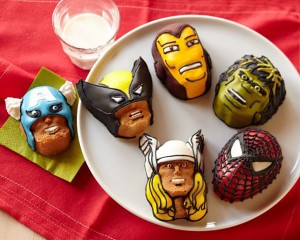 You can get the Marvel cakelet pan
at Ebay or Williams Sonoma.
If you're feeling inspired, go ahead and pick up some Avengers mini plastic toys
on Amazon. Arrange them on a cake covered in white frosting and add piped blue and red stripes or a blue and red American flag to the cake. While guests are eating, wash the plastic pieces and send one home in each goody bag.
More red, white and blue ideas include: red, white and blue kettle corn (too cool…here's a tutorial); strawberry Twizzlers tied in blue ribbon (curl the ends with one blade of a pair of scissors); and red, white and blue cookies, any style.
Give a nod to the individual Avengers besides Captain America too. How about green cupcakes with green frosting for Hulk? Or make deviled eggs and call them "black widow eggs" for Spider Man and Black Widow. How about halving prepared croissant dough pieces, rolling them and bending slightly, pinching the ends and then baking to make horns like the ones on Thor's helmet?
Now what are you waiting for? There's a neighborhood or classroom full of superheroes that need a great place to fly to for food, friends and fun. As always, let us know what cool ideas you come up with. We're continually amazed and inspired by our readers' creativity!