Honey Treats for Your Winnie the Pooh Party
Who doesn't love the classic and adorable Winnie the Pooh? This character has been around for ages and every child seems to celebrate a phase with him (often these phases last a lifetime). If you're planning a child's birthday party, this loveable bear works beautifully as a theme. Here's some fun and delicious ideas for food at your party.
Hunny For My Honey
As with any type of party, the food should match closely with the theme to really pull it altogether. The good news is that since Winnie has been around for decades, you have lots of ideas and recipes created by fans and chefs.
If you know one thing about Winnie the Pooh, you know that he has a crazy love of honey! He always has a honey pot on hand and many of the story lines are centered around his passion for this sticky and sweet goodie. So why not turn this aspect of the theme into the food idea for your party?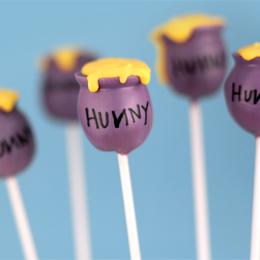 Recipe for Hunny Pot Cake Pops, courtesy of
Disney
You don't necessarily want to just serve the guests a big pot of honey, so use a bit of creativity and you will really wow the guests. Put out a whole spread of foods including honey sticks, Honey Nut Cheerios, honey graham crackers, honey roasted peanuts, Honey Grahams, Bits of Honey, and honey infused goodies.
Placing all these goodies on a table decorated to look like the cross-section of a beehive will look fantastic! One idea I would try is having a large, round table or plate surrounded by Honeycomb cereal or honeycomb toffee. Adding toy bees around the table makes a great final touch!
This all makes for an interesting spread of food and you can even check out recipes that use honey as a main ingredient to really pull it together. How about some delicious honey bbq chicken, cut into kid-size strips?
To show off the theme put out signs with Winnie the Pooh on them that tell what they are and of course highlight the word "HUNNY" in each one. Kids and adults alike will love this and enjoy every bite as Pooh Bear would!
A Tea Party Fit for More Than Two
In many of the episodes or books, Winnie enjoys a tea party with his friends. This shows the classic edge to this series and theme and so it works as an excellent way of embracing that for your party. To pull this through create your own little tea party for all of the guests.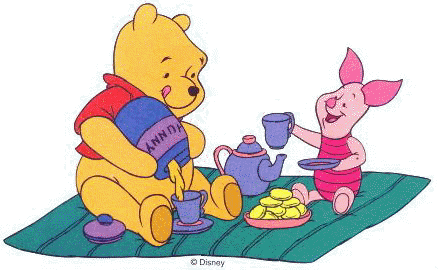 Get out a nice teapot and some cute tea cups. If you can find them featuring Winnie the Pooh and friends
then that's a huge bonus! You can serve up tea if the kids are old enough or just offer hot chocolate if that's a better fit. The kids will just feel so special to enjoy a tea party that they won't care what the actual beverage is.
Treat this like a true tea party and serve up courses that include and center around tiny little sandwiches and lots of pastries. Serve up cupcakes, try your hand at homemade scones, muffins, and even chocolate dipped strawberries. These foods are easy to execute and fit perfectly with the theme. It's a special occasion and happens to fit perfectly with the theme and the guests will love this way of capturing things.
Rabbit's Garden Fresh Goodness
If you remember one thing about Pooh's friend Rabbit, it's that he works in his garden a lot. Though kids don't necessarily gravitate towards vegetables they will if you label it as goodies from Rabbit's gardens.
The obvious starter is some fresh veggies with a couple of dips. Put out favorites such as carrots and tomatoes but then mix in some innovative additions such as pea pods and red pepper slices. Then put out hummus, dill dip, and ranch dip for the kids to gobble up.
You can also use vegetables as the center of some great kid dishes. Put together a simple pasta primavera that uses a simple olive oil and Parmesan cheese and all the veggies you can imagine. Put together some roll up sandwiches that use cream cheese, sprouts, cucumber, and carrots. There's just something about dressing up veggies to look fun that gets kids to gobble them up.
Enjoy your Pooh party and the delicious treats!