Winnie the Pooh Birthday Party Ideas
Let's all join Winnie the Pooh, Tigger, Piglet and the rest of the gang at 100 Acre Wood for a birthday party full of hunny! A.A. Milne, the English playwright-turned-children's author, is best known for his Winnie the Pooh stories, featuring a cartoon replica of Milne's own real life son, Christopher Robin, and a forest full of his buddies.
The beloved author died in 1956, but he's remembered to this day for his cute, sometimes quirky and always lovable depictions of the "silly" bear Winnie the Pooh and all his forest friends. If your kids love Pooh Bear like mine do (and my favorite stuffed animal was, yes, Pooh) they'll get a kick out of a Winnie the Pooh party.
Winnie the Pooh Birthday Invitations and Quotes
First things first: pick a date for the party and send your invites. Or have your child hand deliver them in class. (To avoid hurt feelings, have her place the invites in guests' cubbies or ask the teacher to put them into backpacks.)
School-age kids will love helping make their own personal invitations. Here are a few ideas:
Your own 100 Acre Wood map – Download a map of the "100 Aker Wood" (here's an example). On the east side of the map you'll see a sketch of Christopher Robin with "My House" written beside it. Underneath this text, put your own address. Highlight the area with a big arrow. Keep the map old-fashioned/vintage looking by printing it in black and white with only the arrow in color.
A picture with Pooh – An alternative to the background of the invitation is to take a picture of your child holding a favorite stuffed Pooh, Tigger, Piglet, Rabbit or Kanga and Roo. Print on a red and gold background. Have the party information printed next to or below the image of your child.
Cute Pooh Sayings – Use cute Pooh-esque wording, like "Sweet! Gemma is turning 5," "We'll have a Tiggeriffic time" and "Be sure to come with a rumbly in your tumbly — there will be plenty of munchies at the 100 Aker Wood!"
Here's a few loveable quotes from our favorite bear (and author):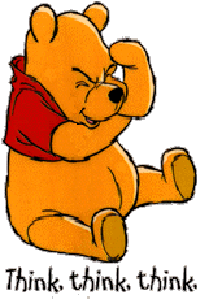 "Think, think, think."
"How lucky I am to have something that makes saying goodbye so hard."
"Nobody can be uncheered with a balloon."
"It's not much of a tail, but I'm sort of attached to it."
"The things that make me different are the things that make me."
"A bear, however hard he tries, grows tubby without exercise."
"Weeds are flowers too, once you get to know them."
"We'll be friends until forever, just you wait and see."
"Sometimes I sits and thinks, and sometimes I just sits."
"Sometimes the smallest things take up the most room in your heart."
"One of the advantages of being disorganized is that one is always having surprising discoveries."
"I think we dream so we don't have to be apart for so long. If we're in each other's dreams, we can be together all the time."
Creating a Pooh Party Atmosphere
Put a Pooh standup in a corner of the room. Take pictures of guests hugging "Pooh." During the party, upload the pics and then print them out. Send each guest home with his or her "friend of Pooh" picture.
Invite guests to dress up as Piglet, Winnie, Kanga/Roo, Tigger, Eyore, Christopher Robin or even their concept of what a Heffalump might look like. Make sure you note this on the invitations so parents have time to get a costume together for their children.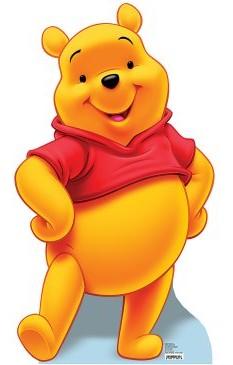 Think red and yellow/red and gold for party colors. Add springlike colors, like green and blue, for a cheery look. Set the party table in these colors and with Pooh images on plates, cups, napkins and the tablecloth.
Fill plenty of blue balloons (for the story of Pooh pretending to be a rain cloud in order to procure some honey) with helium and set them around the party area. (After the party, send each guest home with a blue balloon.)
If you live in a warm climate and have trees in your yard, consider hosting the party outside to emulate the 100 Aker Wood. Or hold the party at a local park; be sure to call your city first for permission.
For an indoor party, make a big tree trunk out of pieces of brown paper taped together at the back. Scrunch tissue paper pieces in various shades of green, or autumn colors if you'd like. Tape the "tree trunk" up on one wall. Tape the scrunched paper at the top of the trunk as leaves. Print out images of Pooh bear and his friends and tape them so they're sitting among the leaves of the tree.
Create or purchase a banner with Winnie the Pooh and your child's picture on it. Hang it across one wall to show off your little "Hunny" on her special day.
Paint a flower pot inside and out in brown. Allow to dry. Cut wavy yellow felt pieces and glue all along the outside rim of the pot to look like honey drips. Write HUNNY in a childlike printing on a piece of white paper. Cut out the word in a rectangle and glue to the outside of the pot. Set up as a party centerpiece.
Feeding Your Hungry Bears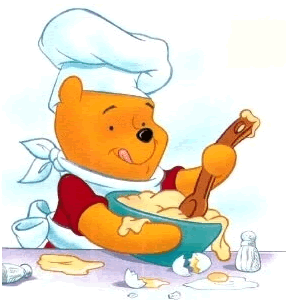 Here are a few yummy ideas for when your party guests say they're rumbly in the tumbly:
Honey. This is an obvious choice — find honey flavors (like honey graham crackers) or serve honey on toast. Honey buns are delicious too.
Teddy Grahams. These bear-shaped goodies are delicious and are perfect for kids.
Gummy Bears. Mmmm!
Carrots – in honor of Rabbit's garden.
Cake with a Winnie the Pooh cake topper.
Eyore's Rain Clouds. Make blue Jell-O Jigglers and fluff a tablespoon of whipped cream on each.
Picnic style foods. You can even put down a picnic blanket in your living room and have guests munch there. Watermelon, sandwiches and corn on the cob are great picnic foods.
All fruit juice frozen pops. Less artificial sugar means happier kids (and moms).
Toddler-friendly snacks. Pretzels, crackers and cereal will make toddlers. Skip the popcorn, which could cause choking in very young children, and the chips — there's no need for them with all the other, healthier foods you'll be serving.
Party Activities – Get Your Pooh On!
Time for the fun! Here are some of our favorite ideas for a Winnie the Pooh party to keep kids hoppin':
Hunny pot toss. Find a yellow and black sock, a yellow and black piece of material or draw lines on yellow fabric with a black magic marker. Stuff with a high-bounce ball for weight, surrounded by cotton balls. Close the material in a basic oval shape to make a bee; close with fabric glue. Set up some flower pots in your yard or in the party room and have guests take turns tossing the bee into the honey pots. Have a small prize for each participant.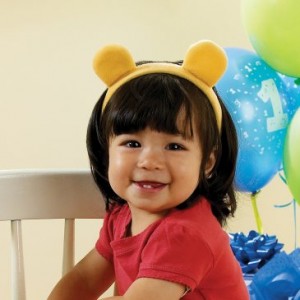 Fun party craft alert! You'll want to make a pair of these for yourself, too. The craft: animal ears guests can wear. You'll need cheap fabric headbands (check out your local dollar store), construction paper in colors for the various animal possibilities (pink for Piglet, orange and black for Tigger, etc.) and a stapler. Sit guests down to draw and cut out their "ears," including a 3/4″ long, 1/2″ wide tab at the bottom of each ear. You fold the tabs inward and staple the ears to the headbands. So cute, so easy and these make a great take-home gift.
Pin the Tail on Eyore. You just can't have a Winnie the Pooh party without a Pin the Tail on Eyore game! Print out a big picture of the sad but oh so lovable donkey who's always losing his tail. Tape it to a door or on one wall at your guests' basic height. Print out multiple images of Eyore's tail with the pin at the top. Cut these out. Place double-sided tape on the back of each tail near the top. Blindfold guests, turn them around three times and then head them toward Eyore. Have a small prize for the winner.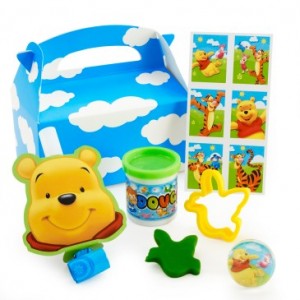 Fly a kite. For an outdoor party, pick up an inexpensive kite at Walmart or any inexpensive local dollar bin and let kids take turns holding the string. You may have to get things going yourself; it's very hard for little ones to get up enough running speed to get a kite into the air. But after that, it's a simple matter of passing the kite handle off from one guest to the next and letting them have the thrill of watching their kite float in the air.
Red balloon toss – If your party will be held indoors, have guests toss around one of the helium balloon decorations and attempt to keep the balloon off the floor. When a guest allows the balloon to fall, he or she is out. Keep going until you have a winner.
After the party, give each guest a goody bag. Gifts will partially depend upon the age of the guest. Winnie the Pooh character Pez dispensers, Slinkies (for Tigger's tail) and individual bags of baby carrots are all fun Winnie the Pooh party bag ideas.
This party idea is sweet and will be a keepsake memory, so be sure to take plenty of photos and e-mail or text them to guests after the party so everyone can recall their good time.