A Winter Birthday That Defies the Coldest Temperature
Winter birthdays may be filled with cold temperatures but they can really warm the heart! If you have a child with a winter birthday then you know that your options may be limited. Though the summer birthday may offer many wonderful outdoor options, you can't really go out and enjoy a day at the beach in cold winter temperatures.
Fear not, for there are plenty of fun options for the winter birthday. My birthday is in December, but there's still a lot of fun stuff to do! You can enjoy winter for all that it is or get away from the cold with something fun to take the kids minds off of this sometimes brutal time of year.
Some of the greatest options dwell inside so tune into those that are sure to please even the most discerning little taste. Here are some great ideas for a hot party in the bitter cold of winter:
1. Indoor Swimming Pool: If you have a hotel or nearby facility with an indoor pool then this is sure to please. You can enjoy swimming even in the coldest months when you plan your party around this activity. Ask guests to bring towels and a change of clothes in advance. Kids will swim for hours and you have your own venue to hold the party and let them have a blast even in the winter months.
2. Local Community Center: A local community center or YMCA can hold many fun activities for kids. There are often gyms, play areas, and tons of fun little games and activities for kids of all ages. You as a parent can often reserve a room for the cake and then let the kids go wild doing everything from rock climbing to playing basketball. You can't go wrong with this!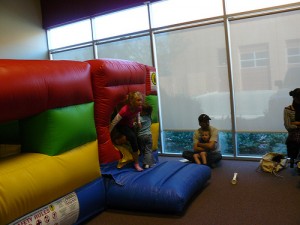 Bounce House Fun! Image by
Faceless Librarian
/Flickr
3. Skiing Extravaganza: Depending on the age of your child you may want to hit the slopes. This can be an excellent way to embrace Old Man Winter and really enjoy it for all that it is. Get out for a nice cross country ski or hit the slopes with a bit of instruction and a whole lot of fun. Offer lunch in the lodge and let the kids get out and enjoy what winter is all about.
4. Bounce House Mania: More and more bounce house facilities are popping up much to kids delight. There are many facilities that offer nothing but bouncing so that kids can have fun and parents can actually enjoy a conversation. Check out what's nearby and you might be amazed as many offer great play packages that cover the cake, the food, and all of the set up for a fun birthday party.
5. Gymnastics Center: Kids love to flip around and this offers them the perfect option to do so. In this type of party a gymnastics center offers mats and all of the equipment for them to burn off some energy. You can usually rent out a room or get a complete package whereby kids can practice their balance and adults can enjoy the scene.
6. Ice Skating: There are some great indoor and outdoor options for ice skating. Most kids may need a bit of instruction or guidance but this can be a great way of enjoying winter. You can get out there with the kids and show that sometimes falling down is part of having fun. Everyone will be laughing and having a great time—and they won't even realize how cold they are!
7. Build-A-Bear: If your child loves stuffed animals then this can be the perfect way to celebrate. The store takes care of the activity and every child leaves with their own stuffed animal that they create. They turn this into such a fun type of party and the best part is that the favor is already part of the price.
8. Indoor Gaming Facility: No parent can ignore the desire to take their kid's party to a fun indoor gaming facility like Chuck-E-Cheese. For a set price the kids will get tokens to play games until their heart is content. Then the kids end up with prizes and a great lunch while you sit back and relax.
Winter may not offer all the beauty of summer but you can still host a great birthday party. Whether outside enjoying the allure of the colder temperatures or indoors having a blast (check out a winter wonderland birthday theme), these options are sure to please—and ultimately make your job in planning much easier!