Winter Wonderland Theme Party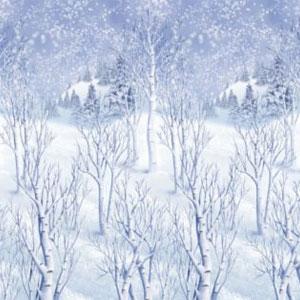 Winter Wonderland scene. Supplies available at
Shindigz
Oh, the weather outside is frightful…but your party will be so delightful with these great winter wonderland party theme ideas!
Snowflakes, Snowflakes Everywhere
Whether you live in an area that receives snow in winter or not, you can create a gorgeous wintry backdrop to your Christmas party. Make snow and snowflakes your central theme to get the party started.
For a children's party, print the party information on white paper, then fold each piece of paper per instructions and cut it into a snowflake design (be careful to cut primarily around the edges, and to inset the text somewhat so you don't cut holes in the pertinent information!). Here are some great, free snowflake templates for inspiration.
For a more sophisticated feel, try this gorgeous template, or Google one of your own (make sure you're not printing copyrighted material unless the site owner specifically states it is free and for public use).
Cut snowflakes out of white or silver paper using the tutorial above (under Invitations). Hang them from the ceiling.
Buy some inexpensive cotton batting at your local dollar or fabric store. Arrange it in puffs around the party area to imitate snow drifts. Hang a few snowflakes over each snow drift area. Toss a handful of silver confetti or glitter onto each mound for a little extra sparkle.
Put up a wintry scene setter on the wall to really set the mood.
Make or buy a snowflake garland and display it along the walls of the party area.
Hang lots of twinkly/blinking white decorative lights around the party area and outside so guests are greeted with a sparkly, snowy effect as they enter.
Spread a long white sheet of paper over the foods table for a tablecloth; secure it with tablecloth clips or tape. Hang snowflake cutouts around all four edges of the tablecloth.
Choose white, silver or blue disposable plates, cups, napkins, forks, spoons and serving dishes.
Cut snowflakes or fanciful snowmen out of heavy paper and use as doilies for guests' drinks.
Check out the variety of discount party supplies from Shindigz.
Cool Party Foods and Beverages

Warm guests up with these cool food ideas:
Greet guests at the door with white chocolate hot cocoa and snowball cookies (yum!). Or place a peppermint stick into a cup of white, milk or dark chocolate cocoa. Top the drinks with whipped cream.
At the party table, offer a white chocolate fondue
with chunks of fruit; strawberries are perfect. Other white foods such as coconut (see these fabulous coconut bars) are good choices for a winter wonderland theme.
For savory choices, prepare traditional warm-me-up foods such as chili or stew (either of these can be made without any meat products for vegetarian guests as well, making them very versatile).
"Ice bars," as seen in Las Vegas, are uber-trendy. Create your own ice bar effect using plastic or glass clear cups and glasses — cube-shaped if you can find these, to mimic ice cubes — and freezing them just before the party so they take on a frosted look and feel. Set these out on cotton batting or a white cotton sheet. Drape white chair covers over chairs in the bars/drinks area.

Crafts and Music
Music sets the mood of any party. For your winter theme, go for traditional, pop/rock, or any style you feel your guests would like. Some song suggestions include: Walking in a Winter Wonderland; Baby, It's Cold Outside; Frosty the Snowman; Marshmallow World; Let it Snow; White Christmas; Hazy Shade of Winter; The Christmas Song ("Chestnuts Roasting on an Open Fire"); Sleigh Ride; Wonderful Christmastime; and favorites like Jingle Bells.
For a children's party, sit them down to do some fun crafts, like these:
Have kids cut out and decorate their own snowflakes using glitter, stickers, magic markers and crayons.
Seat guests around the party table to make "snowman sundaes." You'll start these by placing two scoops of vanilla ice cream, one on top of the other and pressed down a bit so they'll stick together, on each dish. Have candies, licorice and sprinkles available and allow each guest to create a fun and fanciful snowman. Snap a picture of each creation before it's eaten up, print out during the party and send home in guests' goody bags.
Make holiday snowy trees with pine cones, cotton batting, glue and glitter. Give each child a pine cone. Have him glue the bottom of the pine cone to a flat piece of cotton batting, for "snow." Now let him drizzle glue along the sides of the pine cone and add glitter. Do this near the beginning of the party so each tree has time to dry. Send home in goody bags.
Don't forget the treat bags. In addition to their own crafts, kids can go home with sweet treats and small toys that you provide as a fun ending to a wonderful winter party.