Max & Ruby Birthday Party Ideas
If there are two or more kids in your household, you absolutely have to sit them down to an episode or two of Nick Jr.'s Max & Ruby. This show manages to show sibling strife without fighting (yes, really!) and love without uber-mushiness and teaches great lessons about compromise, sharing and keeping an open mind when looking to solve problems.
Max & Ruby is such a cute choice for a party, and you'll love putting together this charming theme. Read on for everything you need to know.
What the Show is About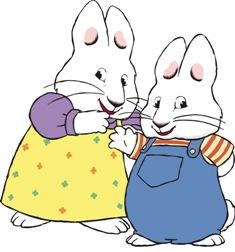 At my house, my two boys love this show. It's based on Rosemary Wells' Max and Ruby book series and features a bunny brother and sister pair.
In each episode, Ruby, the responsible older sister (parents are never mentioned on the show, though there is a grandmother), comes up with an idea that often involves Max, her younger bunny brother. Max, on the other hand, usually has other plans that involves fun "boy" things, like playing with worms and getting muddy.
Once in a while, these roles are reversed: Ruby wishes to do her own thing while Max tries humorously to get involved. Either way, the push-pull will seem very familiar to your own little family of sibs!
At the end, Max & Ruby's conflicts always turns into something fun and constructive (ie in one episode, Max's annoying banging on a toy becomes an effective metronome for Ruby and her practicing music band).
Party Invitations: Hop to It!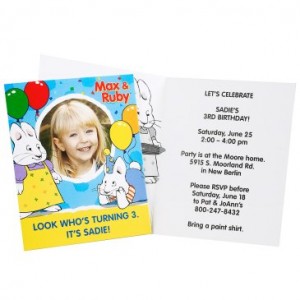 A Max & Ruby party can work for either a girl or a boy if the guest of honor is preschool or younger. Keep in mind that, with its focus on love (or at least getting along!), a Max & Ruby party is also perfect for Valentine's Day. And with the rabbit motif, consider Easter for this idea as well.
Make sure you send out invitations two weeks before the party.
You might also want to consider making invitations. Print out an image of Ruby and Max together and glue a small ball if cotton to the tail of each. Write the party information on the back and mail or have your child hand the invitations out at school or daycare.
Bunny Party Supplies and Decor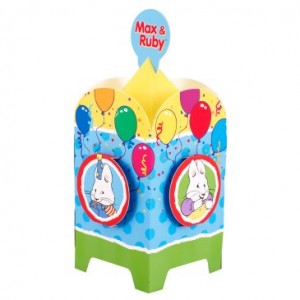 Set out Max & Ruby disposable tableware to transform the room into a party area in an instant. The look is adorable and you'll love having fewer dishes to do at the end of the party.
Add lots of pastel color to the party room, plus touches of primary colors (red, blue and green). Hang streamers from the ceiling and tape balloons to the corners of the table or have bunches of balloons filled with helium and float them from a balloon weight at the center of the table.
Tie helium balloons to the railing outside or to your front gate. It's always easiest to show first-time guests to your house with lots of bright colors rather than having parents drive up and down your street squinting for house numbers, so this is as much a nicety on your part as it is decor.
A personalized banner is a great touch, and your child will love it. Buy one, or make your own. Choose a Max & Ruby background, of course. Look for images online to decorate the banner; you should be able to find plenty of party-style images of the bunny sibs (Max definitely loves to party!). Insert an enlarged pic of your child, print "Happy Birthday (child's name)!" in a fun font, print and hang.
Also check out Rosemarywells.com (the author of the book series Max and Ruby). She has free party printables and coloring pages … and as you know, around here we think "free" is the best price of all! Go for it!

Fun and Games for Your Little Bunnies
Time For Munchies!
Put out fixings for guests to create their own ice cream sundaes. Photo:
misterbisson
/Flickr
Mmmm…snack time! If you don't want to serve a full meal, have the party either mid-morning or mid-afternoon. But do put out plenty of munchy treats for the party guests. Here are some yummy Max & Ruby party food ideas for your table.
This really is one of the most charming ideas you can choose for a birthday or Valentine's Day party for your child. Remember to send in your pics and ideas — our readers are always our finest inspiration.