Yo Gabba Gabba Cakes That Will "Grabba" Your Attention
Yo Gabba Gabba is not only a favorite TV show among kids, but it makes for an excellent theme for a birthday party as well - or even a classroom party if you combined it with these classroom games. Since the cake is often the centerpiece of the party turn this into a creative and fun way to carry off this theme. You can venture out on your own with ideas or use a few favorites to really pull the look together.
1. Layers and Layers of Fun: If you love Yo Gabba Gabba but you want to think outside the box a bit for your cake, then this is the one for you. This is such a fun cake as it incorporates tiers which is a great functional way to serve many guests.
By using tiers you not only end up with a giant cake, but you can incorporate a bit of creative license in the decoration as well. Feature one main character on each tier and you have a true masterpiece for your party. It doesn't matter which characters or which order, but it should be playful to fit the theme.
Since Yo Gabba Gabba is all about vibrant, retro colors then be sure to incorporate them with the frosting to match each featured character. A truly fun way to go!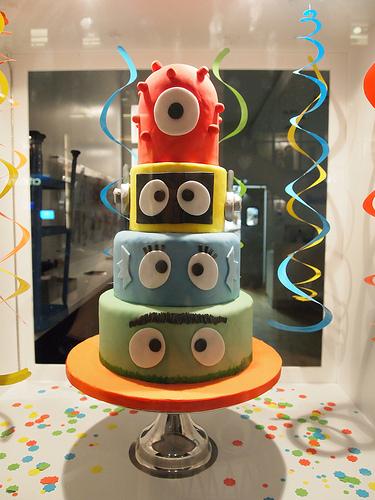 2. A Ride to Remember: If you have a little one that loves Yo Gabba Gabba and also happens to be into cars, then this will pull ahead as the winner. Unless you are part of Cake Boss, it would be hard to pull off this look, but it's fun to look at! You are not only making a car or truck but also molding each character. It's truly a cake to remember.
Your child will love seeing all of their favorite characters from the show sitting in the car and it makes for such a creative and unique cake. If you wish to try something like this, take the time to really study up on the characters such as Muno or Foofa to get them just right. It might be helpful to have a picture of each character handy so that you can mold them to perfection.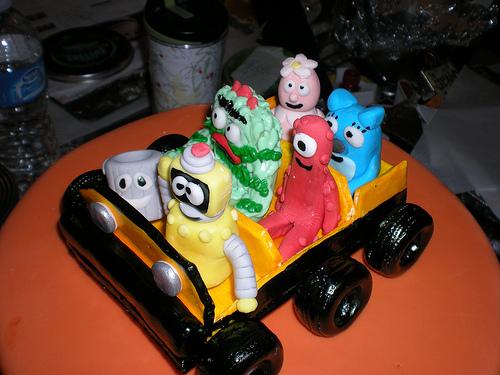 3. The Feature Attraction: If your child has a favorite character from the show, then you can feature them in the center and then surround with the others. This is a popular method as it pays homage to the favorite star but yet showcases all of the friends.
This one features Brobee which seems to be a popular choice, particularly among little boys. You can either draw on the other characters or just find the little figurines to represent each character well. Use a simple background color for the main frosting of the cake like yellow and then everything can play well off of that. This is a great way to show off the main feature and yet incorporate all elements of the show in a fun way.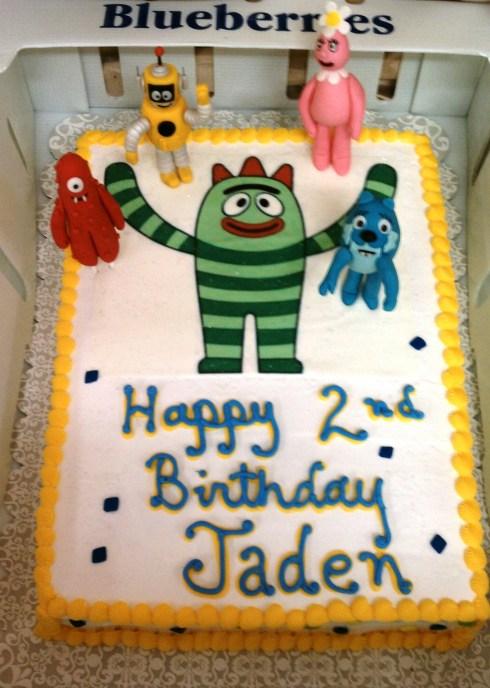 4. Simple But Speaks Volumes: If you want to feature just one character in a fun and whimsical way then this is a great way to do so. You simply need one round cake and then can build up as necessary.
In this instance Brobee is the star of the show and though it's simple it happens to be pulled together really well. One round layer with a nice green colored frosting and then all of the decorations to pull it together into the perfect Brobee shape. You most certainly could do this for any of the cakes and this allows your little one to enjoy their favorite at a fun themed birthday party.
You will find that baking the cake in the perfectly shaped mold or container will make the head this perfect shape. It's a bit less traditional and yet easy enough that even I would be able to pull together this lively look!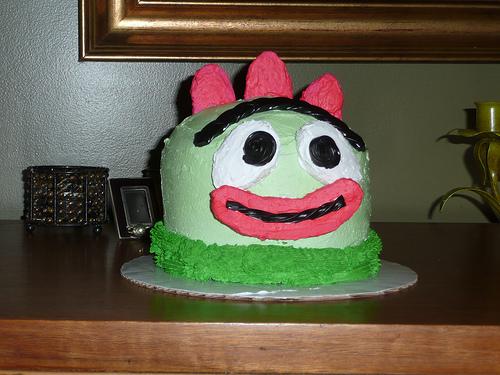 5. Dance to the Beat: One of the main things that Yo Gabba Gabba is known for is the music, so that makes for the perfect theme to decorate your cake by. The radio or DJ table is the centerpiece of this cake and everything else revolves around it.
Having a couple of favorite characters dancing like Foofa and Toodee really help to carry off the look well and turn this into a real dance party. The special little touches are what really put this cake over the top -- in this case it's the water motif complete with shaped cookie waves that really pull it all together. This is a great way to pay tribute to the favorite show and have a cake that will please every guest at the party.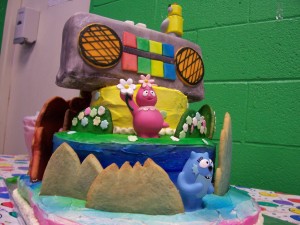 6. Tower of Cupcake Power: Cupcakes are such a hot trend in cakes right now and this one will have guests talking for months. You take a simple concept like a tower of cupcakes and then stack them all together. The great part of this is that you can feature each Yo Gabba Gabba character on their own cupcake.
So you will see rows and rows of favorite and familiar faces. This isn't hard to do but it is so impressive when you see it all put together. This works well for a party as there is a cupcake for each of them and every child will love to have a frosted image of DJ Lance and the gang before them. Take the time to practice your drawing of each character and you'll be able to pull this together ... or do what I do, and order from this baker's Etsy store!