Welcome in the New Year with a Bang
Father time is getting ready to bid adieu to another year. It's hard to believe but it's almost time for another fun New Year's Eve celebration. It's time to kick up your heels and take things up a notch – this will be a New Years to remember!
If you want to revel in the fun and make this an occasion to remember then you need a theme to unify the party. With the right theme and a fun group of friends you can welcome in the New Year in style and have an amazing party.
Some themes are timeless and some a bit unique, but they all have one thing in common – they make for a great time!
Casino Party Fun
If you like to gamble, then throw the dice at this fun party theme. Though this isn't just centered around New Year's Eve it happens to work really well for this occasion. Set up some tables for card playing and even an area for a Roulette wheel.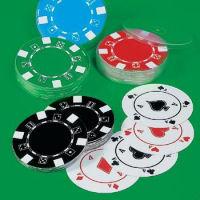 You can rent all of the supplies for some fun games of Craps, Roulette, or even Blackjack. You can even hire a trained dealer to come in and get the party going. This is a really fun way to get everyone involved and having fun.
Be sure to give out prizes for the winners and make it a fun event with little games within the table games. Casino night is an excellent way to have fun and welcome in the New Year … perhaps with some winnings in your pocket!
A Celebration of the Year That Has Passed
So many parties are centered around the year that is coming up, so why not give your party a different twist? Make your party focused on the various parts of the year that have passed.
Play the hottest music of the past year, put on some of the best movies or TV shows in the background. Ask all of the guests to bring a few pieces of memorabilia that marked their past year and you can share with each other.
Of course be sure to serve up some of the hottest food crazes from the year that has passed like flavored popcorn or fish tacos that you see on every menu. This offers a unique theme and one that people can all relate to and reflect on.
Kicking It Old School
So many of us focus on the times ahead, but what if you focused on the times behind you a bit? This is a great theme as you can reflect on past eras and really kick it old school with your friends and family.
Pick an era for the guests or let them pick their own to bring in elements of. You can ask guests to dress in their favorite attire from that decade or era and bring along some music.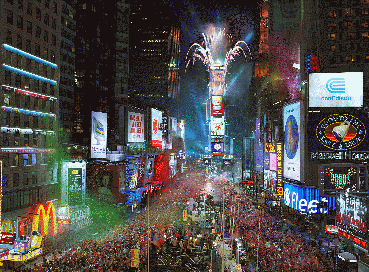 What's better than having guests dressed in their favorite 80's fluorescent attire, listening to the best one hit wonders of the era? People love a theme that allows them to go back in time and New Year's Eve is a fun time to do that with guests.
Create Your Own Times Square Party
If you can't get to Times Square then bring it to you. There are some great backdrops that allow you to turn a room into the likes of Times Square and really get people in the right party mode.
The entertainment is easy enough as you will of course have on the New Year's Eve show with Ryan Seacrest welcoming in the New Year. Then put a fun twist on it by throwing confetti at midnight.
For fun little features, put up your very own miniature Statue of Liberty and serve a themed food like hot dogs from a street cart with all the trimmings. You can even offer a Manhattan to get people in a New York state of mind!
Black and White Gala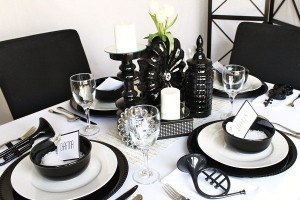 Ask all of the guests in advance to come in their best black and white attire. It can be formal or casual but everything must be either black or white from head to toe.
Then serve up only black and white food and drinks such as Black Russians, white grape juice Cosmos, marshmallows in dark chocolate, Swiss cheese fondue, black olive tapenade, and white chocolate brownies.
The venue has to be set in all black and white from confetti to wall hangings—see if you can even get a black light to pull it all together. This is a fun way to celebrate any occasion and will make for a memorable New Year.
Having a Ball
A masquerade ball isn't just for a princess, so capture that excitement and fun into the perfect New Years Eve party. When hosting this you just need to clear out the space so there's room to dance. Then ask all guests to come in formal attire and of course the best masquerade masks that they can find. Dress the room in vibrant colors like bright pinks, greens, and blues to really make it sparkle and pop. People love to dress up at New Year's and this is a really fun twist to it that everyone will remember.
New Year's Eve is such a special and wonderful occasion. This year mark it with the right theme and the perfect way to carry it off. This will get the guests excited and surely make for the most memorable night of the year.