Times Square New Year's Eve Party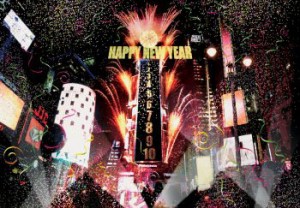 9 ft. New York Times Square Party Scene, available at
Buycostumes
Across the globe, people throughout history have always celebrated the last night of the old year and the coming of the new one. But we're sure you'll agree when we say: Nobody does New Year's Eve like New York!
Since 1904, Times Square, New York has been the hub of New Year's Eve celebrating in the U.S. Recreate the party atmosphere and gorgeous, lighted scenery of a real Times Square New Year's Eve with these ideas.
New Year's Eve Traditions – New York Style
For over a century, New Yorkers have been partying in the new year with a huge, no-holds-barred outdoor (brrr!) Dec. 31 celebration. In 1972, the coolest music of the times was added when Dick Clark began hosting a panoramic view of Times Square preparing for the Big Moment on National TV. (Ryan Seacrest joined him in 2005.)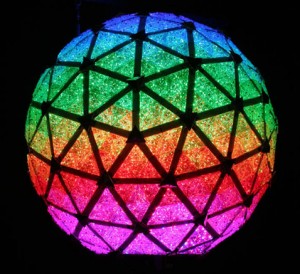 But it was in 1907 that one of the most well-known icons of the year-end holiday came to be: The Ball.
If you've never seen the New Year's Eve ball (known to insiders simply as "The Ball") drop in Times Square, then check out a few historic highlights. The lowering of this Waterford crystal behemoth to count down to the new year never gets old, and it's so easy to incorporate it into your party if you're in a locality that broadcasts the ball dropping in realtime.
If you're in a later time zone or if you can't get a broadcast, enlist in the help of a friend ahead of time to tape the exciting event, then e-mail it to you with enough time for you to set it up to show on a large screen at midnight your time — your guests will love it.
Or create your own "ball drop" by making a round pinata, round papier-mache or large styrofoam ball covered in metallic paint, glued mirror-type plastic decorations or aluminum fall. You'll get lots of giggles as you "lower" "the ball" on a string to count down the last seconds of the year…but you'll almost certainly get a few wistful smiles, too.

Send Glitzy Invitations to Those You Love
Be sure to send the party invitations out in plenty of time for guests to RSVP, although we have nothing against an impromptu New Year's Eve get-together of food, drink, friendship and fun.
It's a tradition to be surrounded by those you love in a happy setting when ringing in the new year. Supposedly, this is a portent for a great, happy, love-filled year to come…and we tend to agree. So invite family and friends — space permitting, the more really is the merrier here.
Buy glitzy, sparkly New Year's Eve invitations or make your own by downloading a free template (here are a few great choices). Another option is to send your invitations via Evite.com.
Toss confetti inside the invitations before sealing them in envelopes. The confetti will "spray" out when the card is pulled from the envelope for a very New Year's Eve feel.

Turn Your Home into a Times Square Extravaganza
You're going to love turning your home into Times Square for the night. Here's how:
Balloons, streamers and confetti are a must. Have your balloons filled with helium so they're suspended from the ceiling — this, too, is very New Year's Eve. Choose silver or gold colors. Streamers can be in matching or contrasting colors.
Toss handfuls of confetti on the party table or other surfaces. Tip: wrap some of the confetti in small squares of fabric or in napkins; as the clock strikes midnight, have guests throw their confetti up unto the air.
Tall top hats are a New Year's Eve icon. Have top hat cutouts up on your walls, or buy inexpensive dollar-store top hats and set them up at jaunty angles on the party table. Add a few noisemakers and you have a great centerpiece or table decoration scheme for your party.
Print out an oversize picture of Dick Clark with Ryan Seacrest and hang it on the wall.
Hang an oversize scene setter featuring Times Square on New Years Eve. The bigger the better! This decoration will really give your party a "New Year's Eve in New York" feel.
Set out glittery silver- or goldtone pom-poms for guests to reach for and shake as they cheer in the new year at 12:00.
Festive New York Foods
Mmm! Bring on the party foods. Here are some suggestions:
New York-Style Foods
It's a real New York party — so why not serve some real New York foods? "But what are real New York foods?" you may be asking, and rightly so: the Big Apple truly is a melting pot of traditions, cultures and perhaps best of all, flavors. To narrow things down and also to add an element of casual fun, we suggest "street foods", grab-and-go options that you would find from a vendor on the streets of New York.
Pizza (thin crust, please — and remember to fold it before you take that first bite!), bagels, freshly-baked warm pretzels with mustard or cheese dip, hot dogs with all the fixings and hot confections, like zeppoli, are all great choices.
Appetizers
No matter what the occasion, it's guaranteed that it calls for appetizers, and a New Year's Eve party is no exception. If you're short on time, buy bake-and-serve phyllo or other dough frozen appetizers.
Oysters, stuffed clams, stuffed mushrooms, shrimp-wrapped bacon and other upscale delights are perfect, too, but if you're being budget-conscious this year, trust us: the baked-from-frozen variety will not be turned down!
Here are some ideas if you've decided to try your hand at baking your party specialties.
Drinks
It's your choice to serve whether you'd like to serve alcohol at your party. If you'd like to have an alcohol-free get-together, there are loads of options at the store: look for sparkling champagne, non-alcohol wines and other delicious drinks.
No matter what, get some kind of champagne and toast the midnight hour along with your guests to a rousting round of the New Year's Eve favorite, Auld Lang Syne.
Other ideas for drinks include sparkling cocktails, egg nog, and party punch (make it sparkly by adding soda or seltzer water).
Happy New Year to all our wonderful readers. May the coming year be filled with peace, prosperity, love and friendship for you and yours!