Bet on a Happy New Year with a Casino Night New Year's Eve Party!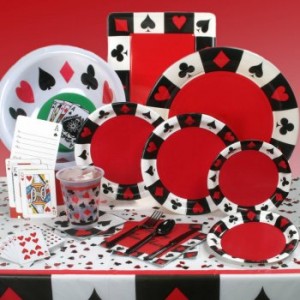 Casino night party pack, available at
Buycostumes
Feeling lucky? Ring in the new year by rolling the dice and betting on a happy new year! Plan a casino night theme party for your friends and family. Play for chips, pretzels or play money. For a small gathering, use your kitchen table as your gaming table, or set up a few small portable tables for several games at the same time.
Invitations
We, of course, love puns. So, a punny invitation for the Casino Night party is double the fun, and a sure bet.
Invite your guests with lines such as:
Feeling like a Queen of Diamonds, or a lonely spade? Join our "club" this New Year's for a Casino Night to ring in the New Year. We'll bet that you "heart" winning the jackpot just as much as we do! Black tie required – though if you have a lucky tie, wear it!
Location – Monte Carlo, aka 123 Your Street
Time – The dice start rolling after 6PM, New Year's Eve!
Games include Blackjack, poker, Texas Hold 'em, Rummy and Go Fish!
One neat idea is to place poker chips within the invite, but make sure you indicate the fun and not the profit of the evening.
The Lights of Vegas
Vegas, AKA your house, should twinkle during your Casino Night New Year's Eve Party. Where is your casino? Potted Palms and sparkly lights add to the "Paradise Casino" theme. Giant dice, casino confetti, and cards make fun decorations. It's easy to cut out Casino shapes from construction paper or poster board.
Food and Drinks
No casino party is complete without cocktails. It's a good idea to have some food to soak up some of the bubbly, though. Create a lavish appetizer buffet like the hotels high rollers stay in while visiting Vegas:
Shrimp cocktail (ice down thoroughly), Swedish meatballs, pigs in blankets, crudites of vegetables, miniature pizzas, and anything else you can eat with your fingers.
Iced sugar cookies in the shapes of diamonds, hearts, clubs and spades are also fun. You can find cookie-cutter sets for roll-out cookies. Here's an easy recipe:
SUGAR COOKIES
Ingredients:
Serves: 12-15
1 cup butter or margarine
1 cup vegetable oil
1 cup granulated sugar
2 eggs
1 cup powdered sugar
1 t. cream of tartar
1 tsp. salt
1 tsp. baking soda
4 cups flour (may need 2 more cups)
1 tsp. vanilla
Cream butter, oil, and both sugars. Add eggs and vanilla and beat well. Stir together salt, baking soda, flour, and cream of tarter. Add to creamed mixture and mix well. You may need to add up to 2 more cups of flour. Chill dough 1 hour.
Roll in balls (size of walnuts). Roll balls in granulated sugar, place on cookie sheet. Flatten each ball with the bottom of a glass dipped in sugar. Bake at 350 for 12 minutes.
Serve high-rolling cocktails and a midnight champagne toast! Dirty Martinis, Cuba Libres (rum and coke, with a lime twist), and champagne cocktails are fun party drinks. Keep some ginger ale around for the young'ins.
Luck be a Lady Tonight
A casino theme party is bound to be fun. Pump it up a notch with a great party playlist. Here are some suggestions for the iPod:
Luck be a Lady Tonight, from the musical Guys and Dolls
Lucky Star, by Madonna
Superstition, by Stevie Wonder
Viva Las Vegas, ZZ Top
Blackjack, by Ray Charles
The Winner Takes it All, by Abba
Poker, by ELO
Poker Face, by Lady Gaga (yeah, we know it's not about poker!)
Doubling Down: Casino Party Games
The fantastic party pack immediately brings poker to mind. Depending upon how much "fun" everyone's been having, by the time the New Year rolls around, you and your guests may or may not be ready to "focus" on a lengthy poker game. Don't fear! You can still have fun with these other casino-style games.
Left-Right-Center: Here's a dice game that even kids can play. (Watch the toddlers around the dice.) You roll a set of specially marked dice and move your chips to the left, right or center depending upon the roll. A fun game with nickles or quarters for the pot.
Blackjack: A pretty simple form of poker that involves betting against the "house." Each player and the house are dealt a card. The dealer's first card stays face-down. Then, each player is dealt a second card, which is turned face up. Last, each decides whether to receive a third card "hit me" or not receive a card "stand." Once all of the players have their cards, the dealer completes his hand. You win if your total is higher than the dealer's total, or the dealer "busts," or goes over 21.
Bingo: Get everyone involved in a game of bingo! Great for family parties, and kitchy adults-only parties.
Everyone loves a casino party! Ring in some cheer this New Year with a party that you can bet everyone will enjoy.