4 Warm and Icy Winter Wonderland Menu Ideas
Walking in a winter wonderland can be magical if you use the right elements to carry off this popular party theme. This is a great way to lighten up the cold and often drab months of winter. Guests will enjoy beautiful snowflake decorations, snowman plates and frosted serving pieces. And of course, your frosty decor will be filled with fun treats and warm foods.
Here are some great ideas for that wintry mix that warms the hearts of all your guests.
Icy Cupcakes
This isn't a difficult dish to carry off, but it can really set the tone for your wintry affair. You can make any type of cupcake though a simple white cake works really well. Ice the cupcakes in a very light sort of frosted blue frosting. If you can't find this hue of frosting then a simple white frosting will work well.
It's all about incorporating the blue and white color scheme on these cupcakes. Then you pull in beautiful decorations to line the top of the cupcakes such as icicles, snowflakes, and cute little snowmen.
This can be done in a very mature way if the decorations are more modern and simple. Once you put out these beautiful icy cupcakes, you have immediately set the wintry tone and of course offered a sweet treat that nobody can resist!
Comfort Food Favorites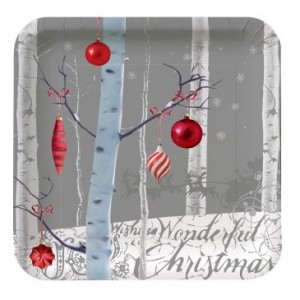 Winter wonderland party plates.
Click here
to view a full list of partyware
Let's face it—one of the best parts of winter is the comfort food. Fortunately for you if you are planning a winter wonderland party is that comfort foods are hearty and easy to make. You want some real "stick to your ribs" type of food that your guests can enjoy and savor in the colder winter months.
You can put together a big Crockpot of a favorite such as macaroni and cheese or chili. You can have a nice pot of stew on the stove or even some shepherd's pie in the oven. If you want to really take things up a notch then offer small bites of these favorites in a really dignified way.
Prepare ahead of time and dish up smaller portions in coffee cups or mini snowman plates favorites like homemade macaroni and cheese or even homemade chicken noodle soup. People won't be able to resist them and if you serve them in smaller portions in themed serving pieces it will add that extra special element.
Frosty Sweet Bites
Lining the table with the right candy and sweet bites can really take things in the perfect winter direction. It doesn't take much but can make such a great impact! Try out some old favorites like rock candy that looks like little icicles or perhaps some "snowballs" which are simply coconut covered cakes.
Then it's onto the perfect combination of light blue and white candies to finish off the look and food offerings. This can work well with a blend of light blue M&M's and mints, marshmallows, and even some coconut and white chocolate covered pretzels.
For a fun twist on these colored candies and sweets, offer a chocolate fountain that guests can dip their confections into. Everyone loves a chocolate fountain and for a unique twist you can even go with white chocolate.
Snowy Cocktail Punch
Pull everything together with a wintry cocktail that's easy to put together. To keep with the blue and white hues you can create an Ice Queen punch which is simply Blue Curacao, Vodka, and White Grape Juice. Mix together in a white punch bowl and you are creating the perfect setting and beverage to put your guests in a happy winter mood.
You can come up with your own concoction but give it a wintry color or mix. Try mixing a white Cosmo with Triple Sec, Vodka, and White Grape Juice. Then line the glasses with some sugar to give it that wonderful frosty look.
It's so much fun to put together a winter wonderland party – and it's not as hard as you might think. By incorporating the right foods with the right colors and seasonal elements you set a beautiful table that will warm the hearts of all who attend.