Winter Wonderland Party Cake Ideas
The glistening of the gorgeous white snow and the chill in the air creates the perfect setting for a winter celebration. This is such a wonderful theme for a party and presents a welcome change from the mundane cold days that we encounter. A Winter Wonderland theme makes the season bright even after the holiday season is over. So if you are going for this beautiful and fabulous theme, you need to be sure that your cake really sparkles.
Create a Fun Snow Effect
When it comes to creating the perfect Winter Wonderland cake, recognize that a little sparkle can go a long way. The notion here is that you are trying to recapture that glistening winter snow. So start with a basis of an ice blue for the frosting. This will really help to capture the color of the season and set the backdrop for the perfect amount of glistening. A simple light blue frosting can work really well and help to ensure that your cake topper or decorations really pop.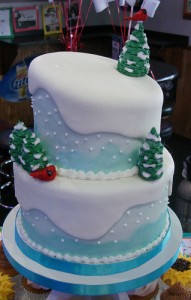 Image by
murnahan/Flickr
Consider some simple white sprinkles and snowflakes to add on top of the blue frosting. This is a really simple design if you keep with the blue and white colors and add snowflakes or "snow" for effect. This can really work well on cupcakes as you have a small area to work with. Frost in blue, sprinkle on a few white sprinkles of "snow", and top with a sugar snowflake. Perfect for the best winter treat around!
Simple Toppers Can Really Dazzle
Another fun idea that is actually quite simple to pull off is to rely on the right cake toppers
. You can find virtually any shape imaginable that can help you to create that amazing winter effect. Search for cake toppers in angels, snowmen, snowflakes, and even sparkly stars. You will feel like you recaptured the perfect winter scene right there on your cake.
You can go with a simple sheet cake that you bake and decorate with the right cake toppers. You can even go for a bit more creativity and make several sizes of round cakes that you stack. This isn't hard to do and it can really make the cake look professional—nobody will realize that it came right from your kitchen. Just make each cake slightly smaller and then carefully stack one on top of the other. You can either go for the light "ice blue" frosting or go for a nice white contrast. Then get to work decorating with all the best cake toppers you can find that help to send the best winter message!
Shapes That Really Wow
A final alternative for the best Winter Wonderland cake is to find the shape of the desired winter object in a cake pan. You can still incorporate cake toppers but this time you are focusing primarily on the shape of the cake. How amazed will your guests be when they see a snowman cake sitting right there before them? You can find cake pans shaped as whatever you may think of within the winter season. Simply pour batter in the cake pan, bake, and then carefully remove.
The key is how you decorate the cakes and you do need to be careful so as to maintain the shape. If you made a snowman cake for example you want to decorate in white frosting and then add every little touch from the black eyes to the orange nose and even the perfect little hat. You don't have to be a professional baker to carry this off—you just need the right cake pan and a bit of imagination!
Though many think of winter as a drab and boring time of year, you can really change perceptions with your Winter Wonderland party. If you use a bit of creativity and really get in touch with your inner baker, you can have fun putting forth the most impressive and delicious Winter Wonderland cake. This is a fun activity that will bring winter to life right there in your very own kitchen.