Saturday Morning Cartoon Slumber Party
Any child that grew up in the 80's knows firsthand just how fabulous the Saturday morning cartoon ritual was! In this day and age every single Saturday morning was all about watching cartoons while devouring Fruit Loops. There was no rushing off to soccer practice. There was no competing over which specialty network to watch. There was just one exciting cartoon after another (and the product placements and commercials we then begged our parents for!)
We welcomed them into our family room week after week and just adored all of the major characters. So if you can identify with this fun little ritual, why not turn this into the perfect slumber party theme? This is a great way to revisit a bit of nostalgia and introduce a whole new generation to something that was so great in our day and age. (I currently have my 5 year old hooked on Bugs Bunny, The Smurfs, Scooby Doo and Care Bears.)
Picking Your Favorites

Those who loved and truly understood how great the Saturday morning cartoons knew that there were some greats to pick from. Most of us watched The Smurfs, Jem and the Holograms, He-Man, Thundercats, She-Ra, The Transformers and G.I. Joe. To turn this nostalgic activity into a fun slumber party for the kids, pick just a few of the cartoons (most are on DVD and Netflix).
A great suggestion is The Smurfs or Transformers, as they have been launched back onto the scene with their recent hit movies. You can even add in another one for fun depending on the gender of the kids. GI Joe is a great choice for boys and Jem and the Holograms for the girls. No matter what, the choice of cartoons will help to set the scene for an awesome themed party.
The idea for the party is simple enough. You stream some of the favorite cartoons from the 70's and 80's on TV for the kids to gather around and enjoy. You can introduce them to your favorites when you were a kid. Concept-wise this is a pretty easy party to pull off.
Gather everybody together Friday night, so they can watch the cartoons early Saturday morning. Add sugary 80's breakfast cereals that still exist (Fruit Loops, Cocoa Pebbles, Honeycomb, Lucky Charms), and play one episode from each of a variety of cartoons.
Here's a couple cartoons to think about (I don't know what are out on DVD or can be streamed):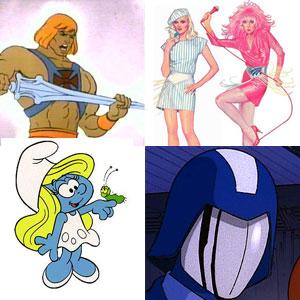 The Smurfs
He-Man
She-Ra
Carebears
G.I. Joe
Transformers
Strawberry Shortcake
Danger Mouse
Ghostbusters
The Incredible Hulk
Jem and the Holograms
M.A.S.K.
My Little Pony
Pac Man
The Raccoons
Robotech
Teenage Mutant Ninja Turtles
Voltron
Thundercats
Donkey Kong
Dungeons & Dragons
Mr. T
Alvin and the Chipmunks
Rainbow Brite
Snorks
If you want to kick it up a notch, have the girls put out bright fluorescent clothes with tons of glitter and style. If you are planning a boys party then put out full camouflage outfits that help them to feel like tiny but very powerful little soldiers. Have fun helping them dress the part and let this be the night before activity. They can even get dressed in their selected costume the next morning—just be sure that it's comfortable as this is a lounging event!
The kids are sure to enjoy the time to be lazy and have fun on Saturday morning. This is a ritual that so many of us enjoyed every weekend, and now it's time to share it with the next generation. This is easy to plan and fun that kids of all ages are sure to enjoy!