I loved The Smurfs as a kid. Only three apples tall, and blue with white clothing, they lived in a communal utopia of mushroom houses deep in a medieval forest. Gargamel, an inept local wizard, hated their happiness, and his flea-bitten cat and sidekick Azrael (who was, indeed kicked to the side a lot) was forever hopeful that he could capture and eat one of them. Smurfette is the only female Smurf, and even as a kid, I wondered why that was? Then there was their la la la-la la la theme song. Yes, I own the first two seasons of the cartoon, and I got my kids hooked on them. In fact, they've taken all my little Smurf figurines
as toys, and won't give them back!
The Smurfs Movie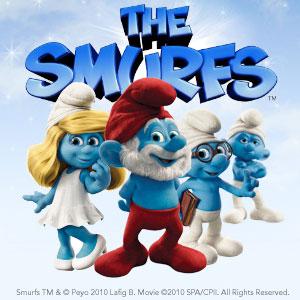 So I was surprised and, I admit it, just a tiny little bit excited to hear about the new Smurfs movie, due out August 2011. Even after all these years, the Smurfs still have it going on! The adventurous, industrious blue community has been around since 1958, when it appeared in a French-language Belgian comic by Peyo, a Belgian cartoonist. From there, the phenomenon only grew, morphing eventually into the 1980s series most of us equate with the word Smurfs.
The new Smurfs movie should be an updated departure from the original Hanna-Barbera series but promises to hold the magic and silliness we all remember. And with a cast including Neil Patrick Harris and Katy Perry, it's sure to be interesting to say the least — and almost certainly entertaining for kids and adults alike.
The movie is slated to appear in theaters August 3. Have a Smurfs party for your child on that date by taking him or her and a few close friends to the theater, then home for some games, good times and grub. Or hold the party in advance as a pre-movie get-together or as a birthday celebration.
This party idea goes with practically any occasion and appeals to both boys and girls, so you pretty much can't miss. Let's get started organizing a party that's sure to be a smurfing good time.

Smurftastic Invitations
In the fun world of the Smurfs (come on — who wouldn't want to live in a mushroom?), the word "smurf" serves as a noun, verb and adjective and is a part of many different words.
It's easy to download some Smurf images and include them in a document or a card-making program, so go ahead and create your own invitations. Your kids will love helping you with this. (I mean…your smurfs will love smurfing you with this.) Use Smurf language on the party invitations. "Ready for a smurftastic time? Then smurf on down to our house!" is a great way to get guests in the Smurf theme party mood.
Toss a little blue confetti into each invite before mailing.

Smurferiffic Party Decorations
Fill blue, white and a few red balloons with helium before the party and float them around the party area. Add to the Smurf-y look with hanging, curled blue ribbons or blue streamers.
The Smurfs live in mushroom houses in the midst of deep forest, with a river running through. You don't have to go crazy to get a similar effect — add lots of green, like a green tablecloth and printouts of green trees and other vegetation taped to the walls. Print or draw/paint mushroom houses and hang these up as well. Create a blue river on butcher paper with paint or crayons (let the kids help with this) and have it run from the front door to the party area.
Make a giant "mushroom" out of sections of butcher paper taped to one another and running around the sides and top of your front door. Paint or color before hanging, of course. Guests will love this!


Rockin' a Delicious Smurfs Party Menu

The Smurfs eat sarsaparilla leaves and berries almost exclusively, but we suggest you include just a few more choices than those to your party menu. Do stick to fun foods that have a Smurf or blue-colored theme — trust us, your guests will eat these ideas up.

Smurf sandwiches: Buy a mushroom-shaped cookie cutter on Ebay, at your local grocery, dollar or bakery store. Assemble sandwiches with whatever ingredients your guests will like. Cut out each sandwich with the cookie cutter.

Blue tortilla chips: Yum! Blue corn tortilla chips can be found in most major grocery stores now, and probably in your local health food store. Serve with salsa or cheese dip.

Easy mushroom or all-blue cupcakes: Use any vanilla cupcake recipe. Add drops of blue food dye, one at a time, until you have a deep blue color. Stir until the color is uniform (do not over-stir — this can ruin most baked recipes). Bake as directed and cool completely. For mushrooms, glaze cupcakes with vanilla frosting and add large dots of frosting in different colors. For all-blue cupcakes, add blue frosting a few drops at a time to vanilla or white/sugar frosting until the desired color is achieved. Frost cupcakes.
Smurfs figurine cake: Everybody loves Smurfs figurines. And yes, you can find them today as well …new styles have been sold nearly every year since the TV show's inception in 1981. Smurfs just don't seem to wane in popularity! Top a blue-frosted cake with figurines of your child's favorites, such as Papa Smurf, Brainy Smurf, Grandma and Grandpa Smurf, Smurfette and evil magician Gargamel and his bad kitty, Azrael.

Sarsaparilla soda: If you can find this — grab it! Sarsaparilla soda isn't as popular today as it was in its heyday years ago, but you can find it if you look around a bit. Serving something that has a sarsaparilla tie-in is perfect for any Smurfs party.

Berry bowl: Get something healthy and sweet into guests' stomachs with a yummy berry and fruit salad (the Smurfs eat berries).

Smurf juice: Mix club soda with blue Kool-Aid. Add ice. You're done!

Smurf-Style Fun

Have music playing when guests arrive (The Smurfs Song is one obvious choice), or have an episode of The Smurfs going in the DVD player.


You can buy your favorite seasons of The Smurfs cartoon on DVD at

Amazon

If you have a game system that includes a Smurf game — such as Playstation, which offers the appropriately-named The Smurfs — set it up and have guests take turns. Be sure to time each turn so everyone gets a chance at this super-fun game.

Have a face-painting station. Paint guests' faces blue with non-toxic, washable paint.

Play Hide the Hat. This is a Smurfed-up version of the popular "warmer, colder" game. Hide a white hat (either a real one, or a cardboard cut out) and have one guest look for it. When he gets closer to the hat, guests say "warmer!" and when he's off track, they call out "cooler!" Have each guest take a turn being the finder.

Play Smurf Trivia. Have at least 30 questions ready and be the reader, or have the guest of honor/party girl or boy read. The guest with the most correct answers wins a prize — candy, stickers, tattoos or a Smurf figurine.

Send guests home with loot bags. Buy blue or Smurf-theme bags or decorate your own. Fill them with candy, stickers and small trinkets you know your guests will enjoy. For instance, little girls will love child-friendly lip gloss and faux jewelry. Or try dollar gift certificates to your local Baskin Robbins or Dairy Queen for older guests.