Jem and the Holograms Party Ideas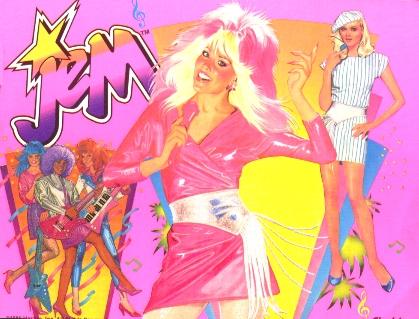 There's nothing more "in" right now than 80's themed parties. Who doesn't remember getting up early on Saturday morning and eating some insanely sugary cereal like Fruit Loops and then watching 5 hours of cartoons in your pj's? That was me!
Jem and the Holograms was a favorite Saturday morning cartoon for many girls in the early '80's. Before anyone knew what was happening, Jem was everywhere – fashion dolls, coloring books, purses, pins, Halloween costumes, jewelry – you name it, Jem was on it! Heck, you can still find all these toys on Ebay
. So for your next '80's themed party, why not make it a Jem and the Holograms themed party? Here's how …
Jem Invitations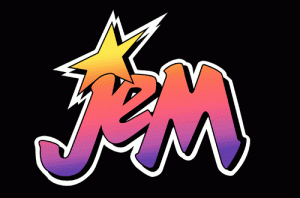 Jem and all of her friends were true punk rockers, so for your invitations, definitely go with a punk rock theme. If you're crafty, then I would suggest tracing the Jem logo onto poster board (the matte side), cutting it out, and coloring in the logo with crayon or colored pencil (Obviously repeat as many times as needed). Make it big enough so that you can write-out your invitation on the other side. Purchase envelopes big enough to fit the invite into without having to fold it. How fun is that?
Send your invites at least 3 weeks in advance, but honestly, because it's a costume party, I would send them even earlier to give your guests plenty of time to pick out the perfect 80's costume!

The Cast of Jem
Speaking of costumes, let's take a look at the main characters from Jem to help you and your guests decide who they want to dress ups as.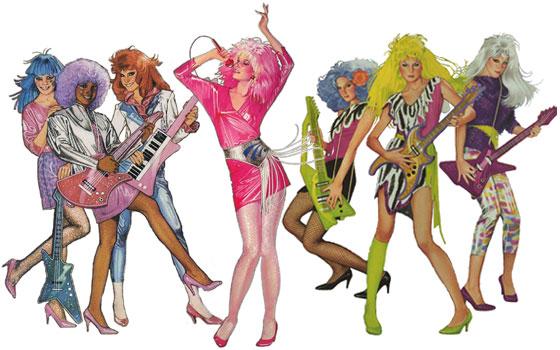 Jem/Jerrica is the star of the show. She is part owner of Starlight House, a foster program for young girls, and of Starlight Music, a music company focused on bringing in money for the foster home. She is also the lead singer of her band, Jem and the Holograms. She loves to wear pink, from the top of her head (she has pink hair) to the tips of her toes (hot pink stilettos, of course!). She is extremely fashionable and definitely puts her own edgy twist on all of her outfits.
Kimber is Jem's sister and also part owner of Starlight House and Starlight Music. She is the synth-keyboardist for the band and the most rebellious of the group. And although she is very sweet and somewhat innocent, you'd never know it from her looks—bright red hair, hot pink make-up, and skin-tight clothing.
Aja is one of Jem's and Kimber's adopted sisters. She plays the lead guitar for the band and is a bit of a tomboy and a computer nerd. She has a very unique look; she is Asian American and has choppy, straight blue hair! She, like all of her friends, is very trendy and edgy with her punk rocker style.
Shana is Jem and Kimber's other adopted sister. She plays the drums and bass guitar in the band and of all the girls, she has the best fashion sense, actually designing a lot of the outfits her and her band mates wear onstage. Shana is African-American and has a rocking purple afro and bright red-ish orange-ish make-up—very cool!
Raya came on the scene in the 3rd season of Jem and the Holograms. She played drums for the band while Shana took over playing bass fulltime. She's the quietist one of the band, naturally being introspective, but you wouldn't know it by her looks. She is Hispanic-American, has pink hair, and often wears very interesting and very brightly colored outfits.
Pizzazz is the lead singer of Jem and the Hologram's rival band, The Misfits. Her and her band mates have a much more severe punk rock look to them, wearing a lot of black and white outfits, animal print accents, and warrior-like make-up. Pizzazz has green hair, purple and pink make-up, and gold bracelets and arm cuffs—very punk glam!
Roxy is the bassist for The Misfits and she is one tough cookie (although she occasionally shows a softer side). She has completely white hair and wears purple and gold make-up along with some serious bling. And like her other band mates, she often wears black and white clothing with a hint of animal print.
Stormer plays keyboards for the group and is a very colorful member, not only from her blue hair and fishnet stockings, but to her personality as well. She is the nicest band mate in the group, and that sometimes means she gets pushed around. She wears red and olive green make-up and a single flower tucked in her blue hair is a symbol of her sweeter side.
Jetta is introduced later in the series. She is a British saxophone player who needs a serious attitude adjustment. Growing up poor and learning that stealing and lying was what she had to do to survive, as an adult, she still tends to practice those habits. Jetta has jet black hair, streaks her face with light blue make-up, and almost always wears only black and white.
If you can't find anything in your closet or thrift store, look for all your 80's rock star costumes at Buycostumes.com.
Jem-Inspired 80's Decorations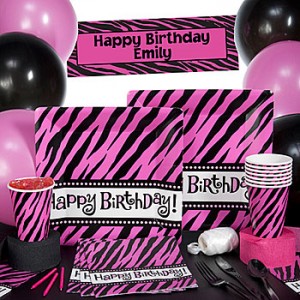 Now, depending on how much money you can spend on your decorations, you can go really overboard! If you want to, you can bid on old Jem items on eBay and place them here and there and everywhere (like the dolls, old t-shirts, posters, buttons, etc.)
If you're trying to stay on a strict budget, then it's easy to decorate with an '80's theme and keep it Jem related. Use your typical party décor, such as balloons, streamers, table clothes, plates, napkins, cups, etc., but purchase them in Jem logo colors —yellow, pink, and purple. Try to add a bit more punk rock feel by sticking stars to your walls and maybe images of instruments. And glitter, the '80's were all about glitter, so you're going to need to have glitter everywhere!

Food and Drink for Rock Stars
Finger foods and snack foods are always good at parties. Foods such as sliders, chicken fingers or nuggets, chips and pretzels, a vegetable and fruit tray, and cupcakes for desert will do the trick. But again, to make the food more Jem related, serve it on yellow, pink, and purple dishes and make pink cupcakes with sprinkles!
For your drinks, if you can get your hands on some old '80's sodas like Orange Crush, RC Cola, and Squirt, then go for it! If not, then I would just stick with standard sodas and maybe some alcoholic drinks like strawberry daiquiris (pink), frozen margaritas (yellow), and purple martinis (pomegranate, pineapple, and Hpnotiq make it purple!).

Retro Activities & Entertainment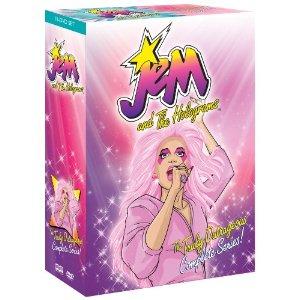 I have a feeling everyone is going to be very entertained by everyone else, but just in case, you may want to have back-up entertainment. If you have the series on DVD, then definitely keep it handy in case you need to pop it in the player to calm the masses.
Another idea would be to have Karaoke. I doubt that Jem and the Hologram songs are available on Karaoke, but you could always rent the equipment so you have the speakers and microphone(s) and then your guests can sing along to the DVD. And because this is an '80's party, you and your guests can always just get down to some classic tunes of the time. Here are some examples:
1. Billie Jean – Michael Jackson
2. Into the Groove – Madonna
3. Don't You Want Me? – Human League
4. Sweet Dreams (Are Made of This) – Eurythmics
5. Tainted Love – Soft Cell
6. Super Freak Part I – Rick James
7. Beat It – Michael Jackson
8. Celebration – Kool and The Gang
9. 1999 – Prince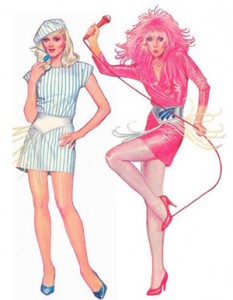 10. Blitzkrieg Bop – Ramones
11. Anarchy in the UK – Sex Pistols
12. Complete Control – The Clash
13. Kick Out the Jams – MC5
14. Holiday in Cambodia – Dead Kennedys
15. Waiting Room – Fugazi
16. London Calling – The Clash
17. Search and Destroy – The Stooges
18. God Save the Queen – Sex Pistols
19. Where Eagles Dare – The Misfits
20. I Wanna Be Sedated – Ramones
And of course, you'll have to have a vote on who has the best costume!
The bottom line is to have a blast with this theme. Whether you're going way overboard or keeping it calm, anyone who comes to your Jem themed party will have fun taking a trip down memory lane and remembering how much they looked forward to Saturday mornings with Jem and the Holograms.