Elmo Party Invitation Ideas
Elmo is practically a rite of passage in childhood. This one little furry monster is responsible for bringing the smiles to many children's faces in their younger years. He is a lovable, fun, adorable little monster that teaches some important lessons. It only stands to reason then that Elmo happens to be a very popular birthday party theme. If you want to send out a more creative Elmo party invitation then there are some great ideas out there.
A Little Customization Fun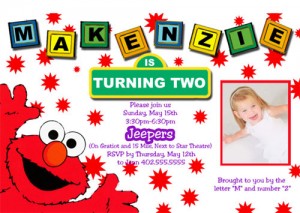 Since kids are in love with Elmo, why not print their picture into an Elmo birthday party invitation? (You can do this through designers who offer their services on Ebay
.) This is a cute way of getting the guest of honor excited for their party. It also happens to make for a great introduction of the theme to all of the guests. When you incorporate your child's picture within the invitation then it makes for an adorable backdrop. Mix that in with the right Elmo images and you have an instant winner.
You can go for a typical Elmo photo card such as what is found here. What's so great about this is that both Elmo and your child are the star of this invitation. Your child will be so enamored with having their picture on the same invitation as Elmo. Guests will love it because it sets the tone for the theme of the party and gives them some cute pictures of your child!
If you really want to show off the fun friendship between your child and Elmo then go for this truly customized type of Elmo invitation. I thought Ebay was just about selling used items, but when I was looking for somebody to print something with my own daughter's image, I discovered that there's dozens of designers who work from their home who will create this for you.
Your child is the main star here and how excited will they be when they see Elmo on the same card (or even on a movie ticket
?) The adults will appreciate the design and the kids will get excited when they see a picture of their friend or family member with Elmo in the background. This one is a winner!
There is no doubting that Elmo makes for the perfect party theme. At some point in time, nearly every child is in love with this adorable, red, fuzzy monster. It's great for parents as he helps to teach them valuable lessons. It's great for kids as they are learning and yet having fun while doing so. There's a reason that Elmo is one of the most popular Sesame Street characters out there and he will likely stay that way for quite some time.
Find something that not only suits your child's interests and age best, but that also ties in well with your party. No matter how you represent it, these Elmo party invitations will set the tone for a fun party. Kids will be thrilled to be a part of it and adults will reflect on how much this theme has meant in their own family's life. Find the Elmo birthday invitation that best suits your party and let the good times roll!
Click here to look for designers ready to print custom Elmo invitations for you