Monster High Halloween & Birthday Party Ideas
Monster High is a product line of fashionable dolls from Mattel. They have proved so popular that you'll not only find tons of toys, but also books and an online television show! Here's some fangtastic Monster High party ideas for Halloween or your teen's upcoming birthday.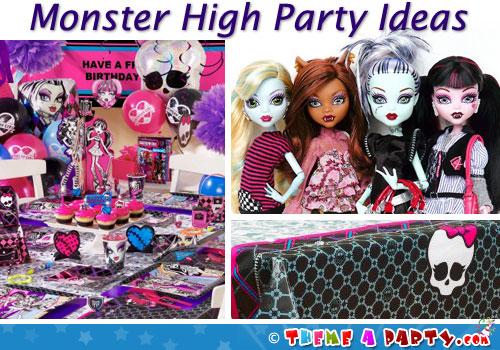 A Monster High party will generally be more girl- than boy-oriented, though for younger age groups, having boys at the party should be fine. (There are male Monster High dolls too, btw.) This is such a flexible theme and appeals to a broad range of kids.
For guests age 9 and over, though, you'll probably prefer an all-female crowd — sorry, boys.
So, Barbie, move over: here are my favorite ideas on throwing a freaky-fab Monster High party!
Monster High: The Characters
What a bunch of characters! When it comes to personality (and humor), the Monster High series really has it going on. If your daughter is into Monster High, you probably already know some of its main characters and their quirky characteristics, but if not, here's the quick version to get you in-the-know:
Frankie Stein: Yep, you guessed it: this character was created by her dad, the well-known monster, who in turn was stitched together by Dr. Frankenstein. Frankie has green skin and neck bolts, is friendly and is athletic, which lends humor as her body parts often fly off in the midst of getting physical.
Draculaura: Draculaura's humorous tie-in is that she's vegan; hence, no blood-drinking like her famous daddy. She owns a pet bat named Count Fabulous and is sweet, dreamy and rather poetic, often writing little vignettes about her friends. She loves the colors pink and black.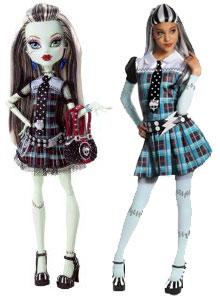 Frankie Stein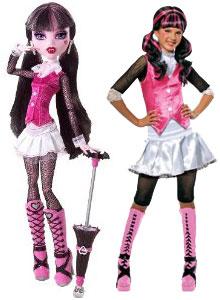 Draculaura
Clawdeen Wolf: This furry chick is, naturally, the daughter of the Werewolf. Her pointed ears are pierced. She's friendly, outgoing and has a purple cat named Crescent.
Lagoona Blue: Daughter of the Creature from the Black Lagoon, Lagoona Blue is indeed a light blue color. She has a pet piranha named Neptuna and is a bit of a tomboy.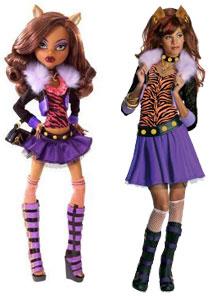 Clawdeen Wolf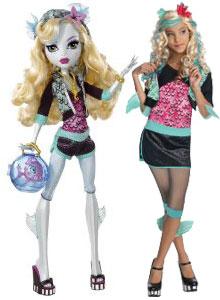 Lagoona Blue
Cleo de Nile: The Mummy's little girl is uber-popular and leans toward the snobby side. Cleo's pet is a snake, Hisette. Cleo is captain of the fearleading squad.
Ghoulia Yelps: Ghoulia is the smartest student at Monster High, but she only speaks zombie (i.e. groans and moans). Her pet is a blue owl called Sir Hoots a Lot. Ghoulia is shy and enjoys reading.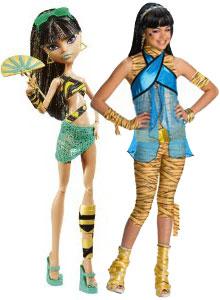 Cleo de Nile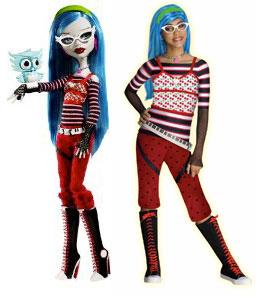 Ghoulia Yelps
Other characters: In addition to the original set of dolls, Monster High has expanded to include Deuce Gorgon, the son of Medusa and school hottie extraordinaire (he's a casketball star);  Spectra and Abbey, two minor female student characters; a host of male students and some teachers with quirks of their own.
Particularly if you'll be inviting boys to your child's party, you'll want to look some of these additional characters up in order to give party guests options for dressup or a Monster High costume contest.
Monstrously Fun Party Invitations
If you're a busy parent and want to pick up some fun Monster High invitations, go for a licensed variety — so cute, so cost effective.
If you prefer to make your own invites, get your own little ghoul in on the action by having her help with selecting clipart images, deciding on text, cutting out a shape on the card if desired, etc. We've found time and time again that kids absolutely love helping with organizing their own parties, so put those little hands to work! Try these ideas:
Wording: This should be catchy, cool and fun with a touch of the macabre. (Stick with just "catchy" for the younger crowd.) "Hey ghoulfriends, come to a Monster High Halloween party at [location, date, time]" will work for all ages (even the eye-rolling ones of 12 and up).
Skull with pink bow: The dolls' trademark half-skull with pink bow makes the perfect shape for your invitations. Download an image, print off copies and let your youngster cut them out. If you want, you can pre-print the party info to appear on the back; just make sure of your parameters so no wording is getting cut out later.
The Monster High crest: This is another well-known image among the Monster High crowd. Download an image of the crest (click the image on the left) and center it on the front of the card to be printed.
On the inside (this is easier if you have a card making program, but depending upon what operating system you have, it's likely you can find a free program download on the web), print "Class Schedule" with "4:00: tons of fun. 4:15: greets 'n games. 4:30: movie showing," etc.
Enclose something fun: Before you seal your envelopes, enclose a mini-gift, like stickers or temporary tattoos.
Advise guests on how to dress: If this is to be a costume/dress up party, be sure to let guests know this well in advance by making a clear note of it on the party invitations. You don't want anyone to feel left out.

Goulishish Decor Ideas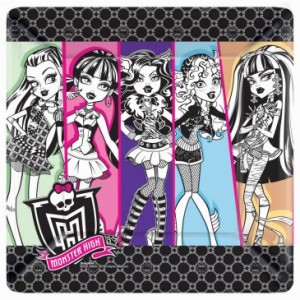 The decor here is cool with a touch of the macabre. If this will be a Halloween party, or if your child's birthday takes place on or near Halloween, add more of the creepy decor to really set the mood. Here's how to create Monster High in your own home:
The Monster High series is all about girly and kitschy. Choose your theme party color scheme to include purple, hot pink, bright blue and black.
For dishware, choose an easy party kit. The kids will love it, it's not a huge expense and this will save you the extra step of washing dishes after the party.
Think "girl-ified goth." Match unlikely pairings such as a glittery candelabra draped with faux cobwebs or a stack of innocent-looking school books with plastic spiders on top of the pile. Use your ingenuity — party decor for this theme does not have to be pricey.
If this is a birthday party, order a personalized Monster High banner for the guest of honor, or create your own using the colors pink and black.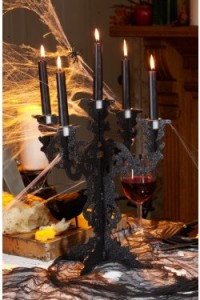 Buy butcher paper — it's very wide and is inexpensive — and paint or draw a wall mural. Make Frankenstein's lab or a graveyard scene, or paint rows of lockers in Monster High colors.
Balloons, glitter and streamers in hot pink, purple, black and bright blue make a great accent for your party. Hang or float them everywhere — trust us, when it comes to a Monster High party, the girlier, the better.
If it's a Monster High Halloween party, include Halloween decorations in MH colors. Purple and black are super hot for pumpkins and other Halloween decor this year, so these should be an easy find. Check WalMart, Target or your local dollar store.
Freaky-Fun Foods
Whether this will be a Halloween, birthday or back-to-school party, you'll want to serve some freaky eats. Try these:
Macaroni and fleas: Bake macaroni and cheese and add just a sprinkle of pepper on the top, in the center. The pepper represents the "fleas," but can be eaten around if guests don't particularly fancy the taste.
Frankenfurters: Dress up hot dogs with one toothpick through one end of the dog for Frankenstein's bolts, slivers of olives for eyes and an olive pimiento sliver for the mouth. "Glue" the facial features on with tiny dabs of yellow mustard. Finish with a jagged mustard "scar" across the forehead.
Fruit and/or veggie plate: In honor of Draculaura, who is vegan, serve fresh, sliced veggies and fresh fruit placed prettily on a tray. Be sure to include grapes, which are Cleo De Nile's favorites!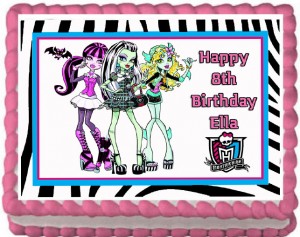 Bloody punch: It's a standby but it never gets old. Serve any sweet fruit juice that's red or purple-colored along with a splash of clear-colored soda for fizz. If you like, add gummy body parts (check out Amazon — at this time of year, they usually carry something along these lines) or freeze ice cubes in Halloween or monster shapes (again, we recommend Amazon).
Cake with a Monster High edible topper: Simply print out the cake topper you wish to create, and submit it to your local cake decor company. They can then take the image and create an edible image on the cake.
Halloween candy treats: These will actually be appropriate whether you're holding a Halloween or birthday party, since Halloween treats obviously carry the monster theme. Of course, it will be easier to find them in the fall, but don't let that deter you. Check online for dealers who sell Halloween candy year-round. Candy corn, chocolates or individual candies in orange and black wrappers, Reece's Pumpkins and other goodies are all choices that will put a smile on guests' faces.
Halloween frosted cupcakes or a Halloween frosted pumpkin cake: If orange icing is out on store shelves, grab a bunch, along with yellow, and black if you can find it. (If not, use as dark brown a chocolate frosting as you can find.) Frost cupcakes, alternating orange cakes with brown ones, and decorate each in polka dots, stripes or squiggles with the alternating color if you'd like. For a pumpkin cake, use any standard square or rectangular cake pan, bake your cake per box directions or the recipe of your choice, and frost a huge orange pumpkin in the center. Use yellow for the glowing eyes, nose and mouth. Use brown for the pumpkin's stem and to outline the eyes, nose and mouth.
Chips, pizza, pretzels: The Monster High girls are teens, after all. Serve standard teen junk-food fare. Set out bowls so guests can snack while they play.
Things to Do at Your Monster High Party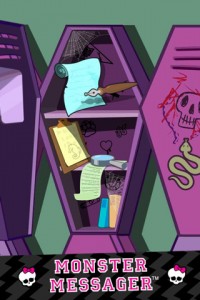 Our motto is: keep 'em busy! Generally speaking, the older the guests, the less structured an "activities list" you'll need. Teens will tend to go off by themselves and create their own fun.
Younger guests need more choices so they have some direction, particularly if they're shy upon entering the party. Or strike a happy medium: Have activities available but don't push these; let them flow naturally.
For a Monster High theme party, we recommend:
Play the Monster High Ghoul Spirit video game. This awesome game is available for Nintendo DS and Wii. Give them free reign of the Ghoul Box. This app is available for iTunes, iPhone and the iPad. Get this for the guest of honor and let guests choose their favorite tunes and rock out.
Then, have a "Dance of the Living Dead contest" – award every participant a prize, like a bag of candy, some makeup (check your local dollar store for inexpensive finds) or a friendship bracelet.
Play Monster High trivia. Before the party, gather about 25-30 trivia questions about Monster High. Have guests compete for the most questions answered correctly, or have them split into two or three teams.
Monster High dressup. Have costume pieces available.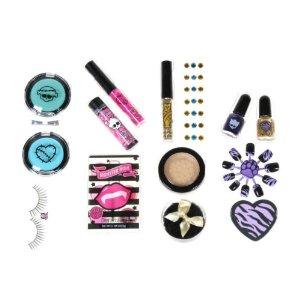 Have a Monster High makeup station. No ghoulish guest is going to say no to this. Let them decorate one another to their glamorous best!
Make MH school ID tags. Go on the Monsterhigh.com website and have guests make up their own school ID tags or other free printables.
Hold a mad science class. Buy inexpensive plastic containers of colored slime or glow-in-the-dark slime. Also hand out plastic bugs and small plastic body parts or any other truly disgusting, inexpensive biological-looking items you can find. Allow guests to mix and match their own gruesome concoctions.
Play Pass the Note. Fold up a piece of paper. Have guests pass the paper around while you play music. Stop the music randomly. The person holding the note at that time is "out." The last note-passer to remain is the winner. Send home candies, Monster High stickers, Monster High striped socks or one of the series' books as party favors.