School's in Session with Monster High Costumes
First it was teenage werewolves. Then it was vampires in a Washington high school. Now it's the monsters turn to learn. Thankfully, though, they come in peace and promise not to scare the lunch money out of you.
Monster High has quickly become a web phenomenon with webisodes released nearly every week since its launch in May, 2010. The series follows the offspring of such famous monsters as Dracula and Frankenstein as they navigate their way through the horrors of high school with their friends and faithful pets. They are featured in online games and even have their own line of intricately-designed dolls.
Each monster has a biography on the website so you can get to know them and their ghoulish ways better. There's Lagoona Blue, the sporty daughter of the Sea Monster who secretively carries her pet piranha around in a stylish fishbowl purse. Ghoulia Yelps
is a blue-tinted zombie daughter who loves to read and speaks in zombie (moans and groans, of course). Frankie Stein, the black and white haired creation of Frankenstein is a budding fashionista who is always well put together, not counting her limbs, which frequently fall off. Clawdeen Wolf is a sassy werewolf who loves her steak rare and her boys handsome. Dracula's 1,599 year old daughter, Draculaura, is a vegan vampire who loves the colour pink and dressing up her pet bat, Count Fabulous. Cleo de Nile calls the Mummy mom and she is the most popular, though not always well-liked, girl in Monster High. Abbey Bominable is the chilly offspring of the Yeti and Spectra Vondergeist is a ghost who hears all the gossip floating around the halls.
This school is co-ed and there are a few male monsters making the non-living ladies swoon. There's Holt Hyde, son of Mr. and Mrs. Hyde, who has a hot temper and a fiery desire for music. Dr. and Mrs. Jekyll's personality-shifting son, Jackson Jekyll, is an orderly young man who has trouble keeping promises. Clawdeen's brother, Clawd Wolf, is star of the football team and Medusa's snake-hawked son, Deuce Gordon, loves to play "casketball" and hang out with his girlfriend, Cleo de Nile.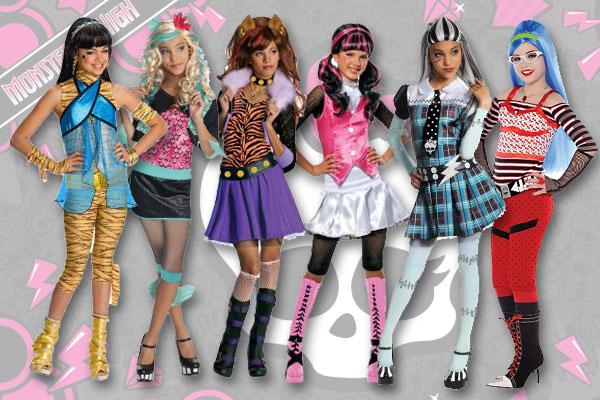 Naturally, anything involving all the major monsters is going to make spectacular Halloween costumes. These ones are particularly great for young girls and teens because they're funky, feminine, and completely age appropriate. Let's look at each one:
Frankie Stein
Frankie Stein's packaged costume consists of a plaid, school-girl dress cinched with a low-slung lightning bolt belt. The dress features a polka-dot and skull tie and black puffy sleeves. Light green arm sleeves and leggings with stitch marks make the costume really look like Frankenstein's daughter. A stylish Frankie Stein wig is also available with black and white streaks. Add a couple of stitch marks on your face with makeup to keep up with the "patchwork limb" look.
Clawdeen Wolf
Be fashionably fierce as Clawdeen Wolf in a faux fur jacket, leopard-print top, purple skirt, and leather belt with matching chocker. She has a wig of her own with attached, pierced wolf ears. Have fun with makeup as Clawdeen is quite the vogue werewolf and think about investing in some fake werewolf teeth. Clawdeen proves scary can be pretty, too!
Draculaura
Draculaura is a sweet costume choice with a frilly white skirt and attached leggings. She has a pink vest with attached mesh sleeves ending in lace. She has hints of her dad's Victorian-esque style with a white, satin, high-collared shirt with lace detailing. Draculaura's black wig is super cute with pink streaks and pig tails. Apply pink makeup, as it's her favourite colour, and add some fake vampire fangs. Even though she's a vegan, she still has the teeth to draw blood.
Lagoona Blue
Lagoona Blue is a great mermaid costume with a pink scale shirt, attached jacket with fins, and sporty skirt with attached fin leggings. Her curly blonde wig is dreamy with blue streaks and attached fins, topped off with a pink flower. Have fun with makeup in blue and green tones to make her look truly seaworthy.
Cleo de Nile
Rule the school as Cleo de Nile in mummy-bandage leggings and shirt with sheer blue overlay. She has a belt in her favourite colour, gold, and a mummy-bandage arm band and fingerless glove. Look dazzling in her black wig with shimmery gold streaks and an attached gold headband with Nile-blue jewels. Paint on some traditional Egyptian winged eyeliner and make the look younger with accent makeup colours in purple, pink, or blue.
If your favourite character isn't available in a package costume, try a fun DIY costume. Copy the look as best as you can from the website's character pictures with wigs, makeup, and accessories. Or take a standard packaged costume, such as a zombie or ghost, and make your own Monster High character by adding cool clothes and accessories.
Monster High characters give a funky update to classic Halloween costumes and you'll be right on trend with this web phenomenon. With werewolves and ghosts roaming the halls, there are a few students in Monster High who manage to be scarier than your math teacher.