Circus Themed Party Ideas
Come one, come all! The biggest show in town is at your house with a fun and whimsical circus theme party.
Since people of all ages love the circus, this theme is perfect for a birthday, an end-of-the-school year celebration or whatever occasion calls for food, friends and fun. Don't delay — step right up and get the best party tips for decorations, games, eats and treats.
Circus Party Decor
There are so many possibilities for circus party decor. The modern Big Top is very different than the traveling circuses of yesteryear, but some things never change. The bright, bold colors of the circus, big billowy tents and those famous Three Rings are as popular today as ever — whether one's leanings are P.T. Barnum or Criss Angel, Mindfreak. These circus party decor ideas are perfect:
Choose red and white stripes or circus imagery in bright, bold primary colors for your tablecloth, napkins, cups, plates, plastic forks and spoons.
Hang a personalized photo birthday banner of the guest of honor; choose a circus theme for the background. Or make your own banner and attach a photo of the birthday boy or girl. Be sure to use lots of glued-on confetti, cheery circus colors and perhaps top the photo with a cutout of a clown's hat just for fun.
Make a Big Top for guests to gather under. This is easy but has a great effect. Buy long crepe paper streamers (either red and white or in primary colors) and a hula hoop, or use a hoop you already have (this won't show very much once you're done with the design). Designate an area of the party room where the ceiling already has a hanging plant fixture, or use a hanger that peels off cleanly after you're done with it — careful with the ceiling paint; you may want to test a section first. Attach multiple crepe paper streamers at their tops into one point. Attach this point to the ceiling hanger. Now evenly space the streamers and tape at intervals to the hula hoop about two feet down the streamers' length. Allow the streamers to hang freely from there and you have the perfect Big Top effect.
Feature an old-fashioned ticket booth at the entrance to the party area. You can buy one at Shindigz, or go to an appliance store and ask for a refrigerator box. Stand it upright and cut a door in the back for your child or a volunteer to enter. Cut a window in the front where tickets (you will place them in the invitations) can be handled.
Hang strings of colorful flags around the party area.
Think balloons — lots of balloons. Fill balloons with helium and attach them to chairs, the table, your gate or mailbox outside and set bunches up with weights around the party area. For weights we recommend tying the balloons to circus animal theme Beanie Babies or other stuffed animals; the toys can double as favors for goody bags once the party is over.
Print out images of clowns, circus animals, performers, the Ringleader and other circus imagery and tape them to the walls.
Look online for old circus posters you can print out, or check out Amazon. Reprints of real circus posters from days gone by will add an authentic feel to the party and will become keepsakes for your child — after the party is over, carefully remove each from the walls, roll up and store.
Toss confetti onto the center of the party foods table.
Circus Party Invitations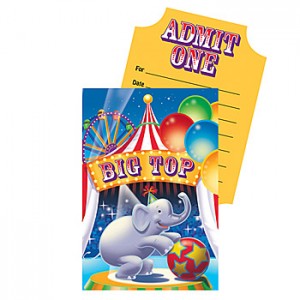 Invitations set the mood for the party. Make sure your circus party invitations are colorful, fun and full of imagination. Here are our favorite ideas:
Choose a circus-style font and circus imagery (like the strong man, trapeze artists, the ringmaster, lions, elephants, clowns and monkeys) on the internet. This is so easy to do and your own little performer can help you! If you don't have a greeting card template, these can also be found online for free, so check around. Print invites on card stock.
Print party information on a circus ticket (look online for templates) with "ADMIT ONE" across the top. Choose a large size ticket template or enlarge in a document so the party information will fit.
Print postcard-size invites and slip them into the string around boxes of animal cookies (the kind with circus animals printed on the outside). Hand out to friends.
Tape invitations to small bags of pop corn or individual serve-size cotton candy and give to friends.
Look for a circus flyer type template on the internet and print the party information with circus style wording: "Hurry, hurry…the circus has come to town! See the amazing (your child's name) as he performs amazing feats of cake-eating and present opening. Don't be late! One day only!"
Don't forget the RSVP information ("RSVP the ringmaster at…" or "Don't clown around–RSVP at…").
Fun Carnival Style Foods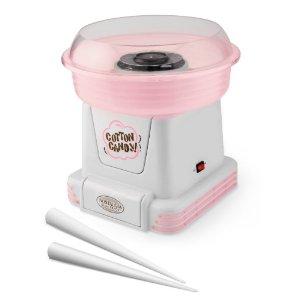 Mmmmm, cotton candy!
Choose foods that enhance the theme of your circus party. Even the containers can add to the circus mood. Try these ideas:
Make a concessions stand out of a large refrigerator box or two large boxes taped together. Either have it be half-height (about waist high on an adult) or cut out most of the front of one of the boxes to create a window and attach vertically above the solid box. Cover the "stand" with colorful paper; red and white stripes are perfect for this. Attach clothespins along the sides of the window and hang bags of chips from them, just like at a real concession stand. If you made the ticket booth box explained above, have it serve this purpose after the party has started
Rent (or buy, they're around $40) a cotton candy machine and make treats to order, or have individual serving bags of cotton candy available.
Rent a popcorn machine. Serve popcorn in red and white striped boxes. Look on Amazon for packs of these old-fashioned boxes – they are very popular! Or ask the rental establishment whether they sell these. Don't settle for a high price, though – shop around. Popcorn boxes should be around $5 for an 8 pack.
Pick up some paper hot dog holders. Steam or boil plenty of hot dogs, place in buns and serve individually to guests. Buy small size ketchup, relish and mustard packets or fill squeeze bottles and allow guests to garnish their own dogs at a nearby table.
Hand out boxes of animal crackers.
For preschoolers and kindergarteners, serve elephant and monkey (peanut butter and banana) sandwiches. Yum! For a finishing touch, cut out each sandwich after it's assembled with a circus or animal themed cookie cutters.
Fun and Games
The circus is all about fun…so have some awesome activities lined up for guests.
Set up a clown ball-toss game. Give out prizes (candy or small toys). Make the game yourself out of cardboard by drawing on a cheerful clown face and cutting holes in the front for eyes and a mouth, or pick up an inexpensive and sturdy version to save time.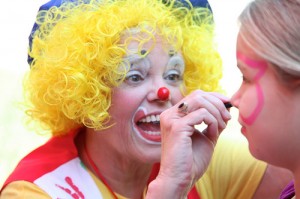 Image by
Tom Woodword
/Flickr
Hire a clown, or be one. If hiring, make sure you get at least three recent references and that you speak to each personally; don't accept testimonials. Be sure it's a CIRCUS CLOWN. At a friend's party, they got a hobo clown, which scared the kids!
Face painting! If you are hiring a clown, see if they offer face painting. Or, if you know somebody, ask them to volunteer.
Make balloon animals. This is a fun skill to learn and will delight guests.
Draw a clown, a strong man, the bearded lady, etc. on large sheets of cardboard. Cut out a hole in each one for the face. Take guests' pictures with their faces through the holes. Print out the pictures and hand out in goody bags at the end of the party.
Buy rubber duckies (check your local dollar store to get great buys on these). In permanent magic marker, write a number on the bottom of each. Allow the marker to dry, then float the duckies in a large bowl of water. Have guests choose one duck from the bowl, turn it over and look at the number. Hand out a numbered prize corresponding to the guest's choice. Give both the prize and the rubber ducky as goody bag treats.
Draw three large hoops in sidewalk chalk in your driveway and let guests perform their own "three-ring circus" by giving them balls or beanbags to juggle and stuffed lions or bears to "tame," and play some fun circus music they can dance to. Or place three hula hoops in the yard for the three rings and tell guests to go crazy! This is a great way for party guests to get out all that energy and excitement.
If your child is old enough (about age six and up), help her write out thank-you notes after the party. Mail within the week. Parents and guests alike will love receiving these little tokens of appreciation.