Personalized Graduation Supplies
It's that time of year again — that's right, graduation! The spring brings with it academic advancements of all kinds — high school graduation, a college diploma, the jump from elementary to middle school.
Planning a party to commemorate this all important transition? Take these steps and the party for your grad will be extra-special.
Party Decor: Try THIS Hot Summer Party Idea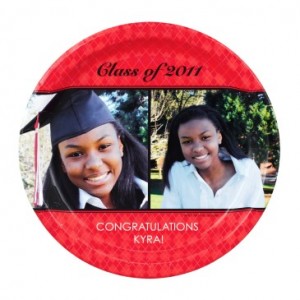 Particularly for teenagers, it can be difficult to know what will be cool and what won't for party decor. We've found the perfect solution: Personalized Party Graduation Themes.
We love these because they highlight your graduate, are personal, are easy to make and organize and they won't break your party budget (something to watch out for — the dollars can really add up with a graduation party).
Personalize the party decor you choose with your grad's picture and her graduating year. Choose school colors for cups, plates, cutlery and a huge banner congratulating her on all her hard work. Fill some graduation year balloons with helium and tie them to the four corners of the party room, or outside if you'll be having an outdoor party (secure all helium balloons well with a sand-weighted or other reasonably secure item).
Then simply string up some gorgeous white mini lights around the party area, put on some great music and voila — the perfect grad decor!
Make a Guest List and Set the Date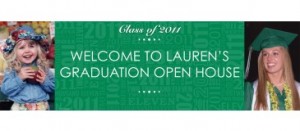 When buying, cooking or creating for your child's or young adult's graduation party, keep the total amount of invited guests in mind. This may seem obvious, but do have a firm list — you'll be surprised how an unplanned or only loosely planned guest agenda can balloon out of proportion and beyond your budget and space.
Decide whether or not you'll be inviting family in addition to your proud graduate's best buddies (this will naturally make the party much larger). Here's one thing you can do: get in cahoots with the parents of a couple of your graduate's best friends and organize one SUPER-graduation party. Pitch in to rent a hall or space and to buy the decor and food.
Either way, get guests' invitations in the mail early. Afternoons and weekends book up fast with your child's co-graduates all planning their own get-togethers.

Plan the Party Menu
Chips and dips are fine, but we know you want to make the day extra-special for the guest of honor. Pick one of the three timing ideas below and the menu will fall into place. We've listed a variety of options for each.
Your guests will love this. And it's super-easy to put together (and often a less expensive option if you're hiring a caterer, but do your own price comparison to get the best deal). Serve these great late morning eats:
sausage, bacon and scrambled eggs
an omelet bar (guests choose their own fixings)
French toast
croissants, fresh danish and scones
a fruit platter or a fruit boat made from a carved watermelon, or individual smaller size melon halves, oranges or grapefruit halves
cereal reminiscent of your grad's and her friends' childhoods: Lucky Charms, Froot Loops, Cap'n Crunch, etc. — along with 1% or skim milk
a coffee bar kiosk
fresh glazed donuts
summertime/island style juices such as pineapple, papaya and mango
a cake personalized with your grad's face (ask your local bakery or check on ebay for options) – try a childhood pic for a sentimental touch everyone will love
bottled water; tea
Afternoon Graduation Party Menu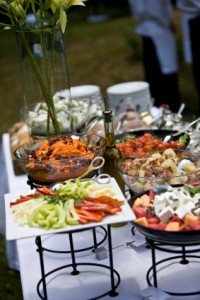 Have some fun with this. Again, we've included childlike as well as more grown-up options to highlight this important transition and to add a dose of sentiment (get the tissues ready!).
grilled foods — cook these yourself if you have a decent-sized grill and include burgers and hot dogs, chicken or beef shish kabobs, grilled fruit skewers, pulled pork for sandwiches, etc.
fresh fruit plate
tacos, with rice and beans
a party-size hoagie/hero (order from your caterer, the grocery store or a chain like Subway for great deals)
pasta bar
salad bar
punch bowl; add fruit chunks for a gorgeous look and sweeter taste and freeze ice into number shapes for the graduation year (i.e., ones for 2011; ones and twos for 2012)
a cotton candy or popcorn machine — check with your local party store, caterer or party rental company
bottled water; soda
photo cake of your grad
graduation cupcakes frosted in your graduate's school colors with the graduation year written in icing
This is a great take on an evening party. And guests will absolutely love it.
a chocolate fountain (call your local party rental company for rates)
candy bars personalized with your grad's picture and the graduation year
petit fours (mmmmmmmmm!): an all-grown-up take on cake
an ice cream sundae bar with great toppings including dark chocolate chips, butterscotch chips, crushed candy pieces, crushed macadamia nuts, sauces, fruit pieces and whipped cream
photo cake of your grad
graduation cupcakes frosted in your graduate's school colors with the graduation year written in icing
a Slushee bar (Slushee machines can be rented; call your local party company)
a desserts coffee bar
bottled water
Don't Forget To…
get a last minute head count on guests
rent chairs and tables if necessary, and an outdoor party tent in case of rain
confirm all rental agreements one week in advance of the party
remind guests firmly that there is to be no alcohol on the premises, or the party will end and parents will be called — one warning is all it should take with this, so have your graduate spread the word
And by the way, congratulations to you, too. You've not only taken your child, niece or nephew, grandchild or that special person all the way through lumps, bumps, smiles and tears, you've ensured she got a great education, as well. Happy graduation to you and your special young man or woman!