Valentine's Day Party Ideas for Couples
Spread the love! Valentine's Day is a fun, frivolous (and sexy...shh!) way to celebrate the person who makes you happy all year long. Throw a romantic soiree for your significant other, a couple you adore, or for a group of close friends who love to party. These fun Valentine's Day party ideas for couples will definitely earn a smile or two this February 14th!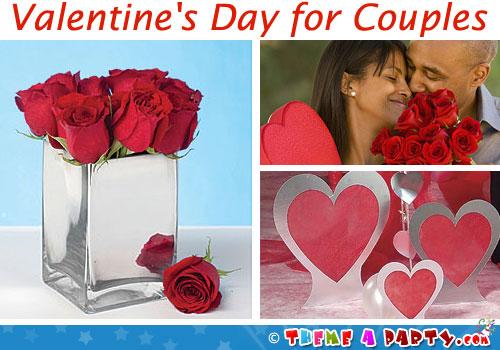 Send Some Saucy Invites
Get your guests all warmed up in advance by sending invitations that are straight from the heart. Have your invites match the feel of your party, whether you're planning something upscale, light and fun or a little bit spicy.
You can buy inexpensive party invitations almost anywhere, but putting your own together is so much fun. Try these easy ideas:
"Childlike innocence" Valentine's Day invitation. Go playful (and old school!) by thinking back to third grade and the fun, fancy construction paper invites you made for friends. Using this principle, cut big heart shapes out of red, pink and white construction paper (layer two different colors, one slightly smaller than the other, for a really fun effect). Trim the invitations with glued-on paper lace and write the party invitation in the center or print out and paste the details.
"Too hot" Valentine's Day invitation. Locate a printable image of a chili pepper on the internet; insert into a Word or compatible document and print, "It's hot, hot, hot -- and it's at our place this Feb. 14th! Party time: (X) Location: (X). Bring a hot/spicy food dish for our pot luck."
Customizable template invitation. Download your favorite free template -- here's a fun selection, or Google "free Valentine's Day card templates" for the perfect invite.
E-mail invitation. Evite has a great selection of Valentine's Day cards this year; try this easy option if you're short on time or don't want to chance invitations getting held up in the mail.
Easy Made-to-order invites Shindigz has a great selection of Valentine's Day cards you can personalize
Surprise the Guests of Honor
If the party is a surprise, make sure you're clear about that when inviting guests. Coy wording for a Valentine's Day invitation is great, but when it comes to surprises, don't mess around: come right out with it! "This party is a SURPRISE for _'s and _'s engagement...please keep things hush!" is a good way to make sure everyone is clear on this subject.
Other surprise Valentine's Day parties for couples can include a special wedding anniversary, a goodbye party for a couple who's moving house or a "welcome to the neighborhood" Valentine's Day party.

Decorate to Your Heart's Content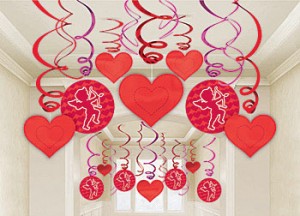 There's no such thing as "too much" when it comes to Valentine's Day decorating! Think red, pink and white. Other pastels such as lavender and lemon yellow can work well with your decor, too.
Cut huge Valentine hearts out of construction paper or print them off a color printer and tape them to your walls. Hang a few over the party table by streamers in coordinating colors. Fill colorful heart-shaped or Valentine's Day-colored (red, pink) balloons with helium and let them float around the party area.
Here's something we love -- a big, bold Valentine's Heart Entranceway! If you really want to impress your guests, this is how to do it!
Find all your Valentine's Day decor at Shindigz
Have fun with your party decorating. Be as bold as you wish. Valentine's Day is all about celebrating love in a BIG way -- so don't be shy with your decor!

Create a Little Ambiance
Collect your favorite love songs and let them play in the background throughout the party. Truly romantic songs are great; you can also throw in a few ditties that are sure to get giggles (for instance, "Love Stinks" by the J. Giles Band).
Another option is to set up a TV in the party room and play your favorite romantic movie at party time.

Valentine's Day Party Foods
Aren't parties all about the food? Here are some yummy snack ideas for your guests.
Chocolate, chocolate, chocolate. Did we mention "chocolate?" Chocolate hearts, "naughty" chocolates (know your guests' tastes VERY well before putting out this kind of treat!), pink and white M&Ms, and even a chocolate fountain will give your Valentine party delicious pizzaz.
Red Velvet cake, courtesy of Andrea Meyers
Hot foods. It's a red-hot day...serve spicy foods and drinks! Mexican or Tex/Mex dishes, candy Red-Hots, medium or hot salsa with corn chips, chili, Sangria (alcoholic or non) with a mini-splash of Tabasco sauce for a kick, and jalapeno poppers are all great choices.
Aphrodisiac foods. Add fun by putting out plates of foods purported throughout the ages to be aphrodisiacs, with a brief printed explanation of each by its respective plate. Supposed aphrodisiac foods such as oysters, almonds, avocados, bananas, chocolate (of course!), honey, pineapple and red wine all fit the bill and are delicious to boot.
Drinks that are red or pink in color (try this cranberry champagne cocktail, or add seltzer or soda to a red-colored berry drink such as strawberry or cherry juice).
Champagne dinner - Check out this article on pairing Champagne (or sparkling wine) with a romantic dinner.
Party Games for Couples
Have a few fun activities ready for your guests to keep the party rolling. Try these ideas:
The Newlywed Game. Line up either the husbands or the wives; have the opposite spouse go to a different room. Now ask questions and have the first group answer them ("Where did you go on your first date?" "How would your spouse finish this sentence: 'My mother-in-law makes me --'?" "My spouse's first significant other's name was --." Then have the spouses come in and give their answers. The couple with the most matches with one another wins.
Host a romantic scavenger hunt, like this one.
Seat guests and have a few rounds of Valentine's Day Mad Libs (scroll down this page for a hilarious Mad Lib "love letter."
Candy-in-a-jar count. Fill a jar or bowl with candy (candy Valentine hearts with sayings printed on them are perfect; so are M&Ms, Skittles or "fun size" chocolates). Place the jar near the entryway to your home. Have guests take a guess at how many candies are in the jar as they walk in. Have a piece of paper and a pen handy so each guest can write down his or her guess. At the end of the party, award all the candy to the guest who chose closest to the actual number of candies in the jar.