Pairing Valentine's Day Dinner With Champagne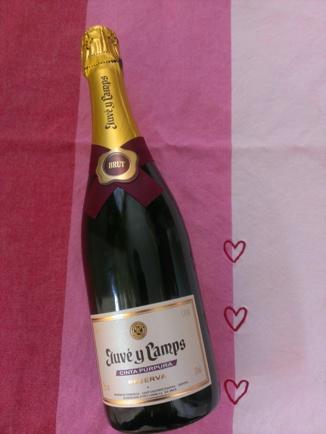 Valentine's Day and Champagne go together perfectly, but what foods will pair perfectly with Champagne for your Valentine's Day dinner?
What is Champagne?
Let's start with some basic information about Champagne. Sparkling wine and Champagne are essentially the same thing except that the production of Champagne meets certain requirements based on its location. When you think you are buying "Champagne" for Valentine's Day, you are probably actually buying sparkling wine. It doesn't matter. Buy whichever you prefer and whichever fits into your budget.
How can you create a set of courses that will go with your Champagne? We'll assume that you are going with a standard Brut Champagne because they are very popular.
Pairing Three Courses
For your appetizer course, you could do nothing but cheeses and bread and it would be wonderful. Choose from popular cheese like Brie, Chevre (goat cheese), Colby, Gouda, or even some Cheddars. Get a little fancier with Camembert. Other appetizers that would go well besides cheese are stuffed mushrooms, a fruit selection, or shrimp cocktail (minus the cocktail sauce).
It takes a special entrée to pair with Champagne because so many foods pair better with red wine. However, that doesn't mean that there are not some that will pair perfectly for you. In particular, seafood dishes will work well with Champagne. Consider dishes that focus on clams, oysters, or (my favorite) lobster. Many Asian dishes pair well with Champagne, too, as does sushi. Cream-sauced pasta or risotto will also work, but avoid tomato-based sauces. A nice combination of the seafood and pasta would be linguini with clams.
For dessert, you can choose to go the chocolate and Champagne route merely because of their significance for Valentine's Day. However, you may find that other desserts actually pair better. Consider shortbread, pound cake, or angel food cake. A berry crostata would also be nice. Go very basic with a triple berry blend of strawberries, blueberries, and raspberries sweetened very lightly. In fact, the less sweetener the better.
The perfectly paired Valentine's Day dinner can be as simple as one bottle of your favorite bubbly, a cheese tray, an entrée, and angel food cake. Spend less time worrying about the food so you have more time to devote to your sweetheart.
Tricia Meyer is a mom, blogger, and food lover. She writes wine club reviews of all types but prefers Champagne when given the choice.