Baltimore Ravens Theme Party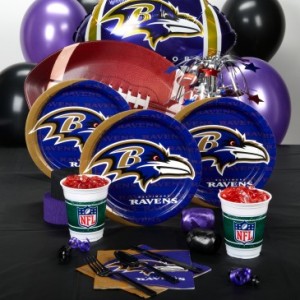 Baltimore Ravens party pack, available at
Celebrate Express
or
Amazon
Food, football, fans, fun and crazy decorations and activities: what's not to love about a Baltimore Ravens theme party? Your friends will come running when they hear a Ravens party is in the works, so be ready with these ideas and let your fan flag fly!
Baltimore Ravens Facts
We know you're in the know…but just in case, here's a refresher course on this NFL top pick.
The Maryland-based team gained quick notoriety in 1995 when Cleveland Browns owner Art Modell announced he would be moving his Browns to Baltimore. A legal battle resulted instead in the birth of the Baltimore Ravens (ooh, controversy — don't ya love it?), who played their first game in 1996. Previously, Baltimore was home to the Colts, who moved to Indianapolis in 1984. Their famous marching band stayed behind, "drumming" up support for a return of the NFL to their city.
The Ravens trounced the New York Giants in Super Bowl XXXV. It was the team's sole Super Bowl attendance…so far. As of the publication of this article in the 2010-11 season, the Ravens are in the Playoffs and (possibly) headed for the Super Bowl once again.
Go Ravens! Here's how to celebrate your love for this gutsy team and to get all your buds in on the action.

Announcing Game Time
Make your own invitations by downloading the Ravens' logo and printing the party info beneath it (the location, date and time of the party and kickoff time for the game).
Include a game day schedule with the invites (or print these with the party information on the back of each).
Another fun and very popular idea is to print the invites on NFL "tickets". Instructions like these will give you a look that closely approximates the real deal, or for fewer steps and a faster method, check Google images for Ravens tickets and print these with the party info on the back (be sure to blur or delete information that could be construed as falsifying an actual ticket).

Decorations and Fun Add-Ons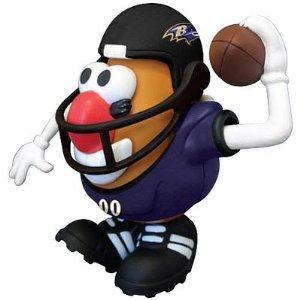 The Ravens official colors are black and purple, and the secondary colors are white and gold. The two centers of the party will almost certainly be the food area and the game-watching area, so do these rooms up in Baltimore colors with balloons, streamers and centerpieces that set the mood for gametime.
Football-shaped and themed party trays are a must; so are Ravens or football decorated/colored plates, cups napkins and a tablecloth. Look through your old Halloween decor to find a raven, and nickname him Poe, the official mascot – the Ravens are named after Edgar Allan Poe, who is buried in Baltimore. The Raven is one of his most famous poems. Other fun items could be a NFL Baltimore Ravens Mr. Potato Head
, replica helmets and garden gnomes. All are available at Amazon.com.
There's no better way to get guests "into" the party (and the game) than by bringing out the kid in everyone. Make or buy "penalty flags"
and pick up inexpensive pom-poms. Hand these out to guests as they arrive so they can cheer or boo the game and add to the fun. Soft footballs are also a great idea — better to have these than cups and food flying at the TV in response to a bad call! They also make great take-home mementos.

The Party Menu: Make it Grab-and-Go
Whatever edibles you serve, think of your carpet and furniture first. In the heat of the moment at gametime, something's likely to fall off a plate or two. If you have a rec area with a TV, great — have the party there and remove anything you'd be heartbroken to see stained. Otherwise, make foods grab-and-go and as non-messy but tasty as possible.
That said, here are some ideas:
baked chicken wings; baked or barbecued ribs using a dry rub rather than sauce
potato chips, pop corn and corn chips with or without dip
cut-up vegetables arranged on trays, with dip
mini taco cups
seasoned oven fries
grabbable mini-sandwiches, cut into triangles
meatballs with toothpicks/party picks
beer (of course!), soda and punch
Making Things a Little More Interesting …
If you'll involve betting at the party, make sure guests know in advance, and keep betting caps low so it's more sportsmanly than cutthroat (remember — it's all in fun!).
Set up a football pool for guests; this is the easiest way to get people into the spirit of the game without breaking the bank. If you and your friends are involved in a Fantasy Football league and any of "your" players are on the roster for game day, so much the better — the stakes will be higher and the fun factor will be over the top.
A Ravens theme party basically creates its own fun. So settle in front of the TV, wait for the kickoff, arm guests with pom-poms and clappers and get ready for your best Game Day of the season.