Gingerbread Party Theme Ideas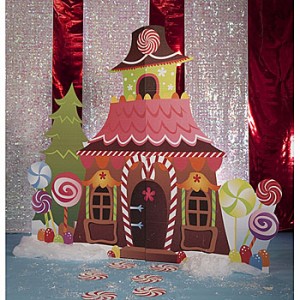 Gingerbread party supplies
, from Shindigz
Do you love gingerbread? Host a delicious party theme around it! Nothing says "it's the holidays!" like gingerbread decorations, games, drinks … and yes, the baked goodies themselves (mmmm). These ideas are great for a kid's or adult's party. This is good old fashioned Christmas fun, so let's whip up a gingerbread party theme get-together. Here's some great ideas, from the planning, the recipes, the food and the fun.
Gingerbread Invitations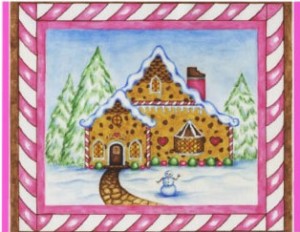 How best to "lure" guests to your party? Why, with a gingerbread house full of candy! Create an invitation using brown card stock or construction paper, trace the outline of a gingerbread house, cut it out, and decorate with candy stickers. Place your party details on the back and mail.If you are hand-delivering them, you could even bake a tray of gingerbread men and attach one to each invitation.
In your invitation details, ask your guests to bring all their leftover Halloween candy … I know we still have some stashed away, somewhere.
If you wish to send personalized invitations without the work, Zazzle is a great site where you choose a template (submitted by artists and home-based businesses) then personalize your details. They will then quickly be printed and mailed to you. When I checked, there were over 400 invitation templates to choose from!

Planning Your Party Menu
Get out your apron and chef's hat – it's time to plan your yummy gingerbread party menu!
There's so much you can do with gingerbread that you'll love setting a whole table along the theme. Plan a few weeks in advance what you plan to make – a gingerbread house? Cookies? If you've thought about our idea of asking people to bring their old Halloween candy, then you will certainly be planning some personal gingerbread houses that your guests will be able to make and take home. See the Activities section for more details!
Here are some delicious gingerbread recipes to try: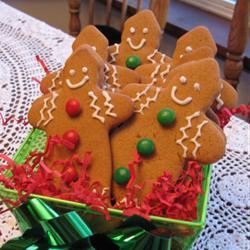 Butterscotch Gingerbread Cookies:
Gingerbread men are a must for your party menu. I've used this recipe before with great success. It uses pudding mix instead of molasses, and the taste isn't as spicy as traditional gingerbread, which my kids don't like. The dough will be very dry – this is normal – keep mixing, and chill in the refrigerator. I bake mine a bit less than the recipe calls for (about 9 minutes), to make a chewier cookie.
Find gingerbread man and woman cookie cutters
at your grocery store or the local dollar store; they're everywhere at this time of year. Make sure you decorate your creations after they're rolled, cut and baked. I suggest raisins for the eyes and buttons for an old-fashioned touch, but be sure to push these just slightly into the dough before baking.
Check out this more traditional gingerbread cookie recipe:
This is the actual "bread" from which the Christmas confection gets its name. The lemon sauce is a traditional touch, but use your creativity if there's a flavor you prefer (for example, cream cheese icing). Set out on the table on festive gingerbread theme plates.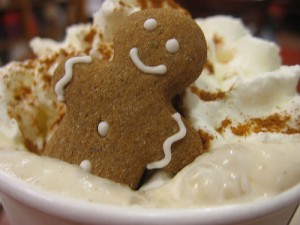 Happy Gingerbread swimmer, by wrestlingentropy/
Flickr
This spiced confection is absolutely gorgeous — especially when Emeril makes it! So take a tip from the real top chef and set out this treat in slices for guests to grab.
Gingerbread Lattes:
You can go to a specialty coffee shop for these, but why spend $4 a serving for something you can make yourself? Freshly prepared, this drink is delicious. Hand cups to guests as they arrive at the party or set out at a goodies table if you'll be eating dessert separately. Here's my recipe – it's not as sweet as Starbucks, but you can add more sugar (I like mine a bit more bitter):
Gingerbread Syrup:
1 cup water
1/2 cup brown sugar
1 tsp ground ginger
1/2 tsp ground cinnamon
1/2 tsp vanilla extract
Mix all ingredients in a saucepan and simmer for about 15 minutes, uncovered, until it begins to thicken. Stir often. The mixture makes about 4 servings – you can store the rest in the refrigerator for about 2 or 3 weeks.
Make a double shot of espresso, add 1/8 cup of the syrup (a quarter cup for larger "grande" mugs), then steamed milk (or heated). Stir well, let it sit for a minute, then stir again. Top with milk foam (if using a steamer) or whipped cream. Finally, add a dash of nutmeg or, because your party has a candy theme, little candy sprinkles. Yum!
Other Foods:
Gingerbread is divine…but be sure to include a few other incredible edibles to balance your party table out. Have a potluck late-afternoon lunch or dinner, send out for a "snow pizza" (white pizza, which is topped with two cheeses) or make your own (try this interesting alfredo twist), and have drink alternatives to lattes like soda, hot cocoa with marshmallows or sparkling fruit punch (add something bubbly, such as seltzer).

Ginger Spice Party Decorations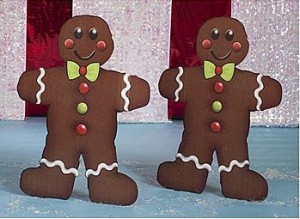 For decorations, think "Santa's workshop" and "winter wonderland" themes. Gingerbread houses, standup gingerbread people (see image on left) and archways decorated with peppermint swirl and other holiday candies are perfect; set these up along your front walkway, in the party area and on the table. You can make these yourself, or check out these ready-to-go items from Shindigz for a quick and easy way to make your place adorable for the party.
Some other ideas include:
making gingerbread cookies in various shapes and sizes in advance, and poke a small hole at the top before baking – hang these with red and white striped ribbon from the ceiling.
decorate with gingerbread theme balloons, brown cloth and drapes, aprons and scenes of candy houses
look for candy-cane decor such as tinsel, ribbon, red and white balloons, etc.
Make sure you also choose gingerbread style plates, cups, napkins and a tablecloth; your table setting is always part of your party decor.
Great gingerbread supplies can be found at:
Party Crafts and Activities
There's so much you can do to keep little guests busy at a gingerbread party – as well as adults! Making gingerbread is almost as much fun as eating it! Here's a couple things to do at your party:
Decorate the gingerbread people – Let kids decorate their own gingerbread people. Bake cookies ahead of time (see the recipes above) and have squeezable icing/frosting, sprinkles, cinnamon candies, raisins and gummies available. Sit each guest down with several cookies and watch the magic!
Dress the gingerbread – Alternatively, buy inexpensive wooden gingerbread-style ornaments. Have guests paint them at the beginning of the party (write names on the backs first). By the time the party is over, the paint should be dry, and guests can take their crafts home.
For very small children, pick up some gingerbread man sticker sets. These very popular sets usually include the outline of the gingerbread person, plus sticker eyes, mouth, etc. Have the children put together their own gingerbread men.
Gingerbread House Building Competition! This is a lot of fun, for both kids and adults alike. Unless you have an army of bakers beforehand, I wouldn't recommend making actual gingerbread pieces for individual houses. There's pre-made house kits available, which will certainly be a lot of fun too. Because it takes a day or two for the icing to dry, I recommend building the houses first, and letting your guests decorate with icing and their leftover Halloween candy. Otherwise, the houses will fall apart if you attempt to decorate after gluing the house together.
After the competition, either keep the handy works of architecture at your house to dry, and invite everybody over at a later date to eat them, or very carefully have everybody take them home at the end of the party.
A fun alternative to building houses is using graham crackers instead of baking gingerbread in advance. Check out this tutorial on how to do so.
Play pin-the-smile-on-the-gingerbread man. This, of course, will be played like pin the tail on the donkey; before the party, cut out a large gingerbread man shape and hang on the wall. Then cut out mouths in an oval, upward-curved shape. Let each child take a turn blindfolded.
Send guests home at the end of the party with (what else?) tins of cookies; tape your recipe to the inside of the tin's lid as a special gift. For kids, send home their crafts, pages of stickers and candy in gingerbread man-styled goody bags.