Santa Claus Christmas Party
Ho ho ho! This holiday season, invite guests to a Santa Claus Christmas party that will make everyone jolly. Here's how to arrange the best Santa Claus decor, games, yummy yuletide party foods and even arrange a visit from St. Nick himself for a holiday party everyone will love.
Inviting Your Merry Guests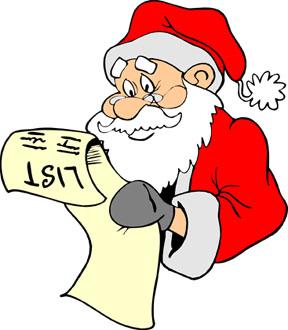 Create adorable invite templates on any Word-type program on your computer by making a "naughty" and "nice" list. Have "nice" checked off and "You're invited!" across the bottom. Be sure to find a great clipart image of Santa and have his face appear on the front of the card. On the inside of the invitation, print the party details.
You can roll these up into scrolls and tie with red or green ribbon if you're hand-delivering them. For children, fold and place in envelopes along with fun holiday stickers or holiday temporary tattoos.
How to Hire a Great Santa
For the perfect Santa themed party, have Santa himself show up! Look for professional Santas in your local paper, by asking friends whom they've hired in the past, or online. Try Santaforhire.com or Gigmasters.
Shop around for a great deal, but don't settle on the cheapest Santa for that reason alone — always get references, preferably from parties that took place within the past 12 months. Make sure the Santa-for-hire was good with children, showed up on time, was neatly/cleanly dressed, didn't sock former clients with hidden charges after the fact and had an authentic Santa-style personality.
An less expensive option is to have someone you know play Santa. If the individual is close to you – your or a friend's father, a cousin, your best buddy, etc. – he probably won't charge you a thing, but be sure to get him a gift anyway as a token of thanks. If this is the option you take, buy or rent a costume. Look for a traditional velvet Santa suit with or without padding (you can always pad the suit yourself with a pillow).
Ho-Ho-Holiday Decorations
Go for red and green as your main party colors; use these in stripes, polka dots and plaids.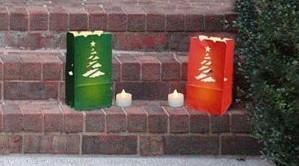 For a festive, glowing look, place holiday luminaries along your walkway or up the front steps so guests are surrounded by a Christmasey feeling as they enter the party.
Buy luminaries with either real or flameless/battery operated candles, or make your own by cutting holiday images such as Christmas trees, candy canes, reindeer, gingerbread or jolly ol' St. Nick himself out of green or red paper bags, pouring a little sand inside to weight them, then adding a flameless candle.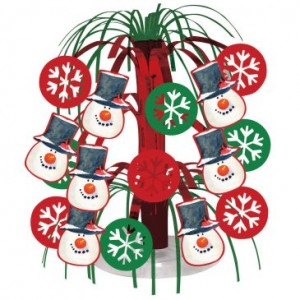 Cut Santa, candy cane, reindeer and Christmas tree ornament shapes out of white paper, color them with magic markers or crayons, add dots of glue and sprinkle glitter on top if you'd like, and then hang them from the ceiling.
Cut candy cane shapes out of paper, color them and then tape them to your floor with tape that's safe for your type of floor's surface; these serve as a "walk this way" guide for guests from the entryway to the party area. Real candy canes make great decorations too; try taping candy canes in rows around doorway frames and tossing them onto the party table for a colorful treat.
Place a mini Christmas tree (up to 3′ tall is ideal) (or other Christmas centerpieces) in the center of the party or treats table and hang it with gifts such as keepsake tree ornaments and candies. These decorations can double as take-home gifts in your guests' goody bags at the end of the party.
Buy a disposable red or green tablecloth and red, green and white plates, cups, forks and spoons; they'll look festive, and at the end of the party, they'll cut your cleanup efforts considerably.
Festive Party Foods
Possibilities for Santa and Christmas-themed party foods are nearly endless. Choose a basic style to make your menu planning easier. Here are a few ideas:
A Traditional Christmas:  Serve turkey slices, potatoes (mashed, au gratin or rosemary for a grown-up party; French fries for kids), stuffing and traditional Christmas veggies such as green bean casserole. Offer egg nog and punch. For dessert, cut Santa, reindeer, Christmas tree and wreath shapes out of prepared dough with cookie cutters, bake, and decorate. Sprinkle foil-covered chocolates or small peppermint candies on top of the cookies and set them out on plates so guests can reach for them easily throughout the party. Make extras and tie them up in holiday colored cellophane or in goody bags with images of Santa on them, then send home with guests. Another festive holiday dessert is warm, fresh-baked pie; cut a Santa image out of the top crust with a cookie cutter before baking, and add a scoop of vanilla ice cream to each plate when serving.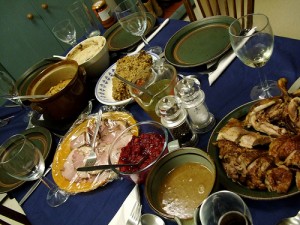 Christmas dinner spread, by
chatirygirl/Flickr
Holiday Buffet: You can do this entirely yourself, or you can have the party be a potluck. For the latter, be sure to let guests know early on that they're expected to bring a dish (printing this info on the invitations is your best bet). Everything should be easy to dish out; finger foods are a good option for a buffet table. Be sure to include at least one main dish food, one appetizer, one vegetable and one dessert from your own kitchen (or make things easy on yourself by purchasing these from your local grocery store or bakery), then let guests fill out the table with their own personal favorites.
Child's Party: Make fun sandwiches, such as peanut-butter-and-jelly or ham and Swiss cheese, then use a Santa shaped cookie cutter to create fun "Santa-wiches"; kids will love these. Other easy party foods for kids include pre-sliced or mini pizzas, mini hot dogs or Vienna sausages, and salads. Have PLENTY of dessert on hand — as with the Traditional Christmas shown above, cookies are always appropriate, as are candy canes, ribbon or peppermint candies, hot cocoa with marshmallows and apple cider.
Games and Entertainment
Get guests into the spirit by giving them red Santa Claus hats and having them wear them during the party. You can also hand out jingle bell necklaces — buy these at your local dollar store, or easily make them by stringing red or green cording or yarn through large jingle bells, then tying each off to make the necklace.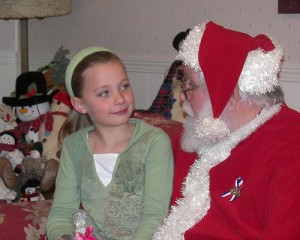 Santa! Image by
thejesse/Flickr
Of course, if you're hired a Santa or asked someone to play the Big Guy, that will be your main entertainment for the night. Have one small gift ready for each guest if it's a child's party; be sure to purchase gifts that are unisex and will apply to all age groups represented, then have Santa pick one gift at a time out of the bag and call the children up randomly by choosing a name from his hat.
For adults, have a gift exchange. If you've hired a Santa, great! You'll get lots of laughs — and a ton of nostalgic feeling from your surprised and almost certainly delighted guests. Whether you're having a Santa-for-hire hand out the presents or will be doing the gift giving yourself, be sure to ask each guest in advance to purchase one small gift with a price limit — $10-15 is standard. Each gift should be wrapped. During the party, call guests up one at a time and randomly hand each a gift.
Have Christmas carol karaoke. Rent a karaoke machine and let guests get up there and really shine.
Christmas carol musical chairs can also be a blast; play the music, then randomly turn it off and watch the fun while guests run for the open seats. Remove one seat per round until only one guest is left; give him or her a special gift for winning the game.
Play Hide the Stocking or Hide the Candy Cane. Kids will love shouting out "warmer!" as the guesser gets closer to the hidden item or "colder!" as he or she moves farther away; when the guesser finds the item, someone else gets a try.
Send guests home with adorable goody bags. Be Santa yourself and pack small Christmas stockings with goodies. For children, stickers, temporary tattoos, candy, holiday jewelry or makeup (for girls) or small bendable Santas or stuffed Santa dolls are great tie-ins for this party theme. For grown-ups, send home a package of gourmet cocoa, two large marshmallows and a specialty chocolate or two inside plastic or heat-safe paper (wax lined) cups. They're the perfect way to say thank you and to wrap up your Santa party with style.