Snoopy & Peanuts Christmas Theme Party Ideas
Charlie Brown Christmas tree up and decorated? Check. Gifts purchased, wrapped and stashed away? Check. Snoopy Christmas party supplies ready? No? Well, what are you waiting for? Now's the perfect time to get a traditional Peanuts Christmas party going.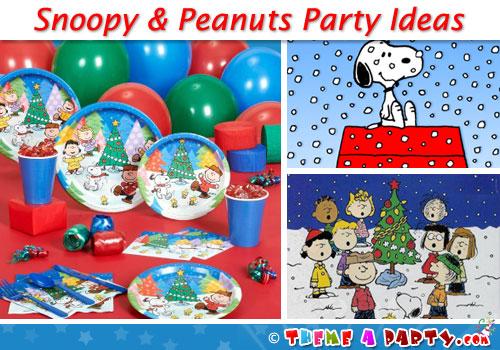 Kids and adults of all generations love Snoopy, the classic children's movie/TV special A Charlie Brown Christmas and the whole Peanuts gang. This year, hold a holiday party everyone will love, with cartoon characters that are a tradition all by themselves.
Snoopy and Peanuts Christmas Party Guide:
Putting Together a Snoopy Christmas Theme Party
You already know the famous story, first written out as a series by Charles M. Schultz in his ongoing Peanuts comic strip and later pieced together into the Christmastime staple, A Charlie Brown Christmas. (But just in case, here's the scoop on this timeless favorite, including clips that will have you getting into the holiday spirit in no time.)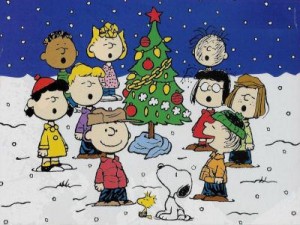 Make the characters a central theme for your party. Peanuts favorites include Charlie Brown, Snoopy (of course!) and his sidekick Woodstock, Lucy and Linus Van Pelt, Charlie Brown's sister Sally, Peppermint Patty and Marcie, Franklin, Schroeder and Pigpen, to name a few.
Have your party invitations and decorations feature these personality-filled characters, as well as the famous Charlie Brown Christmas tree and fabulous mod 60s-type Christmas decorations; see the categories below for details.

Peanut-y Party Invitations You Can Make Yourself
Charlie Brown and his pals are such a Christmas tradition that it's easy to find inexpensive, cute invitations at a local party store or online. However, if you'd like to make your very own Peanuts Christmas invitations, try these ideas: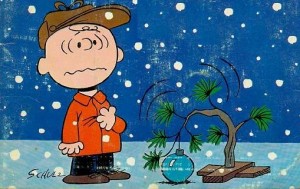 Idea #1: Locate a picture online of Charlie Brown's spindly little Christmas tree with its lone hanging ornament (see it on the right). Print it out on foldable card stock; fold and then cut the card around the tree's shape. On the inside, print, "All (our party) needs is a little love. We know you can fit that bill!", "Find the real meaning of our Christmas party…fun, food, drink and you!", or another cheery greeting that brings to mind one or more lines from the show.
Idea #2: Find an image of the Peanuts gathered around Snoopy's dog house (the final "Oh Christmas Tree" singing scene in the movie) and print it on the front of folded cardstock paper; on the inside, print a greeting and enclose a sprinkling of colorful holiday glitter.
Idea #3: Print (or freehand, if you're the artistic type) images of a mailbox, a la Charlie Brown's mailbox (where he keeps looking for Christmas cards and invitations); fold to create the card, and cut around the mailbox shape.
To Add Pizzazz to Any Peanuts Party Invitation: Use retro-colorful cardstock for your invitations. Bold greens, blues and reds, groovy lime green and orange and bold prints or polka dots are all oh-so-sixties. Download a border (Google these…you'll find quite a few for free) along these lines for your party invites.

Decking the Halls: Nutty Party Decorations
Have a ball with your party decorations. Here are a few suggestions:
Hang oversized foil decorations in classic round or teardrop shapes from the ceiling.
Place a bunch of old-fashioned glass ornaments in a bowl on the table; add silver or gold garland around the centerpiece in a circle.
Order a custom banner, or paint/draw one yourself, and hang it above the entryway to the party or over your front door.
Make a Charlie Brown Christmas Tree! Cut a long branch off an evergreen tree if you have one in your yard (or if you bought a real Christmas tree this year and can find a space in the back that won't show the bare spot afterward). Stick it firmly into a rectangular piece of Styrofoam. Using Styrofoam-safe glue (some glues can melt this material), glue pieces of old wood paneling or cardboard painted/colored to look like wood around the edges of the Styrofoam. If you need extra weight to keep the "tree" standing, glue a piece of plywood or even an old paperback book you won't be using again to the bottom. Add one dangling ornament to the "tree," and make sure it's heavy enough for the branch to bend over with a sad look. Use as a centerpiece for the party.
Balloons make any party special. Buy balloons in bright, Peanuts-esque colors – reds, greens and blues. Rent a helium tank if you want the balloons to float around the party area, or buy an inexpensive balloon pump to save time (and your breath!) on the day of the party.
Print images of various Peanuts characters, in scarves and gloves if possible, and cut them out. Hang them on the walls around the party area.
Setting a Party Mood: Atmosphere and Activities
If you don't already own A Charlie Brown Christmas, buy or rent it. Have it playing during the party to really get guests into the holiday mood.
Make a simple dog house shape out out of cardboard boxes; paint it red. During the party, let guests decorate the doghouse with strings of lights, Christmas ornaments and other goodies. This is especially fun for kids, but don't be surprised if the adults at your party offer to "help" (yeah, sure!) in this fun activity.
Have an ornament exchange. On the invitations (see above for ideas), let guests know that there will be a Peanuts-themed ornament exchange. Any Peanuts style ornament is acceptable, from the traditional to the uber-silly…invite guests to get creative! Each ornament should be wrapped and then brought to the party. As the host, you will write a number on each package as guests arrive. Later, have each guest pick a number from a hat (try a knitted winter hat for a fun effect) to receive his or her ornament.
Play Charlie Brown Christmas Bingo. Make grids on square pieces of cardboard or other heavy paper. Write blurbs from the show on the grids' squares, Bingo-style. Some great quotes can be found here; keep them short ("You do think I'm beautiful, don't you, Charlie Brown?", "Do innkeepers' wives have naturally curly hair?" "See? All it needed was a little love," etc.) so each fits into a square. Write the same quotes on pieces of paper and toss them into a bowl or other container. Pick them out one at a time and call out the quote. Guests who have a matching quote will place one M&M, on penny or other small item onto that square. The first to get Bingo receives a gift — candy, a tree ornament, a copy of A Charlie Brown Christmas or something similar.
Nostalgic Party Foods
Go retro when it comes to food and drink for your party. The theme lends itself to nostalgia, and guests will love these old-fashioned, tried and true holiday yummies.
For drinks, try eggnog, apple cider, hot chocolate or party punch (make with juice and seltzer or soda for kids; "spike" if desired for adults). Serve in Snoopy or Peanuts theme disposable cups for ease of cleanup after the party.
Pop big bowls of popcorn and set them up around the party so guests can grab a handful whenever they'd like. You can also have a batch of popcorn available to make popcorn Christmas tree garland, a fun activity for adults or older kids (watch younger children when it comes to needles — even not-so-sharp ones). String it around your centerpiece tree when it's done.
If you'll be having a luncheon or dinner buffet at your party, serve turkey slices with gravy, mashed potatoes, traditional bread or cornbread stuffing and cranberry sauce. Or for kids, make the party favorites you remember, like pigs in a blanket.
For sweet treats, make mini apple pies, toast up some s'mores and have them available on trays or on disposable Charlie Brown themed paper plates. Bake up (or purchase ready-made) gingerbread men and women and bakery style sugar cookies, and have some fun, traditional Christmas candy available, like ribbon candies or candy canes.
Last but not least, remember to send us your favorite pics of your party or get-together. We love to hear from you. Merry Christmas…and have a blast putting together your Peanuts themed party!
Browse for Peanuts party supplies here