Gothic Vampire Halloween Party Theme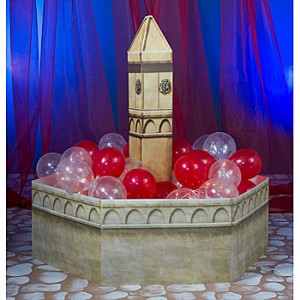 Gothic fountain
, from
Shindigz
party supplies
Here's a Halloween party idea you can really sink your teeth (and creativity) into: a Gothic vampire theme. In recent years, vampires have become ultra-cool and are an industry in themselves with movies, television and popular character personalities. Get in on the gory glory by hosting a vampire theme party that includes a Goth attitude.
Pick Your Vampire(s)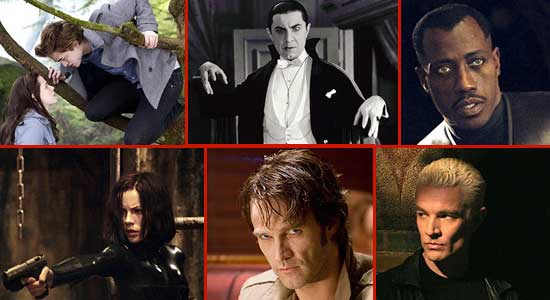 First and foremost, decide whether your vampire theme will follow one particular movie, TV series or genre (for example, "old Hollywood" vampires, which can be very kitschy and can easily be worked into a Goth-style theme). The Twilight trilogy is another obvious choice. So are True Blood, the BBC series Being Human, and the movie and TV series Buffy the Vampire Slayer. There's a "host" of others, such as Angel, Moonlight and The Vampire Diaries.
You will note that some of these involve creatures other than pure-blooded vamps. Decide whether you want to include werewolves and other supernatural creatures of the night at your party. Mix things up by telling guests they can also come as a vampire "victim", a werewolf or a vamp hunter (a la Buffy or Professor Van Helsing).
Or do the simplest, and perhaps most fun, thing of all: tell guests to use their own imagination. You'll get a mix of fun, fabulous and freaky ideas this way…everything you need for a great party!
These Invitations Are Scary Good
Create these dramatic invitations that have a wry twist and you're sure to have a great guest turn-out:
Blood Vial Vampire Party Invitations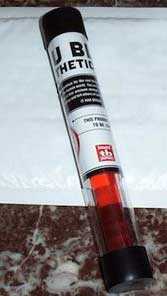 You will need:
mini test tubes, plastic or glass (pick these up in the science section of a toy store, at a science or medical supply store or online)
corks that fit the test tubes securely
blood-red paper with a vertical height that is about 1/2" less than the test tube's length
access to a Gothic, creepy font to print the invitation wording, or you can freehand this with a black pen if you're creative
Print some playful wording onto the invitation paper. You can try phrases like these: "Be afraid. Be very afraid. We've been waiting for you…to attend our Twilight bloody bash! Come in costume as your favorite vamp, victim, slayer or werewolf. There will be food, dancing, and of course…drinks. (Evil grin) We can't wait to drain, er, see you there!"
Be sure to mention what the costume theme is —  Buffy, All Things Vamp, Creatures of the Night, etc.
Once the invitations are printed, roll them up and place one into each of the test tubes. Secure with the cork. The effect will be a vial that's filled with red blood due to the red coloring of the paper.
If sending a paper invitation in the mail, forgo the vial – it's likely to break in transit – and instead print your creepy greetings on computer paper, then put on the reddest lipstick you can find and press your lips to the back of each for a "bloody kiss." Allow the lipstick to dry completely before enclosing in the envelope; blot very gently if necessary. A stay-on variety of lipstick is best as it's least likely to smear.

Creating the Best Goth Vampire Costume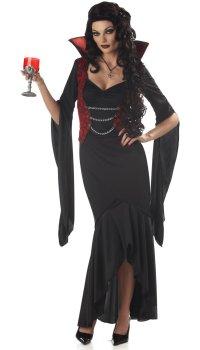 Goth vampire costume elements are usually deep, sexy and mysteriously chilling. If not sexy, they're generally at least ultra-elegant. Go for drama and impact here.
Lighten your face a shade or two, but don't go too far on this; clown-white just won't do for your hot vamp party!
So where can you go bold? Everywhere else! Go for super high-drama with your makeup choices (men, you can dab on a little lip gloss too – yes, as a Goth or Emo vampire like Twilight's Edward Cullen, that's cool). You may wish to dye your hair with temporary dark hair color – be careful with this as some people with very light hair have reported that even "temporary" black stayed forever, so if you're worried, go for a wig instead. On the other hand, blonde or redheaded vampires are super-cool too. Just make sure you're highly dramatic in your hairstyle.
You don't have to wear a cape if you don't want to. Something long, black and slinky or short creepy-little-girl-esque (think Wednesday Aadams-style) black are both perfect. For men, go ahead: unbutton that top button. And the next one, too. Use enough hair gel for sexy control but don't go super-slick; modern Gothic vamps are cool and refined but have that little bit of bad boy in their total look.
Choices are wide-open here. Go techno in vinyl, fishnet stockings and kickin' black boots, be super-traditional with a cape and fangs or be something in between; there's a huge range of possibilities when it comes to dressing as Drac!

Decorating Your Crypt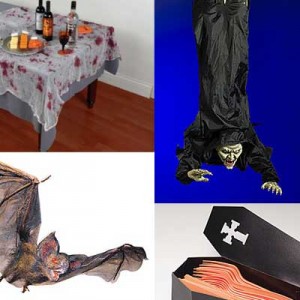 Shindigz
sells a huge variety of vampire and Gothic-themed party props and decor
Create a haunted castle with lots of candles (for safety, you may decide not to light them and simply have them around for ambiance, or you can find flameless battery-operated or electric candles if you prefer).
Drape your furniture in battered pieces of once-luxurious-looking cloth – remember, the "Goth" part of this party calls for elegance, even if it's decayed elegance! For instance, faux black or red velvet looks great draped over a couch with a few tears placed at strategic points for a perfectly haunted-castle look.
Bats are fine as long as they're either ultra-stylized or very realistic-looking. Forgo the plastic-bats-hanging-from-the-ceiling motif for this particular soirée and instead place your furry little friends on tables, attached to chairs and at the food table.
For table centerpieces, pick some flowers or buy inexpensive ones and allow them to dry at home – no need to go crazy on the expense here. Once they're dried and withered and placed in a somewhat beaten-up vase or a simple glass holder, they're perfect for setting a spooky table.
Don't go too crazy on the lighting. Make sure the mood is, well, dark. But do allow guests to see their way to the party table or the dance floor. Spooky purple or blue light bulbs are a great choice, or, if you have enough electric candles, allow these to be your lighting.

Have a (Blood) Ball – Vampire Music
You can easily make things fun for your guests with a little dancing and a lot of atmosphere.
Be sure you have a large space to dance in if you're having a dance party. For music, choose your poison: does industrial do it for you? (It does for a huge part of the Goth community.) Do you get your gory groove on to club music? How about dance versions of popular vampire movie themes?
Other popular picks for vampire parties include songs by White Zombie (or Rob Zombie), semi-humorous tie-ins like "Love Bites" by Judas Priest or "Once Bitten, Twice Shy" by Great White, soundtracks from Interview With the Vampire, True Blood or the Twilight movies or the themes from Buffy the Vampire Slayer or The Vampire Diaries.
Get a friend to dress in butler-style clothing to answer the door as guests arrive and say "Your guests are here, master," then shuffle off with a stopped, limping walk. It's the perfect warm up to a chilllingly good party!

Feed Your Hunger
Have a selection of fun foods out for guests to nibble on. If you're the creative type, make a faux coffin by cutting out pieces of cardboard and taping them together on the inside so the tape doesn't show. Paint the outside in brown and add long dark-brown vertical lines for a wood look. Now put dabs of gray or silver paint in various places to imitate coffin nails.
Make the coffin slightly shorter than the length of the table and place the party foods inside so guests have to reach in to get a bite.
Here are some yummy vampire party foods you may want to try:
Red foods:
All things blood-red make for good vampire party eatables. Try refined, Victorian-esque nibbles like red velvet cake slices or red-glazed petits fours (mini candy-coated cakes). Red M&Ms, sliced strawberries, plums and watermelon in just a little bit of red juice, and red gummy candies are other fun ideas. Or dye popcorn kernels red with food coloring before popping. For a main dish, make mini-ravioli and dab globs of tomato sauce in the center of the plate. Ribs with plenty of barbecue sauce are another obvious choice.
Chocolate blood fountain:
Rent a chocolate fountain from your local party supply store (prices can be quite reasonable for this). Ask the store whether it has a machine with a ruby-red base. If not, ask whether you may apply non-permanent window clings to the machine. If the answer is yes, choose dripping blood or bloody hand print-style clings. Make sure they are completely removable without leaving any residue – you don't want to have to pay for damages!
"Stakes":
Offer grilled steaks with a blood-red sauce made by combining Worcestershire sauce, hot pepper or a milder red pepper sauce and a little dill for kick. Add a toothpick in the middle as the "stake"
Werewolf kibble:
Combine almond slivers for a werewolf's fingernails, whole nuts, mini candies and perhaps granola munch or even pumpkin seeds. Serve in a dog food dish – use a brand-new one (of course) from your local dollar store. Place on the table and allow guests to dig in.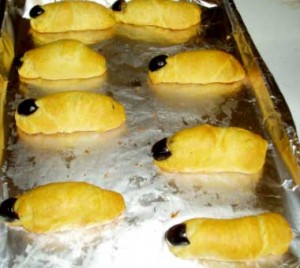 "Finger" foods:
These are a real scream! Buy a package of bread stick dough (you can usually find this in the refrigerated section of your supermarket near the cookie dough rolls). Separate or cut the dough into roughly rectangular or oval strips of dough that are about the length of a human finger. Twist each one, arrange on a baking sheet and press down just slightly. Add one almond or olive sliver to the top of each bread stick, then bake. These really do look like mummified fingers! Serve with marinara sipping sauce. Here's a more in-depth monster finger recipe.
Anything with garlic:
Sprinkle garlic on chicken wings and serve them with garlic toast. Have pasta ready with a delicious garlic-y sauce. Anything that includes garlic will add a humorous twist to your Vampire party foods table.
For a no-alcohol party, serve "blood punch" made with grape soda and red juice. If you will be serving alcohol, have "Bloody Bellas" (Blood Marys), sangria and other juicy-looking drinks available.
"Doggie" Bags and Favors
If you'll be sending treats home with your guests, close them up in doggie bags for a werewolf motif – print out labels that say "Doggie Bag" with a clipart wolf print in red and stick one label onto each bag.
Or make blood bags: print labels that say "Type O", "Type AB", "Fresh Squeezed," etc. and place on plastic bags. Enclose the treats. Bon appetite!
Finally, we can't leave this topic without showing my all time favorite Youtube song about vampires. Check it out!