Here's a party theme you and your child will both love: a Mario Bros. birthday party! This "super" theme is all about the Nintendo classic and the characters that game players have loved since the 1980s. Get your child's game on with Mario Bros. party decorations, food, games and classic Mario Bros. party favors.
Mario Bros. Party Invitations
Mario Bros. and Super Mario Bros. are huge yet again (do these games ever really get old?), so it won't be hard for you to find invitations that show Mario and the whole gang, including Luigi, Yoshi, Toad and Princess Peach.
If your child would like to get creative, help him find Mario Bros. pictures online. Drop the images into a document (Word, if you're on a PC) and type in the text inviting friends to the party. Then, Drop a couple of gold foil-covered chocolate "coins" into the envelope and send them out.
Super (Mario) Decorations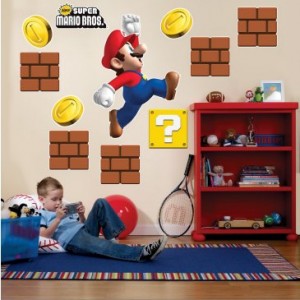 Create some super atmosphere with decorations. You will of course want to start with Mario Bros-themed plates, cups, napkins, a tablecloth and a centerpiece.
Buy a disposable helium tank or take balloons to the party store closest to you; brightly colored balloons (green, blue and red) bobbing around the party area will add instant atmosphere.
Hang gold-colored stars from ribbons taped to the ceiling. Draw eyes on the stars before hanging them up. Super Mario Bros. wall decals are another nice touch, and they won't hurt your paint or wallpaper.

Party Activities
Keep the party rolling with some great activities. Try these:
Hang a Mario Bros. pinata filled with candy, small trinkets or foil-covered gold coins. Let guests take turns swinging, then have them collect their share of the goodies as part of their treat bags for take-home.
Play dress up with Super Mario Bros. character pieces or even full costumes. You can buy these or improvise by pulling together a few pieces yourself. Scout out thrift shops for overalls, fake mustaches…and of course, hats!
Have a Mario obstacle course. Let guests jump over boxes and squirm through play tunnels. The fastest contestant wins a prize.
Have a video game going…or two. This is a given! Let kids get their game on with Super Mario Bros. or any game related to these good-time icons.
Divide kids into teams of two and have a Yoshi egg-toss. Prepare for this ahead of time by boiling and cooling eggs, then coloring them with egg color or markers to resemble the eggs in the game. Teams must toss their egg back and forth. If an egg drops, that team is "out."
Party Goodies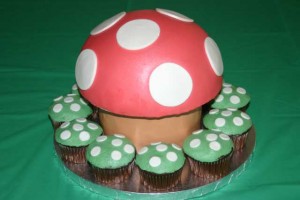 Cool Mario Bros. mushroom cake by
Katieweb
Keep food fun and kid-friendly. Serve "game's on"-type foods, like pizza, pop corn and chips. For older kids, soda should be fine, but very young children should have juice or water. Try serving these in Mario Bros. sports squeeze bottles for a little extra fun (and the kids get to keep these afterward!)
Serve mushroom cupcakes, or one large mushroom cake. To make the cupcakes, bake the cakes as directed, cool, then frost with red icing. Add flat white-chocolate candy pieces (look for these in the candymaking aisle) for the dots on the mushroom, or wait for the red icing to harden slightly, then place small dots of white frosting on top.
The mushroom cake is the same idea, but with a round pan. Make sure you choose a cake that will rise. When pouring the mix into the pan, fill just slightly more than the directions call for (be careful — you don't want a mess in your oven!). This will produce a "muffin top" effect once the cake is baked, which is perfect for a mushroom appearance. Decorate as described for cupcakes above.
Party Favors
Send kids home with goody bags – they expect them, and they're a nice little "thank you" for guests' attendance at your child's party. Fill the bags with candy from the pinata, if you had one; chocolate coins; light sticks or glow necklaces in neon old-time arcade colors and Mario-theme stickers.
Or, instead of bags, buy small boxes and draw question marks on each, like the boxes in the game. That's a touch any kid will absolutely love!