Pittsburgh Steelers NFL Party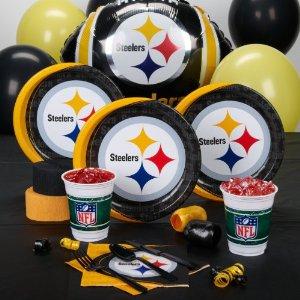 Pittsburgh Steelers Party Supplies, available at
Amazon.com
Go Steelers! Do you wave your Terrible Towel for Pittsburgh every fall? Then join the fan club. This super team has gone to the Super Bowl seven times (and taken home six rings) in its illustrious history. They're going to the Super Bowl this year! So get in gear with a Pittsburgh Steelers party theme this February and cheer them on!
Pittsburgh Steelers Party Ideas
Choose this party theme to celebrate:
the first game of the season
a wedding anniversary or a retirement or promotion party
a bridal or baby shower (yes, we're serious – sports themes are becoming more popular among hip parents-to-be and soon-to-be-marrieds)
any tailgate party/NFL party to get friends together
When to Hold Your Party
The obvious timing for a football party is between September and the Super Bowl (usually in February). Choose a game night – any evening the Steelers are playing is fine. (If you have a pay sports channel that will show all the Steelers' games, then you will have plenty of choices.)
Check out the Steelers' game schedule to find out when they'll be playing (and who they'll be up against).
If the Steelers make it to the playoffs (and with a majority of the latest seasons seeing P-burgh there, it's a distinct possibility), hold the party during a playoff game. The playoffs are a particularly hot time for an NFL party if you're in a Fantasy Football league and are in the lead – or trying to pull ahead.
Naturally, if you have a few Steelers in your Fantasy Football lineup, so much the better; if not, choose a game with an opposing team you have a few players in just to keep things interesting.

Sending Your Invitations
Send invites so that they will arrive two weeks before Game Night.
One eye-grabbbing idea is to create a "game ticket"-style invitation. Print it out in yellow and black if possible (look online for freebies). Enter the party information on the ticket, and print on heavy cardstock for a "real feel."
If you really want to go crazy, throw some yellow and black confetti inside the envelope before mailing.

The Best Party Décor
Get game by decorating the part space – or even yourself. See the ideas listed below.
Use plenty of yellow and black. Naturally, you'll want plenty of yellow and black around the living room or the party table. Hang yellow and black streamers and fill balloons, a great idea especially if there will be children in attendance.
Put the Steelmark, well, everywhere. The Steelmark is Pittsburgh's instantly recognized logo of yellow, red and blue stylized diamonds in a circle. Draw the Steelmark yourself or print it off the internet (in full-color, of course!) and hang it on the walls of the party area, tape it to the tablecloth and hang it from your streamers.
Hang up a handful of Terrible Towels. A die-hard Steelers fan will already have at least a couple of these; if you haven't yet had the pleasure, check your local sports store or online for some Terrible Towels. Hang them on the walls or get fancy and use them as placemats under the party food. You can also hand these out to guests as they arrive.
Wig out. Wear a novelty black and yellow Steelers wig and paint your face for Game Day.
Mug out With Steeler's beer mugs, that is! Pittsburgh is well known for their traditional German lagers, so buy some mugs and shot glasses with the Steelmark.
Show your spirit. Slightly creepy though it may be, the Steelers' mascot Steely McBeam has fast become a recognizable show of spirit since his debut in 2007 and is an easy image to recreate as a costume. Wear Steely clothes, including the workman's-style plaid shirt. Or go all out and ask your local party store whether they carry, or can order, Steely McBeam masks.
Game Day Food (Iron City Beer, Primanti Sandwiches)
You know what your guests want – food and beer, and plenty of both! Serve traditional game day foods like chicken wings, ribs, chips, jalapeno poppers, cheese squares/cheese spread, nachos…the list goes on. Choose your favorite game day-style foods and either prepare them yourself or buy them premade. You're likely to find plenty to pick from at your local grocery store all season long.
That being said, here's a couple Pittsburgh-style foods to try out:
Beer
If you can, get local Pittsburgh beer. Try Iron City beer, Penn, or Rolling Rock. If not, go for any German-inspired beer.
Primanti-style sandwich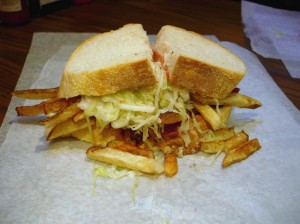 Primanti Bros. is THE place to be for a game, so much so that you'll find their venues at Heinz Field Stadium. For those of us at home, here's how to make an imitation sandwich:
Coleslaw:
2 tbsp mayo, 2 tsp milk, 1/2 tsp vinegar, pinch of sugar
1 cup shredded cabbage
Mix these ingredients and put in the fridge.
French Fries:
cooking oil (olive is best)
1 potato, sliced as french fries
Fry sliced potatoes in pan until crispy, about 6 minutes. Place in paper towel. Or, deep fry already-cut french fries.
Making the sandwich:
1. Start with a bottom slice of Italian bread
2. Add capicola, spiced ham, or another of your favorite
OPTIONAL: Fry your ham, and add a fried egg on top for a breakfast sandwich! Add to the bread
3. Pile on the fries!
4. Pile on the slaw!
5. Add a tomato slice and onion (optional)
6. Add the top half of the bread, press down, and cut in half. Enjoy!
Grab your plate, add some ketchup (Heinz is based in Pittsburgh), sit down and enjoy the rivalry…er…the game!