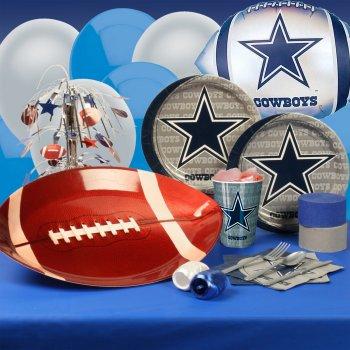 Dallas Cowboys party pack, available at
Buycostumes
Dallas Cowboys fan? You'll have to move over and make room! Winners of five Superbowls and eight championships, the Cowboys hold the most division titles in the NFL—and they have thousands of fans standing behind them. (And trust us: every one of those fans loves beer and wings…see Linebacker Eats, below.)
Get good friends together for a great game and a great time—or celebrate this "star" team any time during the playing or post-season.
Get Your Game On
Ideally, of course, you should pick a day that the Cowboys are playing. Or look for a "best of"-style Dallas Cowboys compilation DVD and play it during the party.
Check the schedule and see when the Cowboys are on and which team they're up against. (Tip: It can be even more fun if your favorite Texas team is playing a well-know rival [Redskins or Eagles, anyone?].)
Decorations, Dallas (Cowboy)-Style
To go all out, or to set up a birthday for your Dallas fan, there are plenty of party supplies, tableware and cups printed with the Cowboys star and blue and silver color. Decorate your house with general football images, such as, naturally, the pigskin itself, goalposts and referee shirts, and Dallas Cowboys balloons.
Linebacker-Worthy Eats
Fill guests up on tailgate favorites. You can grill outdoors, weather providing, or call your local deli and see what specials they have lined up.
Try two or three of these favorites:
chips or nachos with salsa, bean dip or Mexicali dip (salsa and sour cream)
buffalo chicken wings with whiskey sauce
cocktail franks on toothpicks with honey mustard or barbecue sauce for dipping
barbecued shrimp on toothpicks
ribs (try these at halftime when guests can be persuaded to leave the couch and come to the table)
grilled kabobs (meat, chicken or seafood alternating with fruit or vegetables on wooden skewers)
mozzarella-stick-and-chicken-finger platter with marinara dipping sauce
Don't forget the drinks. A special football theme cooler will set the mood and can be used over and over again during season.
Keep Your Guests Cheering
Hand out football whistles or clappers as guests enter so they can referee the game themselves. You can even look online for Dallas Cowboy cheerleader costumes or even blue and white "superfan" costumes for a laugh or two—and a real show of team spirit.
For halftime or during commercials, have a game of Cowboys Trivial Pursuit. Wikipedia is a good source for tidbits, but double-check; this average-Joe-revved site can be off on a fact or two. Or ask your favorite Cowboys fan for little-known facts ahead of time.
You may not have the world's largest JumboTron…but your Dallas Cowboys party, and the game, is sure to score points with all your friends!