Hosting a Disney Princess Party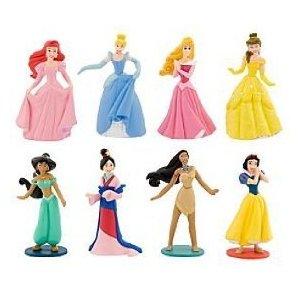 Which Disney princess are you? Available at
Amazon
What little kid doesn't love Disney? What little girl doesn't love princesses? There's a good reason as to why the Disney princesses have been so popular for years now. Not only do these princesses offer up beautiful story lines, but they are also something that most little girls admire. Why not use this as the perfect party theme for your little girl, then?
Let Them Dress the Part
First and foremost, you have to let your child and her friends dress the party. One can't be expected to feel like royalty unless they dress like one, right? Be sure that you tell all guests up front that this is a princess party and that they should come dressed as their favorite Disney characters
. This doesn't have to be anything elaborate, of course (unless you wish to!) You can use dress up clothes or hand me downs to get your princess looking and feeling the part.
Be sure that you offer some fun accessories for all of the guests at this party. Pick up some beautiful crowns for all the girls, along with some jewels, wands, and any other toys you can find. You can find all of these at Amazon
or your local dollar store and they will offer up hours of entertainment.
Royal Invitations
Set the tone for the party by sending out elaborate royal invitations. You can pick up cute princess invitations in the appropriate Disney theme at your local party supply store. You can even create your own by writing them out in a nice "flowy" script font that looks almost like calligraphy. Then roll up the sturdy piece of paper into a scroll that guests will just love opening. For the complete look, you can even buy wax seals!
A Meal Fit for Royalty
Serve up food fit for royalty. Serve up whatever meal happens to be your daughter's favorite but make it that much more special. You can serve up pizza, hot dogs, or even spaghetti but be sure to serve it on beautiful and regal looking plates. Be sure that each little girl gets her own goblet to drink out of, and if you want to go the extra mile have their name put on it and a picture of the Disney princess of the day. Every good meal must end with decadent pink and purple cupcakes or a cake made into the shape of a crown.
If you really want to go the extra mile, have Belle, Arielle, or whoever the favorite Disney princess is show up at the party – either an adult can dress in a costume, or you can likely rent an entertainer – they are quite affordable.
Allow each girl to get her picture taken with the princess, and then let her read a magical story to the group. These special touches will make your little girl truly feel like a princess.