Patriotic Parties – Be True to the Red, White and Blue
Whether you're celebrating the Fourth of July, Memorial Day, Labor Day, Veterans Day, Election Day, Presidents Day or sending off or welcoming home a member of the armed forces, here's a patriotic party plan that will have your guests saluting you and the red, white and blue.
Invitations:
Use clip art of "Uncle Sam" to create a flyer stating – Uncle Sam wants YOU to come to our ____ (Memorial Day, July 4th, Labor Day, etc.) party. Then include your party details.
Write your invitation on a label and attach it to small flags. Roll and insert in a mailing tube or large white envelope you've decorated with patriotic stickers.
Ask your guests to come dressed in red, white and/or blue colors to add to the patriotic party feel.
Décor: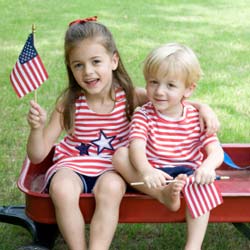 Use red, white and blue bunting to show off your patriotism and to decorate the outside of your house or place small flags on sticks to line your lawn or your walkway.
Recycle your colored Christmas lights by using only the red, white and blue bulbs to light up the night.
Flashing white twinkle lights can mimic "fireworks."
Recycle any red and white items you might have from Christmas or a fiesta or blue items you might have from Hanukkah.
Refreshments:
Typically American fare such as hot dogs, hamburgers, potato salad and apple pie would be perfect for this event whether it's held indoors or outside but any type of favorite foods would work for this all-the-way USA party.
Serve blue and white tortilla chips with a red salsa.
For the kids, serve lemonade and red and blue Kool-Aid. For the adults, consider red Rum Runners, white Pina Coladas, and Blue Hawaii cocktails to keep with the theme.
Slice apples from the stem down. If you look, you'll notice the seed pattern forms a star. And speaking of stars, look for star fruit (carambola) for a sweet accent to any dish. If your supermarket doesn't carry it, look for carambola in a local Latin specialty food store.
Create a flag cake with white icing or whipped cream and sliced strawberries to create the stripes and blueberries to create the stars.
Toast marshmallows and/or make s'mores. It's a fun and festive treat and activity.
Activities:
Have a rousing sing-along of patriotic favorites like "God Bless America," "Yankee Doodle Dandy," "You're a Grand Old Flag," "God Bless the USA," and so forth. Print out the words for everyone.
Host three-legged and sack races.
Get the kids to decorate their bikes in flags, crepe paper, and such and have them form a parade around your neighborhood. Give your guests (and possibly your neighbors) small flags to wave as the parade passes them by.
For indoor events, give the kids light sticks. They're much safer than sparklers.
Play a game of "How Well Did You Do in Geography?" Type out the names of all 50 states. Leave a blank space next to each state and ask your guests to name the capitals. The one(s) who guesses the most right wins a prize. A variation on this is to trace out a map of the U.S. without listing the names of the states but tracing all of the state's borders. Then put the names of the states in a red, white and blue top hat. Each guest picks a state's name and then tries to pin it correctly to the location of the state. The guests who correctly place the state in the right section on the map win a prize.
Party Favors/Prizes
DVDs of patriotic-themed movies
CDs of country or patriotic music
Flag pins
Small flags
Books about great Americans, your town, your state or important moments in history