Twilight Vampire Themed Party Ideas
Dating a vampire? You're not the only one. A Twilight themed party is a good excuse to go all-out and overboard with vampire-ish book and movie themed supplies and accessories. With the penultimate Twilight movie arriving, now is the time to plan a birthday or movie release party!
These party themes are great for teens, so if your teen is in love with Edward or Bella, help him or her plan their ultimate Twilight party.  Ask them about food and drinks, activities and ideas, and get them involved in each step of the way.  Because there are so many different directions the party details could go, here are some ideas to focus your energy.  All of our Twilight party ideas start with the central color themes of Stephenie Meyer's book covers:  red and black.

Twilight Party Invitations
These can be as simple or over the top as you wish.  Start with red and black paper or invitations, and personalize.  Some ideas for the invitations:
Include a band aid or two with each invitation, and admonish each guest to "make sure that all paper cuts, sores and scabs are covered by band aids."  (S the vampires don't get any ideas.)
Imitate the cover of the first book, but make the apple a lift-up flap.  Inside will be the party details.
A set of plastic teeth holding an ancient-looking scroll with all of the party details would make a fun invitation, as well. To age the look of your paper, rub with a used tea bag.
Twilight Party Decorations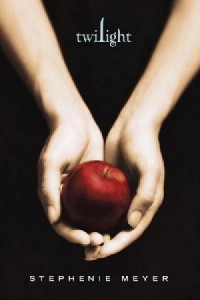 The possibilities for Twilight decorations are endless.  Here are some must-haves from important parts of the books
and movies.
Bowls of apples (from the Twilight book cover).
Vase of broken red and white parrot tulips (from the New Moon book cover).
Red ribbons (from the Eclipse book cover).
Red and white chess pieces (from the Breaking Dawn book cover)
Quotes from the movie printed out and hung up around the rooms.
Red and black table clothes
Wolf tracks leading from the driveway, up the sidewalk and into the house
Claw marks on the doors
Candles and twinkle lights to set the mood
Blood-Red Food
A Twilight party begs for lots of blood-related food.  Anything red is a good bet for the food table.  You can also include some werewolf treats, too.
Print labels that say "type A" or "Drink me" or "type O" and wrap them around red soda or juice drink bottles.
Bella eats Mushroom Ravioli on her date with Edward – so serve this, or other Italian food at your party.
Red licorice or twizzlers make good "vampire snacks."
Make chex muddy buddies and label it "werewolf kibble"
Popcorn with red-colored butter … er … blood
Party Activities
True Twilight fans will be have fun with these Twilight party activities (no biting!):
Twilight trivia
You can make a Jeopardy-style game board with questions, or just play trivia.  Give each guest something Twilight-related for every right answer, and the big winner a nice prize, like a boxed set of the books or one of the movies on DVD.
Watching the Movies
It's fun to watch the movies with friends, and in a themed-party setting.  This would be a great activity for a Twilight-themed sleepover.
Charades
Write down pivotal scenes from the books or movies, and let the teams draw from a basket of possibilities.
Pass the Apple
This is a fun way to get the apples and "vampire" biting involved.  Line everyone up, or form a circle.  The first participant holds a large apple in the space between their chin and their chest.  They have to pass the apple off to the person next to them without using their hands.  If two people drop the apple, they're out.  Last ones standing win!
Family Photos
Buy life-sized cutouts of Edward and Bella and have the guests pose for family "photos."  If you have a photo printer handy, you can gather some other supplies: glitter pens, markers, construction paper and stickers, and let the guests make their own "family albums."

Twilight Party Playlist
Apparently, while author Stephanie Meyer was writing Twilight, she listened to a particular set of songs.  She's listed the playlist on her website, and it would make an authentic touch for any Twilight party.  You could also play the movie soundtracks to set the mood.
"Why Does it Always Rain on Me?" — Travis
"I'm Not Okay (I Promise)" — My Chemical Romance
"With You" [reanimation remix] — Linkin Park
"By Myself" — Linkin Park
"Please Forgive Me" — David Gray
"Time is Running Out" — Muse
"Tremble for My Beloved" — Collective Soul
"Dreams" — The Cranberries
"Lullaby (Goodnight, My Angel)" — Billy Joel
Twilight Party Favors
Girls love goody bags!  Here are some Twilight-themed goody bag gifts
Red lip gloss
Red nail polish
Red licorice
Red and black jelly beans
Paperback copies of the Twilight books
The movie soundtracks
Set the mood for the party-atmospheric, broody, candle-lit, and romantic.  Carry the Twilight theme through all of food, decorations, and activities, and even those who have never seen the movies or read the books will have fun!