Garden Party Crafts for Kids
Most garden parties are "adult affairs," but kids can enjoy a garden party just for them.  Especially, there's lots of opportunities to take home some fun crafts when the party's done!  Here are creative ideas to make your garden party fun for the tots.
Grow a Grassman
Kids enjoy cutting the grass – that is, until they have mower duty.  Let kids make a fun "grassman" to take home from their party.
Materials:
Potting soil
Grass seed
Cups to decorate
Glue
Googly eyes
Markers
Other decorations
Here are the steps to decorate and plant the grassman: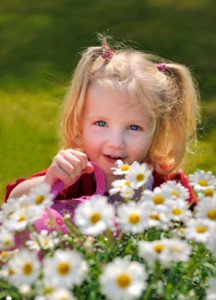 First decorate the cups.  Make a face with the eyebrows or eyes near the top of the cup.
Let the decorated cups dry.
Put some potting soil in a bucket and wet it thoroughly.
Give each child a scoop to fill their cup to about 1/2 inch from the top with soil.
Then, let them plant the grass seed.  They can just sprinkle seed, fairly thickly, on top of the potting soil.
Let the kids water the seed until they're completely moist.
Poke a hole in the bottom of the cup for drainage.
Keep the soil moist until the seeds sprout, then water when soil is dry.
Once the grass is at least three inches long, the kids can give the "grassman"  a haircut with scissors!
Paint a Flower Pot
This is classic garden craft that never gets old.  Small terra-cotta pots are easiest to paint.  Just warn parents if you're planning to have a mess!  (Paints are ALWAYS messy with kids!)  Buy a flat of annual flowers and let each child plant one in the pot after it dries. Marigolds and petunias are fun.  Tomatoes are also neat for little gardeners.
Little Bitty Bouquets
Oasis floral foam
makes it easy for little ones to make fun flower arrangements for mom and dad.  Buy blocks of floral foam (the kind for fresh flowers) online, at craft stores or general discount stores.  Prior to the party, cut each brick into six evenly-sized pieces, and soak all of the pieces in a bucket.  Then, place each piece in a paper cup, and give each child one.
Cut greenery and flowers from your garden, or pick some up at a grocery store or garden center.  Stems should be no longer than four or six inches.  Stay away from poisonous plants like oleander!
Show the kids how to "design" by sticking the stems in the foam.  They'll love this easy craft!