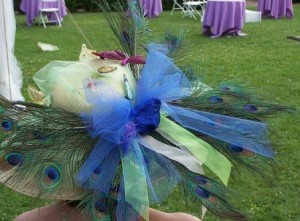 One of the most fun adult party themes is the Garden Party Theme.  Garden parties give everyone an excuse to dress up and go out on a pretty afternoon, and be finished partying in time for dinner.  Central to most garden parties are the hats, but there's more to this type of party than millinery.
Garden Party Invitations
If you're hosting a "dress up" garden party, this is one occasion where I'd send an actual paper invitation.  Though, you could set up an evite for people to RSVP online, just for the sake of convenience.  Send a beautiful invite in the shape of a flower, or a hat, or with a springy feel.  If you're requesting hats, or a certain attire, be sure to note it on the invitation.  "Garden party attire, including hats!"  If you're having a hat contest, list the categories.  Oh, and recommend that ladies wear flat shoes, so they don't break a heel or an ankle if they sink into the grass.
Garden Party Decor
If you're having a garden party, chance are great (I hope) that you're having it in your garden or yard.  That takes care of much of your decorating.  Here are some other garden party theme decorating tips:
Borrow or rent small bistro tables or card tables and scatter them around the yard.  Cover them with short tablecloths in coordinating colors and top them with fresh flower arrangements in small "fish bowl" vases.
Rent coordinating chairs.  It's pretty cheap to rent chairs, and it will give the party a more elegant look.
If the party will go into the evening, string small white lights from tree to tree, for a festive atmosphere.
If your yard isn't high on "garden" areas or flower accents, plant some large galvanized tubs with bright flowers and scatter them around.  To add height to the flowers, perch them at different levels, staggering three different heights.
Use a little pop-up shade tent for the food and one for the bar.  Decorate it with twinkle lights and ivy for ambiance.  (I'd stay away from tulle, but that's just me.)
Some people count plates and cutlery among the decorations.  For a garden party, I like either re-usuable or clear plastic plates, cups and forks.  You only really need knives and spoons if you're serving foods that require those.
Garden Party Activities
Entertainment – either piped in music or a guitarist is fun.  Especially if you can find a guitarist that takes requests.  Another nice diversion (away from the bar) is to have a bocce game set up.  Bocce is ever so elegant, and something that ladies in finery can do just fine.  I like having a "People's Choice" hat contest, too!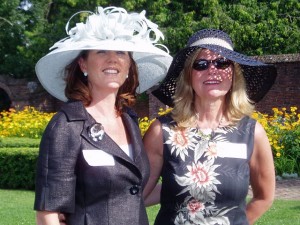 Garden Party Food and Drinks
The key to great garden party food is: make it tasty, make it light, and make it easy to eat.  Even if you have tables and chairs, garden parties are mingling events, and as such require finger food.  Additionally, because people are often dressed nicely for the parties, you want to avoid serving much that is drippy, has powdered sugar on it, and could stain clothes.  You can serve really original appetizers, or appetizers that are tasty and familiar to people.  I always vote for tasty.
Here are some garden party food ideas:
Fruit kebabs, or fruit bouquets.  These are pretty to look at, and an easy way to eat fruit.
Spinach dip served in scoops tortilla chips.  (Makes the spinach dip easier to serve and eat.)
Mini bruschetta toasts:  take one tiny toast cracker and top with a small piece of fresh mozzarella, a basil leaf, some balsamic glaze and a grape tomato
Grilled shrimp wrapped in bacon
Blanced (quickly steamed and dunked in ice water) crudite with buttermilk, dill, yogurt dip
Chocolate dipped strawberries and pineapple
Candied or spiced nuts
Mini Quiches
Candy (Candy looks good in tall, clear glass vases or parfait cups)  Put a spoon in each one so that it is easy to serve!
Garden party drinks should be light and fruity, too.  A pitcher of white wine sangria made with white wine, peach juice, fresh pineapple slices, orange slices, and apricot slices is good.  Champagne with orange, pear, or peach juice makes a nice spritzer.  Sprite or seltzer with cranberry juice is a non-alcoholic alternative.  Chilled white wine, a light red like Pino Noir, and iced beer are must-haves.  Additionally, have plenty of cold water on hand, especially for a summer party.
Host an elegant garden party this spring or summer!  It's a great way to entertain outside of the house.
(Photos of the Garden parties are from Fort Ticonderoga)