Cinco de Mayo Party Ideas
Cinco de Mayo (May 5th, for those of you that don't speak Spanish), is a celebration of an unlikely victory by Mexican forces over a much larger French army in the 19th century. Though not a special holiday in Mexico, it has grown to become an unofficial celebration of Mexican culture in the United States. If you drink Guinness on St. Patrick's Day, you'll drink Mexican cervesa on May 5th! So, put on your sombreros, shake out the maracas and have a fiesta in honor of Mexican culture! (P.S. This date is also my wife's birthday … Spicy!)
Food and Drinks
Mexican beer like Negra Modelo, Corona and Dos Equis, served with limes, of course. For the harder stuff, you have to have tequila shots ("Tres Generations" is my favorite), and margaritas – frozen and on the rocks.
For food, everyone loves queso dip. This cheese dip is incredibly easy to make – there's a "college hangover" version that is simply a block of Velveeta cheese, a can of diced tomatoes (drained), a can of green chilis (drained) and a microwave. Here's the version I make:
18 oz shredded cheddar and Monterey jack cheese
4 oz can of green chilies (drained)
1/4 cup of salsa (mild or spicy)
Mix it all and put it in the microwave for about 4 minutes, taking it out to stir and putting it back in until completely melted. I also thin it a bit with a couple tablespoons of milk. Pour the mixture into a mini-crockpot to keep warm and melted, and serve at your party with your favorite nachos.
Taco Seasoning
I found this recipe years ago when looking for a home-made alternative to packaged taco seasonings filled with MSG. Here it is: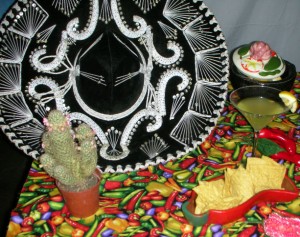 1 tbsp flour
2 tsp chili powder
2 tsp paprika
1 tsp cumin
3/4 tsp minced onion
1/2 tsp sea salt
1/4 tsp cayenne pepper
1/4 tsp garlic powder
1/4 tsp sugar
1/8 tsp oregeno
Combine all the ingredients in a small bowl, and brown 1 lb of ground beef. Add 2/3 cup water and the mixture, and mix until it's thickened. (Original recipe here – I cut the salt and upped the heat a bit.)
Nacho Libre
Now we're up to my favorite plate – nachos! In a separate bowl, add the beef made with the taco seasoning as above. Add a small can of tomatoes (drained), cooked canned beans, olives and jalapenos. Gently mix. Pour the mixture onto a large baking sheet or pizza pan already filled with nachos. Top with shredded cheese. Broil for two minutes in the oven, or until cheese is melted. Remove and add lettuce, sour cream and salsa. Serve! (I'm hungry just thinking about this!)
Additional finger foods include "Chorizo in blankets" (Mexican pigs in blankets), chips and salsa, guacamole, miniature burritos, make-your-own-tacos, and quesadillas cut into finger-food portions.
Games and Fun
Have some games as a distraction from the, um, drinking. Here are a few ideas:
Pass the orange.  Get a large navel orange and have the starting individual hold it between their chin and chest.  They have to pass it off to the NEXT person's chin, without using their hands. If you drop it, you're both out.
Eat the pepper contest.  Who can eat the hottest pepper?  Stop before this gets to emergency range. (Don't say I didn't warn you!)
Pinata.  Everyone loves a pinata (especially this one!):  Fill it with candy or other fun stuff.  ("Fun stuff" depends upon your participants.)
Limbo
Cinco de Mayo Party Playlist
No party is complete without tunes. Here's what you need to load on your iPod for complete party fun:
Hot Hot Hot
La Cucaracha
Smooth (Santana)
Goin' down to Mexico
Christian Pérez (you know, the rapper Pitbull)
Depending on how much heat you add to your fiesta, it's definitely a good idea to have the phone number of a taxi cab service so your guests get home safely. Salud!