St. Patrick's Day Party Theme Ideas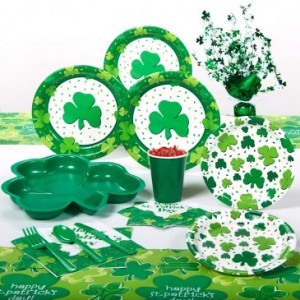 St. Patrick's Day party pack, available at
Celebrate Express
Slainte! (Cheers!) If you're Irish, or just pretend to be, celebrate St. Patrick's Day with all the festive leprechauns in your neighborhood. It's a great excuse for a party, a pub crawl or to bake some soda bread. Wear your green and gold with these great St. Patrick's Day party themes and ideas:
Party Decorations
The easiest way to set a theme is with your decorations. And for St. Paddy's, your first choice is obvious: green, green everywhere.
Choose green or white forks, knives, spoons, plates and cups. Shamrock images, or shamrock-shaped plates and bowls, as well as images such as leprechauns and harps, are a plus.
Use a "pot of gold" as your party table centerpiece. Fill a plastic novelty cauldron with edible treats so guests can help themselves.
Toss some green or gold confetti on the table.
String green Christmas lights both outside and inside to let your guests know the party's here.
Get green and white balloons filled with helium at your local grocery or party store and allow them to drift to the ceiling for a beautiful and festive look.
Invitations
You can either make these yourself, or buy some ready-made. Invite your guests to share in a bit of the "luck of the Irish" with you on the special day.
If this is a children's party, and your child will be inviting some but not all of her classmates, mail the invitations to their homes rather than having your child handing them out in class. (This will spare the feelings of non-invitees.)
You can also e-mail a fun flier (easily create one in any document program and attach it—make sure you choose a commonly known program so all your recipients will be able to open it).
Fun Irish Foods
Quick fact: Did you know the corned beef and cabbage we so love to nosh on is not a traditional food from Ireland? The dish was actually created by Irish immigrants after coming to America.
That doesn't mean you can't serve this favorite at your party. But add in a few fun foods and drinks to add sparkle to the celebration.
Green beer: This is very easy to make. Simply add drops of blue and yellow food coloring to the beer. The amount of drops you use will depend upon how much beer you're coloring. Go slowly…a drop at a time…until you achieve the perfect color.
Green Jell-O shots: Add alcohol to mixed but not cooled (still liquid) Jell-O, removing the same amount of water as the amount of alcohol you will be adding, and chill until firm in the refrigerator.
Green punch: This can be either created with alcohol or in a non-alcoholic version. Make your favorite punch and add food coloring as described above under "Green beer."
Boxty: Everyone loves potato pancakes, and served in this traditional Irish way, they're more delicious than ever. Epicurious has one such boxty recipe.
Shamrock cookies: Make things easy on yourself; buy a prepared sugar cookie dough roll from your local grocery store. Roll out the dough and use shamrock-shaped cookie cutters to create the shapes. Add sugar sprinkles and bake.
Fun and Games
Have some traditional Irish music playing in the background. Modern Celtic bands/music are great as well. Try The Irish Rovers, The Chieftans, The Clancy Brothers or even Enya.
Add in a few pub songs
(whether or not you're drinking actual alcohol) for flavor.
The real fun will begin when you ask your guests to stand up for Irish karaoke. Have the words to traditional songs, such as Molly Malone and Danny Boy, ready and background music playing; dare one of your guests to be first and the rest will follow!
The Irish love fun, laughter, family and friendship. Celebrate this traditional day by creating new traditions of your very own. Eirinn go brach – and guests, have fun!