St. Patrick's Day Office Party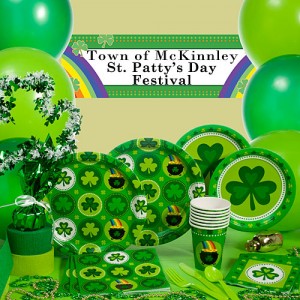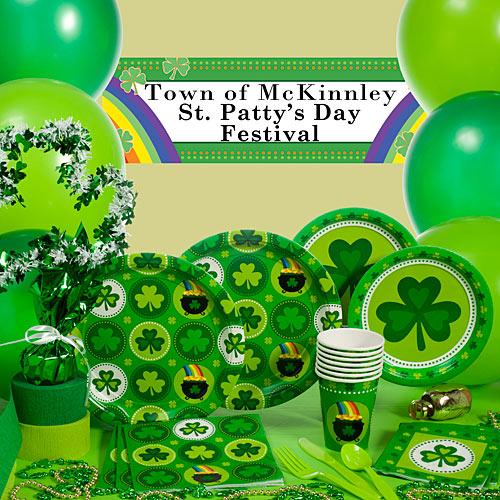 St. Patrick's Day supplies, available at
Shindigz
Have a St. Patrick's Day office party!  St. Patty's day is a time for fun, food and friends.  Add a little bit of "almost spring cheer" to the workplace with a St. Patty's day party.  Then, after work, hit the pub for a glass of authentic Guinness beer on tap, or, in its absence, some green beer.  Can't beat green beer on St. Patrick's Day!
St. Patrick's Day at the Office
In most offices, one of the integral St. Patrick's Day elements must be absent: beer.  However, it is still possible to have a fun party!  Start with a potluck of green and/or Irish foods.  Irish Boiled dinner, or corned beef and cabbage, is a great meal to share at a work potluck lunch.  Try to get someone to cook it as a main dish.
Colcannon is another yummy recipe good for potlucks.  It serves a lot, and it is cheap!  We have the recipes for these two delicious treats on the blog!
Serve green drinks, too! Sprite with a bit of food color, or Mountain Dew, or green smoothies.  Anything green!
For dessert, lime sherbert or Pistachio ice cream hits the spot.
Decorate to Celebrate!
Bring the festive atmosphere to the office with lots of decorations.  Green balloons with dangling ribbons, crepe paper, shiny shamrocks, and, of course, festive party goods: green table clothes, confetti, cups, plates and more.
Have a desk or office decorating contest, and encourage everyone to wear green on the big day. You can also turn this into a work charity event.
Play Some Games
St. Patrick's Day is the perfect occasion to play completely ridiculous party games.  First of all, give everyone a name tag with O'their name.  O'Katie, O'Chris, etc.  Everyone's Irish on Saint Patrick's Day.
Potato Toss
This game is similar to corn hole, the wildly popular bean bag type game, only you do this one with potatoes.
T-Shirt Contest
Entrants can buy one or make their own.  Have categories (pre-defined in advance), and prizes for the best find and the best homemade shirt.
Musical Shamrock
If you want to be really corny, play this version of musical chairs, only using large cardboard shamrocks in a circle on the floor.
Irish Dancing
If everyone is really comfortable with each other, have an "Irish Dancing" contest, with traditional music. It doesn't matter if some people can't dance, it's just an excuse to have a fun break at work.
Food for the Party
Eating and drinking are the most fun part of any party.  At the office party, serve these yummy foods:
Soda Bread
Toad in the Hole
Shepard's Pie
Colcannon
Corned Beef and Cabbage
Whatever your party plans are, an office Saint Patrick's Day party is sure to be a blast!