St. Patrick's Day Feast Party
Although we tend to think of St. Patrick's Day as the ideal time to celebrate in your favorite pub, why not break from tradition this year? You can have a great party in the comfort of your home and adhere more to tradition this way. Invite your friends and family and make an Irish feast for St. Patrick's Day!
For these parties, it's best to assume that there will be children for at least a portion of the party, unless of course you make it an over-18 party. If you do want to have an adult only party, make sure to give your guests plenty of time to find babysitters and spell it out in the invitation. Of course, you don't have to be Irish! 38 million Americans claim Irish decent, so it's likely you have some in you – or at least a fun, lucky, or "love of green" gene.
Your invitation can be a fun way to send out notice. They needn't be elaborate or expensive. You can send them on lucky Shamrocks that you have made with poster board or construction paper.
Planning Your Party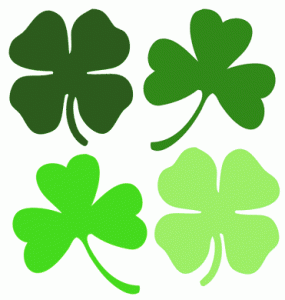 St. Patrick and everything Irish is the theme of your party, of course, and have fun with it. For instance, the original St. Patrick's Day was celebrated with a feast, and nowadays it is done so with drinking and games. You can merge the past and the present quite seamlessly with food, music and traditional drinks. If children are attending, you can offer some games too. However, you will want to concentrate your efforts on food, drink and good music, perhaps even dancing.
Irish Food
Traditionally, St. Patrick's Day was celebrated with a big feast, and you can hearken back to this by preparing some Irish dishes. As with most family recipes, many weren't written down anywhere. Combining tradition of the Old Country, the region from which the family once lived with a little of this and maybe a lot of that, what you have is something wholly unique. Containing as much love as the ingredients that make them yummy, the mere mention of "Granny's Irish Stew" or "Nana's Potato and Leek Soup" evoke ranges of emotions along with grumbling tummies.
The following two recipes are as unique as they are delicious. Indeed, one thing you will notice about the first is that unlike recipes found on the Internet that call for a tablespoon of this or a pound of that, very little reference is made to measurements in it. One thing all people who have been cooking their whole lives have in common, regardless of country of origin, is an inability to measure. If last month's attempt turned out too salty, less salt was added this go round, etc.
When trying to duplicate these recipes, it may be rather difficult for you and for that I apologize. There really is no other way to share them.
Irish Stew – Also Known as Granny's Mooseroni
To put this in perspective, Irish Stew for the Irish is akin to a meal consisting of Turkey, mashed potatoes, yams and green beans is for Americans. Considered almost a staple, it certainly is a traditional meal for any large Irish family. Although simple to make, it takes a while to get the meat 'just so'.
This recipe comes to you from Francis Morrison, a Gitxsan Grandmother, who comes from Kispiox Village, British Columbia, Canada. It is her version of Irish Stew. Thank you to Kyle Wilson of Prince George, British Columbia for sharing your granny's Irish Stew with us!
The size of your family will determine how much meat to use. Let's say you have four or more in your family. All measurements are estimates, of course.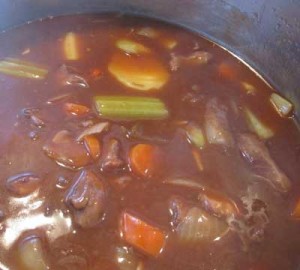 2 pounds lamb
1 pound bag of Rotini noodles
Olive oil – maybe 2 tablespoons
Half a bag of celery sticks – de stringed, chopped into ½ inch pieces
Other vegetables that suit you
Several small or three large cans of Tomato Sauce
Thyme
One large red or white onion – minced
A few cloves of garlic, minced
2 or 3 parsnips – vary according to taste, cut to bite size chunks
Some pearl barley
Pepper and salt to taste
Big pots
Large Family
Directions:
Cut and roll the meat first in flour, then brown in a heavy pan in olive oil (or bacon fat if you're old school – that is, ready to plant, by hand, the season's crop of potatoes!) Cover to avoid splattering. Do this over low to medium heat. It seals in the juice and sets the stage for thickening later. Add the onions, garlic and pepper to the pan.
Next, cook noodles according to the directions (6-7 minutes). Drain, set aside. In a separate pot of salted boiling water, add parsnips first (they take a little longer) and then the celery). Add the pearl barley and thyme now. Add the tomato sauce, one can at a time for desired consistency and taste. Add other vegetables, for example, peas or others you like. Granny liked peas, but you can use whatever you like.
Add cooked pasta and meat. Serve piping hot.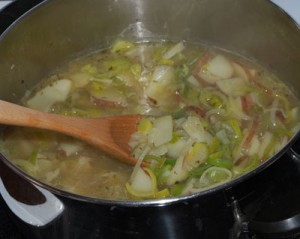 Nana's Potato and Leek Soup
My grandmother, Anna Leonard Orick, came from Northern Ireland as a child and arrived to Schenectady in upstate New York just after the turn of the century (the 20th!). Whether to keep her family (which consisted of my father, uncle and grandfather) warm through the winter months or bring a bit the Old Country with her, she often made potato and leek soup for them. This is her version of it. Yes, it's as simple as it seems, but the potatoes make it hearty.
Ingredients:
4 leeks sliced very thinly
1 medium onion chopped thinly
10 red potatoes sliced thinly
4 cups chicken broth
1 cup milk
Salt and white pepper to taste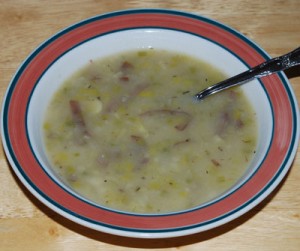 Directions:
Make sure to clean and scrub leeks completely. Then thinly slice only the white and light green parts.
Don't peel the potatoes! Just make sure to scrub them thoroughly and cut off any eyes or rough spots. The peels add color.
Then brown the onions and leeks in the bottom of the soup pot.
Add potatoes and then pour in chicken broth; be sure the potatoes are fully covered with it. Continue cooking over medium heat until potatoes start to break up, then mash and keep stirring. As the potatoes thicken, turn down heat and continue stirring to keep it all from sticking to the bottom of the pot.
Add the milk, while continuing to stir.
Cook some more over low heat, stirring often, then remove from heat and serve.
Add salt and white pepper to taste.
St. Patrick's Day Desserts
Typical Irish desserts (assuming you have any room after you've eaten your stew) are:
Soda Bread with raisins or steamed brown bread with raisins (sultanas)
Raisin cake
Mince pie
Apple duff
Apple sauce
Apple crisp
Drinks to Serve
Beer, in particular, Guinness, is traditional, as is Irish Whiskey. Black and Tans are also a big hit with the Irish, if you want to offer a stout and a lager. You should also have non-alcoholic things like cider, tea, soft drinks and juice on hand.
By all means, a punch (alcoholic or non) is great, especially if you were to add green food coloring to it. Is it cheesy? Yes! Is it fun? Absolutely!
Activities
If you have the room for it, break out the music and try some Irish jigs! Ahead of time, you can send out instructions you find on the Internet or be impromptu and try to see if you can get someone to teach everyone. If nothing else, it will make for some good laughs and you can work off some of that hearty food.
But of course, dancing of any kind, whether it's traditional Irish folk songs or the pop music of today will work off your meal and get people in a festive mood.
For children, games such as Lucky Leprechaun Says (just like Simon says), Musical Chairs or even scavenger hunts for all sorts of lucky charms (small horseshoes, golden chocolate coins, etc) are great ways for the kids to have fun while the adults socialize.
Happy St. Patrick's Day!