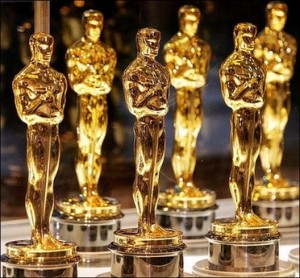 What's more fun than a fully themed-out party?  NOTHING! For your Oscar party this year, theme your menu to the ten Best Picture nominees!  Here are some ideas:
2010 Oscar Menu
Avatar
The land of blue creatures and fantastic plants.  How about an interesting salad with sauteed fiddlehead ferns, mixed greens, jicama and BLUE cheese dressing!
The Blind Side
One of the pivotal moments in this movie is when the family comes together around the table to eat Thanksgiving Dinner.  Serve sliders made from roast turkey, stuffing and cranberry sauce.
District 9
Peel and eat Prawns (shrimp) with cocktail sauce, in honor of the prawn-like creatures in the movie.
An Education
Martinis, shaken, not stirred, because of the 1960s setting.
The Hurt Locker
A perfect use for B-52 shots in the Bombs Away Shot Glass.
Inglourious Basterds
Crepes–lovely French food, for a movie set in France, though the movie deals with less than lovely issues.
Precious
Based on the Novel 'Push'
by Sapphire
It's impossible to come up with a "cute" food for this movie.  Drink away troubles with Sapphire Gin.  That's all.
A Serious Man
Miniature corned beef ruben sandwiches and cheeze blintzes for the Rabbis in the movie.
Up
Popcorn! Naturally-what else is almost lighter than air?  Maybe different nifty flavors of bubblegum.
Up in the Air
Peanuts and mini-bottles of vodka.  Airplane food.
Enjoy the Oscars, everyone!