Bombs Away! (Shot glasses)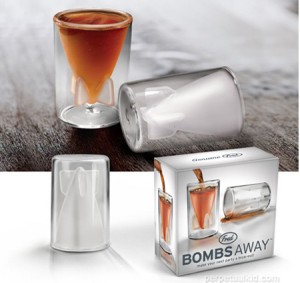 The Razzies (the Worst movies of the year) come out the day before the Oscars. Why not toast the worst of the worst with Bombs Away shot glasses? (Heck, many of the Oscar contenders bombed at the box office too. Remember Nine? No, not 9 or Sector 9). Heck, we could come up with a bunch of party and drinking games with these babies!
Some Recipes
A swank shot glass requires some superb shot recipes:
B-52
A bombs away shotglass requires a B-52 shot.  Carefully layer equal parts of all three ingredients, in order, into a shot glass; kahlua, amaretto, then irish cream.
Lemon Drop Shot
This is a classic shot, good for any occasion.
1/2 oz vodka
1/2 oz lemon juice
1 sugar cube
Add sugar to the rim of an old-fashioned glass, and drop a cube or packet of sugar into the bottom of the glass. Pour vodka and lemon juice into a stainless steel shaker over ice, and shake until completely cold. Pour into the prepared old-fashioned glass, and serve.
And, Some "Gold" Shots perfect for Oscar Parties
"Golddigger"
1/2 oz Jack Daniel's® Tennessee whiskey
1/2 oz Goldschlager® cinnamon schnapps
"Gold Rush"
1/2 oz Goldschlager® cinnamon schnapps
1/2 oz Red Bull® energy drink
Shoot 'em Up Oscar Game
You might want to be careful, because you could end up on the floor by the time the first few are announced.  Pick your poison, and decide which word is the "drink" word.  (You could also shoot beer instead.)
During the Oscar telecast, whenever somebody says one of these words, take a shot:
Gold
Fashion
Thank You (Better use beer for that word!)
Avatar
And the Oscar Goes To
Whether it's the Razzies, the Oscars or any fashion show, take out these fun shot glasses and Bombs away!