Traditional St. Patrick's Day Recipes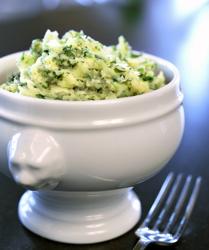 One of my favorite St. Patrick's Day treats is Colcannon.  It is a recipe that takes potatoes and cabbages and elevates them to a new level of delicacy.  You can also make it with Kale, which is how I prefer it.  Kale is one of the healthiest vegetables you can eat, until you add a stick of butter.  Which you do in this recipe.
Colcannon
Ingredients:
1 lb of potatoes
1 lb of cabbage (green)
2 large bunches of Kale
1 stick of butter
6 large leeks (chopped finely)
2 onions (diced)
Instructions
Boil the potatoes until they are tender.  (You can peel them or leave the skins on.  It is up to you)
Boil the cabbage and kale until just tender.
Sautee the leeks and onions in 3 tablespoons of butter.
Mash the potatoes with 4 tablespoons of butter and some milk.
Stir in cabbage, kale, onions and leeks
Serve with a little pool of butter in the center of the bowl.
Irish Boiled Dinner
I also enjoy corned beef, so this is another favorite of mine.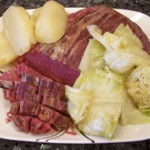 The main components are: corned beef, potatoes, cabbage, carrots, and onions.
Ingredients
1 5 pound corned beef brisket
1 head of cabbage
6 large carrots, peeled and cut into two inch lengths
10 small potatoes, cut in half
3 onions, cut into strips
Instructions
Put onions and brisket in pot, and cover with water.  Boil for 30 minutes, then reduce heat to a simmer.  Cook for 3 hours.  Then, add remaining ingredients to the pot, and cook until they are tender. Serve with brown bread.