A Recipe for St. Patrick's Day – Smoky Cabbage with a Kick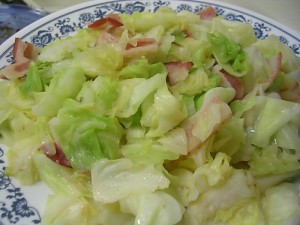 Nothing says St. Patrick's Day as much as corned beef, cabbage and potatoes. While always tasty, this recipe will amp up the flavor factor of your cabbage. The best thing about this recipe is that you can easily make a small batch or you can double, triple or quadruple the recipe for a crowd, such as if you're hosting a St. Patrick's party.
Ingredients
1 Large Cabbage
6 Slices center cut bacon
1/2 tsp Onion salt (more or less to taste)
1/4 tsp Crushed red pepper flakes (more or less to taste)
2 Large yellow onions
3 tbs Cooking oil (vegetable, canola, or extra virgin olive oil)
Cooking Directions
Remove outer leaves of cabbage
Cut cabbage into quarters
Remove the core from the cabbage
Boil cabbage in enough water to cover it until tender (with the corned beef and potatoes or in a separate pot)
Slice bacon into one-inch pieces
Peel and cut the ends off the onions
Slice onion in half lengthwise
Slice the onion halves into one-quarter inch strips
Separate the onion strips
In a separate pot, pour in the oil and the bacon slices and cook over a medium heat and stir with a wooden spoon. Once the bacon starts to render its fat but is not browned (3 to 5 minutes), put in the onions and sauté until the onions are soft but not brown (3 to 5 minutes).
Remove the strained, cooked cabbage and cut into smaller, bite-sized pieces.
Add the cabbage to the onions and bacon. Add the onion salt and crushed red pepper flakes.
Cook for another 10 to 15 minutes, stirring periodically. Serve as usual with your corned beef and boiled potatoes.