Fairytale Princess Tea Party Theme Ideas
How big are tea parties among little girls? Classic and endless. Perhaps your child has attended one already. Or you've been to a fun Alice in Wonderland tea party. So why not host one for your child? Add a princess or fairy motif complete with costumes and you've got the party of the year! We've gathered all the details for the perfect afternoon tea, including invitations, the menu, tea serving etiquette, decorations and more.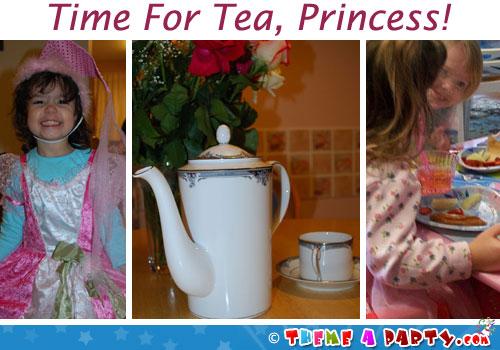 Princess Tea Party Guide:
Creative Invitations
Plan the party for the afternoon (yes, as in "afternoon tea"). Use wording like the example below:
Princess (child's name) is turning (age). Come celebrate with a tiara and tea party!
RSVP: Queen (your name) and King (your partner's name).
Dress-up encouraged. Wear your fairy or princess best!
Enclose a note to the parents that a princess or other costume, a long dress, "jewelry" and/or a fancy hat are all encouraged.
Decorate the invitations with pink ribbons and glitter. Another neat idea is to shape them like teabags or a tea pot.
What's on the Menu?
Though they want to feel all grown-up, the party guests may not like the typical afternoon tea offerings, like cream cheese and cucumber sandwiches. Have a few traditional tea items available, but have some kid-approved choices ready as well. Try these:
Princess tea party cupcakes, by Janet/
Flickr
Juice or chocolate milk. Many youngsters like tea, particularly if there's plenty of sugar and some milk stirred in. Still, have an alternate option, especially if these are very young children. Pour into tea cups and allow finicky guests to pretend they're drinking real tea.
Herbal tea. Tea, of course, has caffeine. Use herbal tea instead, which is caffeine-free. Strawberry and other fruity teas would make a great drink, but even then, very young kids could still be put off by the taste.
Finger sandwiches. These are a true tea party tradition. Make sandwiches your guests will love, like peanut butter and jelly, cheese, tuna salad or egg salad. Then fancy them up by cutting off the crusts and slicing each into rectangles or triangles.
Sweet baked goods. Try shortbread (great for tea-dipping), pieces of sponge cake garnished with whipped cream, bakery cookies and biscuits and jam, all teatime traditional favorites.
Cupcakes. All little princesses love cupcakes! As an activity, have them decorate their own pre-made (and cooled) cupcakes with pink icing and sprinkles.
Lemon, milk and sugar. Have lumps of sugar nearby, or a fancy sugar bowl and spoon. Slice lemon into thin wedges and arrange on a plate. Set the milk down beside this arrangement. The guests may or may not want to add them to their tea or other drinks, but they'll love the genuine feel these tea necessities create.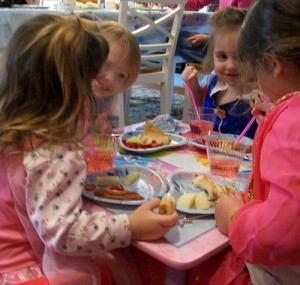 Tea party goodies, by jadensmommy/
Flickr
Setting Up the Party Area
Now that you have the menu planned, it's time to think about decorating. Remember, you're looking for a very glamorous feel to make it a real princess tea party.
Tulle is a material that's both inexpensive and showy—and it definitely brings to mind princesses in tall towers. Use a fluff of tulle decorated with faux "gems" as your centerpiece. Place flowers—roses are great for this; purchase inexpensive craft store flowers to save money—in the middle of your creation. Glitter adds a glamorous final touch.
Tie white, pink and purple ribbons to the chairs around the table. Attach a white carnation, chrysanthemum or rose, or a handful of daisies to one side of each chair's back.
In terms of color, think pink, white, yellow, purple and spring green. Match the place settings to the theme for your finishing touch.

Tea Service and Proper Etiquette
A "proper tea" often involves courses, but for youngsters, I'd recommend kid-friendly finger foods in one sitting, as mentioned above.
Pour the tea or other beverage directly to the guests at the party table, then let them choose whatever treats they'd like from a separate food table.
Remind the guests to use their manners–this is the one time they won't mind being told to behave! In fact, they're likely to compete with one another to see who can act the most genteel…at least this once.
How to Brew a Perfect Pot of Tea
This is for actual tea. You will need:
a serving tea pot
a kettle or other pot (for heating the water)
loose tea leaves
a strainer
Pour hot water into your serving tea pot and set aside while you're preparing the tea. The pre-warmed pot will keep the prepared tea hotter after it's poured in.
Heat water in your kettle to just boiling.
Pour the plain hot water out of the pot, then refill the pot with the boiled water.
Add loose tea leaves (about 1 tsp. for each 3/4-cup serving).
Give the tea a quick stir (don't overdo this!), then put the top on the pot. Steep for 5 minutes.
Pour the tea and leaves through a strainer into another container. Give the pot a quick hot-water rinse to ensure that there are no leaf bits left inside. Then refill with the strained tea. Serve immediately to seated guests.
For younger kids, you will want to serve lukewarm herbal tea, instead. You will need:
a tea pot (for serving)
a kettle or other pot (for heating the water)
strawberry or other fruity herbal teabags (3 to 5 per quart)
Heat water in your teapot to just before boiling. Open the kettle top and set aside for 3 minutes to slightly cool.
Fill the serving pot with the water.
Add the teabags, steep for 5 mintues. Leave the cap open to let it cool faster.
Serve to seated guests. Add sugar or honey for sweetness. Drink when lukewarm.
Entertainment Fit for a Princess
For activities, go for less rough-and-tumble and more refined. But keep the fun factor!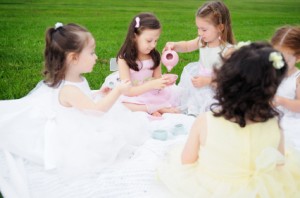 Play a tea party version of the well-known memory match game, which involves matching pictures by remembering where they are. Print out and cut pairs of tea cups, flowers, tea bags, crumpets and tea pots. Make the game even more exciting by offering a small prize to the winner.
Play "What's in the Garden?" Hide little tokens—like faux jewelry and small candies—in your garden if it's a sturdy one that can take trampling feet. Otherwise, create cheery flowers out of colored paper and attach them to your fence, gate or other upright area; sprinkle the treasures in that area.
Play a Disney Princess movie for wind-down entertainment near the end of the soiree, or Alice in Wonderland for some laughs. Check Amazon for a list of princess movies.
Have a "Be a Princess!" makeup station. Use child-friendly, non-irritating makeup and nail polish to make your guests even more gorgeous.
Finally, send the happy partiers home with a great treat or goody box. Ideas include a purse-shaped box with a "pearl" necklace, stickers, rings and plastic flowers. A fun way to end a tea-rific party!